New Hampshire Congressman Chris Pappas has worked hard to maintain a low profile since winning his First Congressional District seat, a district Donald Trump carried in 2016. However, he hasn't been shy about communicating with his constituents the old-fashioned way: Spending tax money on political messages.
For decades, Congress has dealt with recurring scandals involving "franking privileges" — taxpayer-funded mailings to voters back home. However, in recent years, more members have moved to social media and Facebook to spread the news of their accomplishments. Buying ads promoting their official Facebook (FB) pages is one way to get the word out to future voters — and on the voters' dime.
According to reporting by Facebook and obtained by NHJournal, Pappas' colleague Rep. Annie Kuster, for example, has spent a total of just $484 since May 2018.  Since taking office in January 2019, Chris Pappas has spent $25,870 on ads for his official Facebook page. This makes him one of the top tax-funded FB spenders in the current freshman class.
This number isn't far from the $37,000 Pappas' campaign spent on FB over that same period. Taxpayers are paying nearly as much for Pappas' advertising as his contributors are.
And, according to Facebook, Pappas had six ads "taken down because they go against Facebook advertising policies."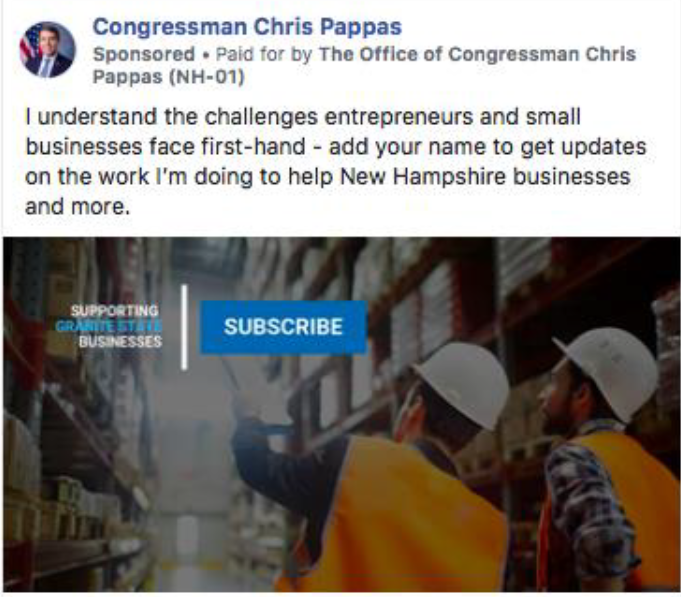 Pappas declined to answer questions regarding his taxpayer-funded advertising or the rejected ads.
Tom Rath, a longtime New Hampshire political observer with strong bipartisan ties, said that while he didn't have a comment on Pappas' spending, "everyone in politics should realize that, in this day and age, 'business as usual' just doesn't apply. Politicians are under more scrutiny than ever, and it's smart politics to behave accordingly."
Spending on Facebook advertising by members of Congress was virtually unknown as recently as 2012, when just two members spent a total of $1,026. Since then, that spending has soared, and Pappas ranks number 11 out of the 90 members of the 2018 freshmen class who use tax dollars to promote his web presence.
Congressional franking "has long resembled regular campaign materials," said Craig Holman, a lobbyist for Public Citizen, in a 2016 interview when the issue first arose. "In fact, with few exceptions, franked mail is indistinguishable to most readers from campaign ads."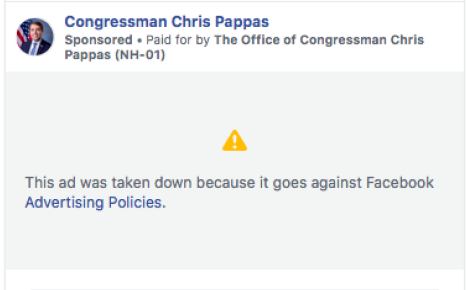 That's certainly the case for Chris Pappas. His tax-funded Facebook posts include language like:
"I'm working hard to improve government services, hold leaders accountable, and provide oversight for Granite Staters. Sign up for our newsletter and learn more."
"I understand the challenges entrepreneurs and small businesses face first-hand – add your name to get updates on the work I'm doing to help New Hampshire businesses and more."
"Sign up for our email newsletter to learn about the work I'm doing to address the cost of prescription drugs and other issues important to you."
Granite State Taxpayers Chairman Ray Chadwick told NHJournal that his organization "is always interested in reducing the cost of government. At the same time, we believe constituent service is an important part of an elected official's duties. We support that. However, political messages paid for by tax dollars aren't 'service.' They're self-serving."
Chadwick said he'd rather see elected officials holding public town hall meetings rather than posting ads on the internet. "The best constituent service involves meeting face to face," he said.