With illegal crossings surging at America's northern border, Gov. Chris Sununu wants the Biden administration to step up. And he is offering New Hampshire's help. Instead, the White House has "repeatedly rejected" Sununu's aid, part of a national moratorium on border security cooperation.
While the record-setting illegal crossings at America's southern border dominate the headlines–an estimated 6 million crossings since Biden took office–Customs and Border Patrol (CBP) reports an 846 percent increase in illegal crossings at the northern border this fiscal year. More than half of the ongoing surge is occurring in just one spot on the U.S.–Canada border: CBP's Swanton sector, which includes Coos, Grafton, and Carroll Counties.
Sununu has responded by adding $1.4 million to his state budget for additional law enforcement efforts along the border and by reaching out to the federal government to offer assistance. His efforts have been rebuffed, according to a letter Sununu sent to Homeland Security Secretary Alejandro Mayorkas on Monday.
"Over the last few months, the State of New Hampshire has attempted to assist the federal government in securing our northern border," Sununu wrote. "These offers of assistance have been repeatedly rejected. The Biden Administration has cut funding and hindered the state's ability to assist in patrolling the northern border.
"If the Biden Administration truly believes that securing the border is a priority, I hope you will partner with the State of New Hampshire to make this a reality," Sununu added.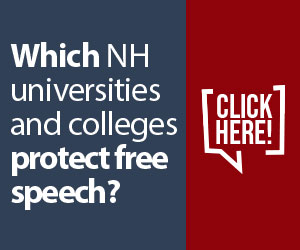 Immigration experts say the chaos at the southern border has driven some would-be illegal immigrants to attempt their crossings at the northern border. According to the Center for Immigration Studies (CIS), most of the 67,000 non-Canadians caught illegally crossing last year came from places like China, Colombia, and the Philippines.
"Most importantly, nearly 32,000 of them were from 'other' countries around the world," CIS reported.
In his letter, Sununu reminded Mayorkas that in February "the State of New Hampshire formally offered to assist the federal government by requesting your Department delegate its authority to enforce certain specific federal immigration laws in a manner that is appropriately tailored to account for New Hampshire's unique circumstances – which would require no additional federal funds.
"That very same day, regional I.C.E. officers, who also fall under your Department, informed State officials that you have placed a nationwide hold on entering into new delegation agreements since 2021. On or about February 19, 2023, a migrant from Mexico died in the Swanton Sector while trying to enter the county illegally from Canada," Sununu wrote.
Todd Bensman, author of "Overrun: How Joe Biden Unleashed the Greatest Border Crisis in U.S. History," called the administration's unwillingness to share authority with the state "bizarre" and "unprecedented."
"The repeated rejections of normal collaboration with states on joint-interest issues creates the conditions that maximize illegal immigration on either border," Bensman said. "No other executive branch to my knowledge has ever taken the position that there will be no collaborative enforcement of federal law."
Sununu also called out the administration over its lack of cooperation.
"I am now writing to request that you immediately lift the moratorium and enter into a customized agreement with the State of New Hampshire in order to train its law enforcement officers and to allow them to serve as a force multiplier in New Hampshire's North Country. Time is of the essence. New Hampshire is ready to act quickly to respond to this crisis. We strongly urge you to reconsider your current policy," Sununu wrote.
"It is imperative that we act quickly to respond to today's crisis with enhanced border security and prevent any further loss of life along our border."