It has been almost a year since an unknown vandal attacked the homes of New Hampshire Public Radio personalities, incidents that are now part of former Granite Recovery CEO Eric Spofford's defamation lawsuit filed against the broadcaster. The investigations seem to be stalled.
In April and May of last year, an unknown assailant threw bricks at and spray-painted threats on the current or former homes of NHPR News Director Dan Barrick and reporter Lauren Chooljian. The attacks happened in Hanover, Hampstead, Concord, and Melrose, Mass.
Spofford has denied any role in the vandalism and claimed in court records that NHPR illegally used the vandalism to gain an advantage in his civil defamation case, just as the case was headed for a settlement.
However, NHJournal has uncovered details that seem to link one of Spofford's friends, Eric Labarge, to the vandalism. Labarge is himself a recovering addict and owner of the Starting Point Recovery Centers.
Labarge has not been charged in the vandalism cases. He has a criminal history that includes violence against women and spent time in state prison.
He is also currently awaiting trial on charges of assaulting a man in Manchester. That assault occurred on May 31, 2022, days after the last vandalism attack in May. According to court records, the alleged victim was a man who had been a resident at a Starting Point center. 
Labarge's attorney, Charles Keefe, did not return requests for comment.
Spofford confirmed his relationship with Labarge to NHJournal and praised Labarge's work in recovery. 
"I worked closely with Eric Labarge to help him overcome his addiction in the early days of his sobriety," Spofford said. "I've had the opportunity to watch him grow through the ups and downs of recovery for almost 10 years. He's done great things for the recovery community, and I believe he will continue to for years to come."
Hanover Police began investigating vandalism on April 24 when the resident reported someone threw a brick at the home and spray painted the word "C–T" on the building, according to the reports. The home was not occupied by anyone connected with NHPR during the vandalism, but Chooljian had lived in it a few years earlier, according to police.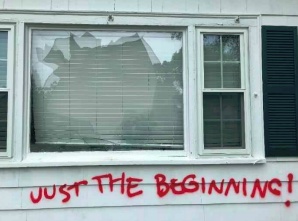 Hanover Police soon learned the spray-painted vulgarity and thrown bricks matched the vandalism that took place in other communities where NHPR reporters lived. During the investigation, detectives talked to police in Hampstead and learned Labarge was a suspect in that town, according to the report.
The Hanover police report has been retracted, but it appears the victim in the Manchester assault may have also been a suspect in the vandalism, according to the Hanover report. The Hanover report obtained through a Right to Know request obscures the names of the suspects, but it does include the Manchester Police Department's incident number for the assault, which matched the court records for Labarge's arrest.
Hanover police were given information from the Hampstead department on the vehicle used in the attack, and it seemed to match the one used in Hanover. However, after being unable to develop further leads in the case, Hanover police closed the investigation last year.
Spofford, who was called a person of interest by police in Massachusetts, claimed in court documents that NHPR took advantage of the vandalism, canceling settlement talks and using its media reach to cast blame on him for the damage.
Spofford reportedly made himself available to investigators as soon as he learned of the vandalism in Melrose, but police have never questioned him. 
Spofford's attorney, Ben Levine, claimed NHPR's use of the criminal case to cancel the settlement talks may have been criminal.
"Whether and to what extent NHPR used these acts of vandalism in an opportunistic way to evade accountability for defaming Mr. Spofford should be investigated as it is criminal in nature," Levine wrote last year to New Hampshire Attorney General John Formella's office.
Chooljian reported last March that Spofford engaged in sexual misconduct while head of Granite State Recovery Centers. The allegations against Spofford made national news. He has denied any sexual misconduct.
Sigmund Schutz, the attorney representing NHPR, did not respond to a request for comment. NHPR is trying to dismiss Spofford's defamation lawsuit on First Amendment grounds. A ruling on the motion to dismiss is pending in Rockingham Superior Court.