Former U.N. Ambassador Nikki Haley was talking up Matt Mowers in Derry on Wednesday. But the hot topic among the Republicans gathered at Fody's Tavern was Gov. Chris Sununu. In particular, his Gridiron Club dinner speech in which he called former President Donald Trump "f—ing crazy."
"What was he thinking?" one GOP legislator at the event wondered aloud.
"He [Sununu's] not making any friends like that," added another.
Haley, who packed the venue Wednesday afternoon, gave Sununu the benefit of the doubt. "I did the Gridiron as well," Haley told NHJournal. "It's about jokes. It's about being funny. No, I don't agree with it [Sununu's statement], but I know what Chris was trying to do. He was trying to be funny and that's what you have to do at the Gridiron."
Haley's speech on Mowers' behalf laid out a likely template of topics for Republican candidates as the midterms approach: Border security, government spending, crime, and — in an unusual twist for the GOP — education. Traditionally, education has been a 20-point margin issue for Democrats over Republicans. Recent polls show their lead is down to the margin of error. Parents are frustrated with how public schools handled COVID-19, particularly remote learning and masking policies.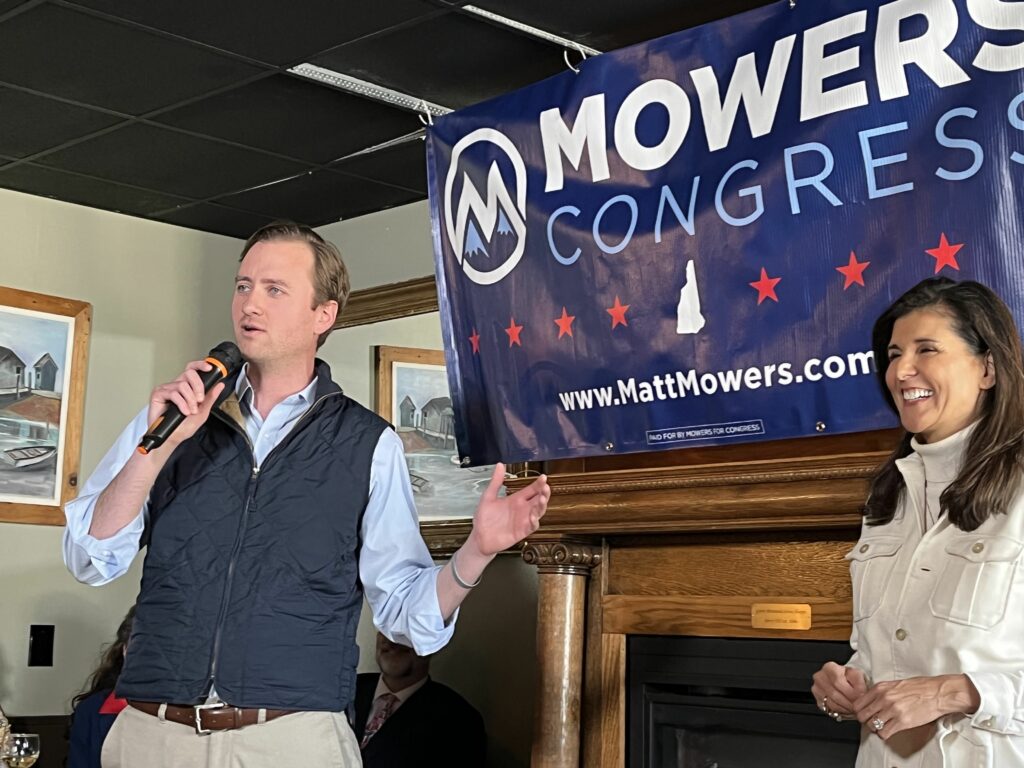 "Think about what happened during COVID. You closed schools. You made kids study from a computer," Haley said. "Then the teachers had to go teach them. Do you think the teachers unions are gonna tell those parents to hold that child back? No.
"But let me tell you what Kamala Harris is doing today. She's doing a press conference to talk about how we need more green schools. It's a crisis that no one is talking about," Haley said, "and [Matt Mowers] knows our kids need to be in school. We have to go to the Department of Education and tell them they've got some work to do to make up for the last couple of years."
Mowers took the opportunity to praise Haley's record at the U.N., reminding the crowd of his time working in Trump's State Department.
"I remember the early days of the Trump administration," Mowers said. "Remember what the world looked like? ISIS running rampant in the Middle East. Russia unchecked and rolling into Crimea. A rising China that was expanding economically and militarily. We had socialist dictators in our own hemisphere going unchallenged. That was the world we inherited.
"Well, what is happening now? The exact same thing," Mowers said. "The Biden administration, with the complicity of Nancy Pelosi, Chris Pappas, and the Congress, have slept-walked us into disaster."
And while it wasn't the Gridiron dinner, Mowers worked in a line or two of his own.
"I know a lot of you came out today hoping to meet our nine-month-old Jack. Unfortunately, one o'clock is when he takes his afternoon nap," Mowers said. "I think it's the same in the Oval Office."
Both Haley and Mowers hit Biden and the Democrats hard on inflation, energy costs, and gas prices. Haley said Biden killed the Keystone pipeline but "gave Russia everything they want" by ending the Trump administration's hold on the Nord Stream pipeline.
"My first speech at the United Nations was in defense of Ukraine, hitting the Russians. There was no better friend America had than Ukraine," Haley said. "All they want is to be free."
Like every national political figure who comes to the Granite State, Haley was asked about her plans for 2024. And like (nearly) every candidate, she demurred.
"If we don't win in '22, there will be no '24," Haley said. But she noted she has plenty of time to make a decision. "I've never lost a race and I'm not about to start now. If I run, I'll give 1,000 percent and I'll finish it."