NHJournal readers overwhelmingly agree: Donald Trump is the victim of a partisan prosecution, and the GOP needs to dump him, anyway.
While it is not a scientific sample, more than 300 subscribers to the NHJournal newsletter — the number one political newsletter in the Granite State — responded to an anonymous survey over the past 48 hours. The results offer a glimpse into how Republican primary voters view the current state of the race.
More than 90 percent of respondents said they regularly vote in GOP primaries. While 46 percent said they voted for Trump in the 2016 primary, 41 percent backed another candidate. Trump won 35 percent of the FITN vote in 2016.
So how do these politically informed, center-right New Hampshire voters feel about Trump's indictment?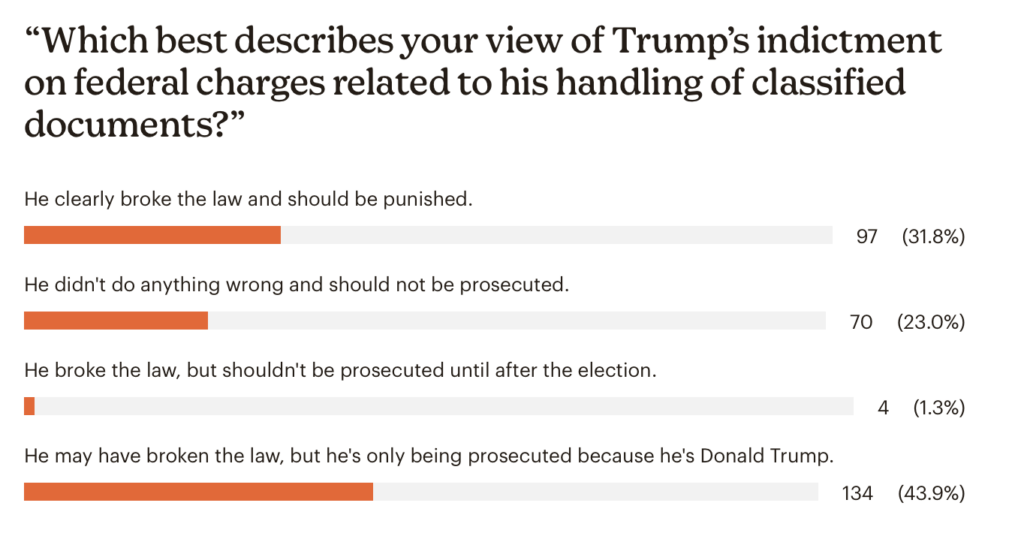 Just 23 percent of respondents agreed with Trump that he did nothing wrong. The other 77 percent believe he is either guilty or that it is possible he is guilty. At the same time, just one-third want Trump punished. Those numbers mirror national polls of GOP primary voters, which show Republicans are more concerned with Trump's treatment by the Department of Justice than they are Trump's actions.
The survey also allowed anonymous comments, and many respondents made it clear they were sticking with the Donald.
"If you let them take Trump down, they will never stop! They will do the same thing over and over again," one respondent wrote. Another added, "The politically motivated indictment strengthens my support of Trump."
At the same time, Granite State Republicans aren't prepared to ride the Trump train off the political cliff. By a two-to-one margin, those Republicans view nominating Trump as a "disaster" more than a "victory." Meaning many of the same Granite Staters who believe he has been treated unfairly also harbor doubts about his ability to win.

"Trump has been unfairly vilified and persecuted, but he's his own worst enemy as he magnifies the grounds for the hate he suffers," one reader wrote. "Thus, it persists, and it compounds, and the result is just too much baggage, drama, and risk. We need a fresh, younger face to carry the Trump policy agenda forward successfully."
Another reader said, "DeSantis is my primary choice, but if Trump gets the nomination, I'll vote for him — and cross my fingers. He would be the greatest president if he could just shut his mouth."
But quite a few comments sounded like this: "This is a game to get Trump nominated for the Republicans by the media and deep state. Only Trump can lose to Biden, and they know it. Trump was the right guy for 2016. It's now 2024, and time put winning ahead of our feelings for Trump."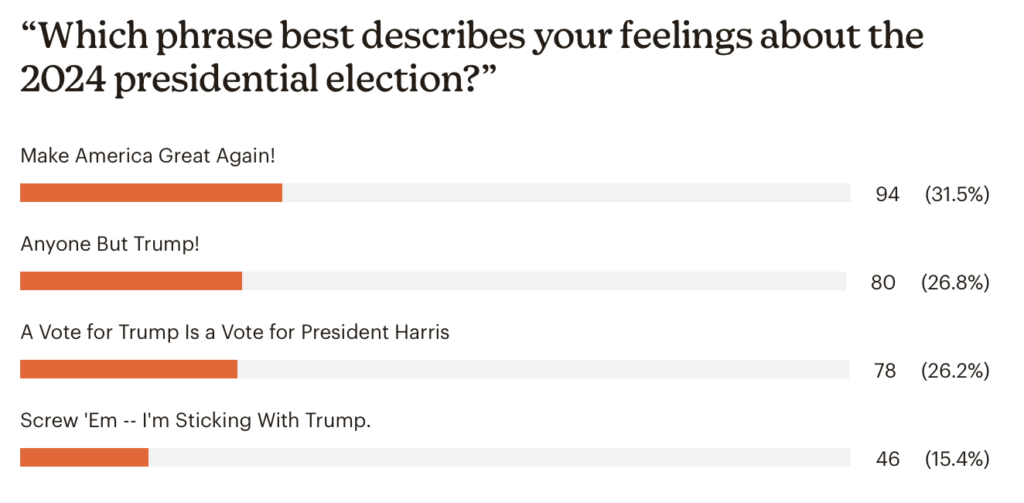 Given these numbers, it is not surprising the respondents are so evenly split on how they feel about the election. Add the two pro-Trump and two anti-Trump answers; you're at 46-52 percent.
The respondents are not nearly as divided, however, when it comes to which candidates they are leaning toward eight months before the First In The Nation primary. As of today, it's a two-man race: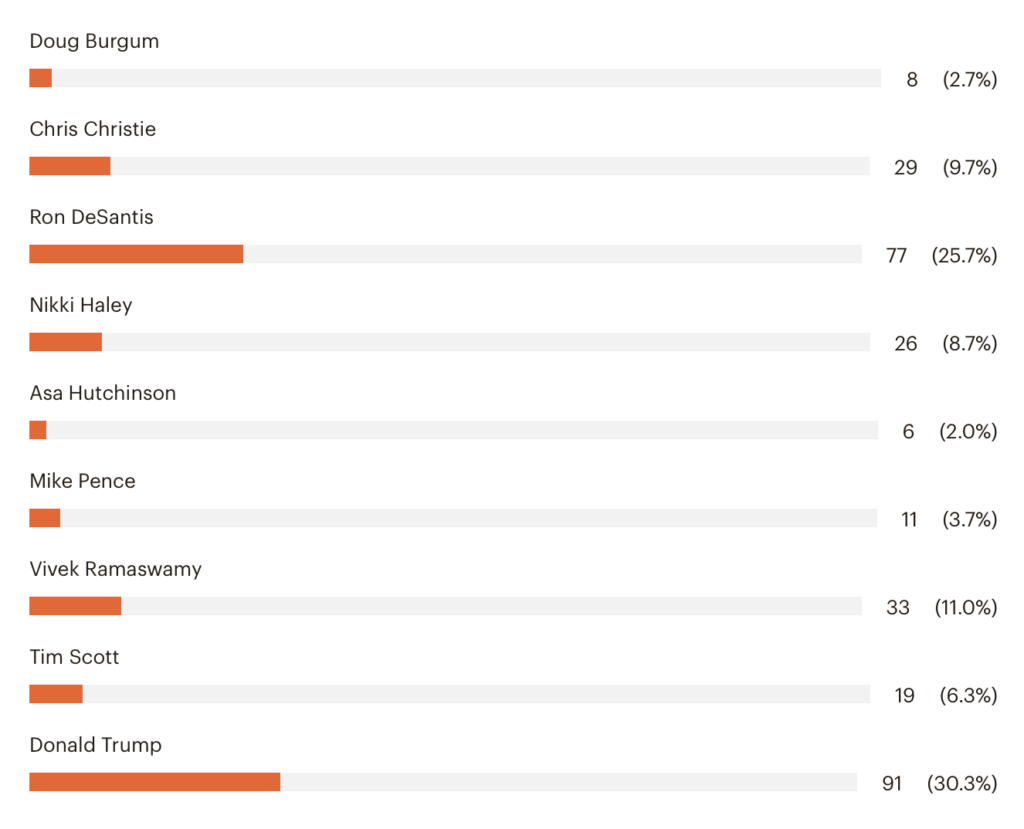 By definition, the readers of a political newsletter are likely to be less Trump-friendly than the rank-and-file voters who follow election news months in advance. Still, Trump at 30 percent and DeSantis at 26 percent is worth noting. Not a great number for the man who is essentially the incumbent Republican nominee. Not a bad number for a guy (DeSantis) whose campaign has yet to catch fire.
The fact that unknown North Dakota Gov. Doug Burgum and the former Vice President of the United States are essentially tied means … something. It's either very good news for one or very bad news for the other.
It is also interesting how closely Chris Christie, Nikki Haley, and Vivek Ramaswamy are bunched together, with Sen. Tim Scott not far behind.
Once again — where's Mike Pence?
To repeat: This is not a poll; it's not a scientific sample. But it's not nothing, either. NHJournal readers are state legislators, grassroots activists, lobbyists, and engaged Republicans.
It is also worth noting that in the last NHJournal survey, taken in February, DeSantis had the support of 40 percent of respondents while Trump was at 21 percent. In third place? Gov. Chris Sununu at 18 percent.
Based on their responses and their comments, Granite State Republicans are as conflicted over the Trump candidacy as the rest of the nation. There are relatively few overtly anti-Trump messages in the comments ("45 is a disgrace to our country") and a fair number of pure MAGA messages.
"President Trump was the best leader in my lifetime. He is the best choice for the leader of the free world," one comment read. "They fear the man and will do anything to stop him from winning," wrote another.
But the common thread through the comments was, love him or hate him, Trump may simply be too politically damaged to win back the White House.
"The GOP needs a candidate who can win over suburban moms and other independents. That's all they need in order to win the Presidency," one respondent wrote. "Trump is absolutely unacceptable to the voters the GOP needs in order to win."
And then there's this particularly New England take on Trump's indictment and the impact on the polls.
"You would think the party of James Michael Curley would know that putting Trump in jail will backfire."