The Granite State will once again be the center of the political universe when almost every GOP presidential candidate gathers in Nashua next month for the New Hampshire Republican Party's First in the Nation Summit.
The list of speakers includes 11 candidates for president as well as a lineup of prominent national figures, including Republican National Committee chair Ronna McDaniel, U.S. Sen. Jodi Ernst (R-Iowa), and former New York Congressman Lee Zeldin.
One significant no-show, however, will be frontrunner Donald Trump.
"The purpose [of the summit] is really to rally the party," New Hampshire GOP Chairman Chris Ager told the NHJournal. "And to do that, we want to demonstrate the big tent of the party and have a lot of different speakers from a lot of different perspectives and expertise come together at one point, one time, to really fire up the team."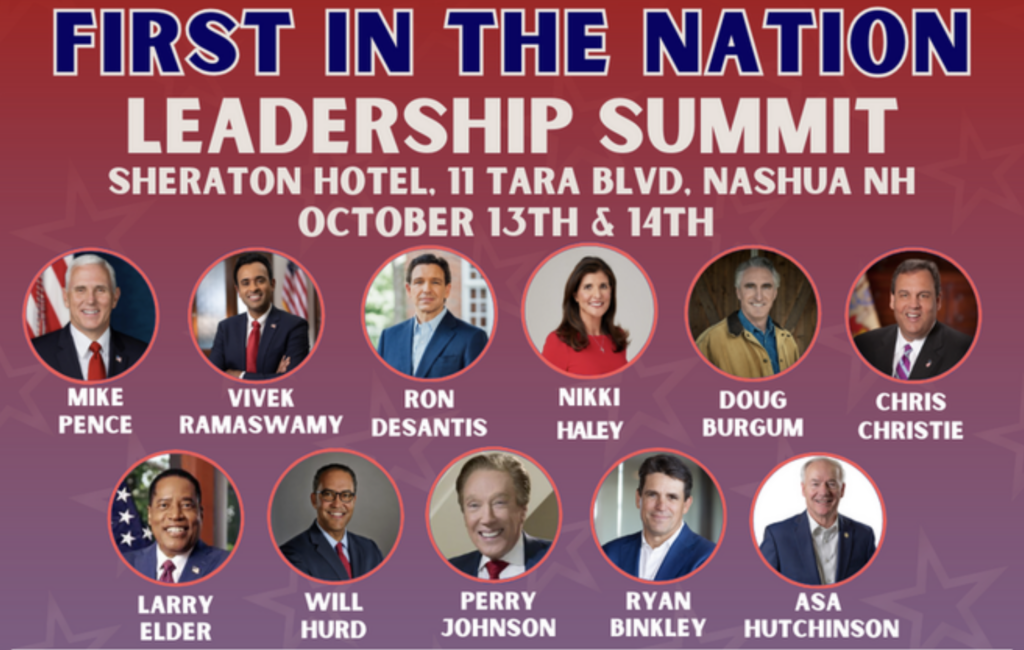 Although Trump holds a commanding lead in New Hampshire, current polling suggests a fierce four-way battle for second place in the state between Nikki Haley, Chris Christie, Ron DeSantis, and Vivek Ramaswamy.
Ager told the NHJournal he does not expect Trump to change his mind about attending the summit, adding that he understands the strategy and "we don't second guess candidates' strategies."
"We invited everyone, and if the candidate believed it was in their best interest not to attend, then that's the decision they make, and we'll continue on. We're going to have a great event," Ager said.
"It might even be less logistically challenging – and less drama – because we won't have the Secret Service, etc.," he added.
Some Granite State Republicans will also get their turn in the spotlight, including gubernatorial candidates Kelly Ayotte and Chuck Morse, as well as Commissioner of Education Frank Edelblut and Speaker of the House Sherman Packard.
Gov. Chris Sununu is not expected to attend.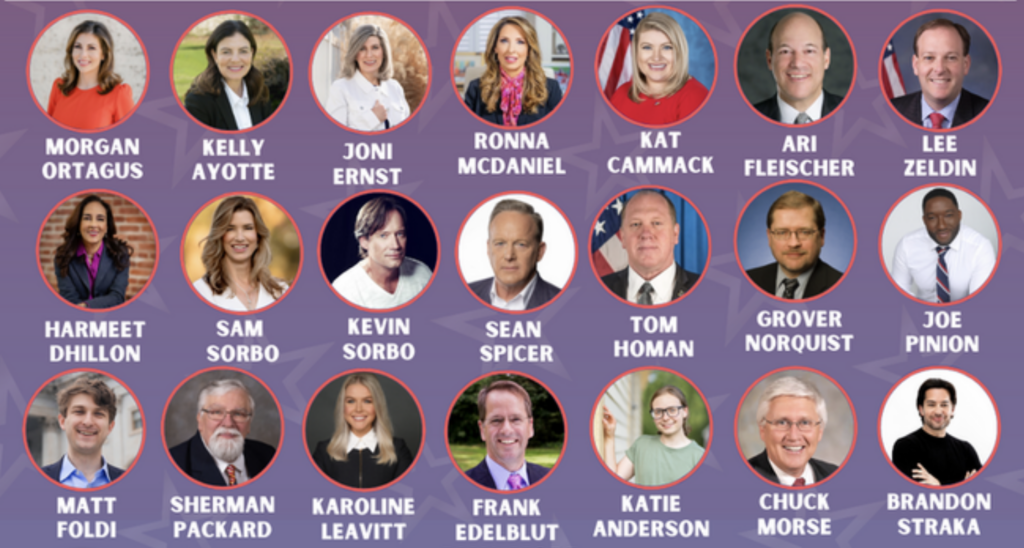 The event will be held at the Nashua Sheraton Hotel on Friday, Oct. 13, and Saturday, Oct. 14. (Ticket information is here.)
Candidates Haley, DeSantis, Larry Elder, Doug Burgum, and Ramaswamy will be speaking on Friday.
Mike Pence, Christie, Asa Hutchinson, Will Hurd, Perry Johnson, and Ryan Binkley will speak on Saturday.
Additional speakers include U.S. Rep. Kat Cammack, former acting I.C.E. Director Tom Homan, and actor Kevin Sorbo.
The GOP's First in the Nation Summit comes as the Democratic National Committee continues its efforts to strip the Granite State of its place at the front of the line. President Joe Biden pushed the DNC to move South Carolina into the first slot, and he has committed not to appear on the New Hampshire ballot when the state holds the nation's first primary over his objections.
Worried New Hampshire Democrats, led by former state party chair Kathy Sullivan, are attempting to organize a write-in campaign to spare Biden the embarrassment of losing the primary to progressive environmentalist Robert F. Kennedy Jr.
Ager said he expects the Republican candidates to focus on four key issues that are most important to Republican voters: Crime, homelessness, taxes, and education.
"The days of 'It's the economy, stupid,' are coming back," Ager said. "So the economy will have a huge role and impact."
Ager also said he is hearing more and more voters are concerned about the border, especially in light of the recent arrests of a Brazilian mass murderer in Rye, N.H., and an alleged human smuggler.
"The difference between what we're doing and, say, a debate or a stump speech, is we're giving candidates between 20 and 30 minutes to do whatever they want," Ager explained, "so the candidates will have the longest amount of time to speak, more than the other speakers."
The summit will anchor a week of presidential campaigning across the Granite State. Seacoastonline and the USA TODAY Network have announced a series of events at the historic Exeter Town Hall with Republican presidential candidates on Oct. 10-15. Burgum, Haley, Hurd, Hutchinson, Pence, and Ramaswamy have agreed to participate, according to Seacoast Media Group's Howard Altschiller.
Florida Gov. Ron DeSantis will also speak at Politics & Eggs at the New Hampshire Institute of Politics during the summit, an event scheduled to begin at 2:30 p.m. Friday.