What was billed as a Republican press conference attacking President Joe Biden's vaccine mandate rapidly devolved into a raucous political protest as angry Granite Staters overwhelmed the GOP event, eventually taking over the stage.
"What the [expletive] just happened?" one head-shaking GOP House member said as he left the Statehouse grounds Tuesday morning, leaving a teeming mass of some 500 anti-vax protesters behind.
In an era when getting people to show up for political events is often difficult, legislators appeared taken back by the size of the crowd from the beginning. House Republican leadership had a disciplined message prepared, and they doggedly delivered it from the podium: We're not against the vaccine, we're against the mandate.
"We will not be bullied by Washington, D.C." Speaker of the House Sherm Packard (R-Londonderry) said. "This mandate is unacceptable. It's unacceptable from an administration that has no idea what the hell they're doing."
Speaker Pro Tempore Rep. Kim Rice (R-Hudson) followed up with a similar message. "We do not support bullying of any kind, and we do not support the insanity coming out of Washington, D.C.  Republicans will fight to protect individual rights and freedom for all our constituents."
But the crowd wasn't having it. They weren't there as partisans, but as parents and as panicked employees. They came, not to discuss, but to denounce, to demand, and mostly, to make sure politicians knew how mad they were.
"We can not wait," was one repeated chant. "Do something!" "Just words — we want action!"
As the talking continued from the podium, the protesters turned on the politicians. They began shouting down the speakers, who struggled to be heard.
Packard and his fellow legislators were clearly flustered. The Speaker tried to explain there was little that can be done at the state level to stop a federal mandate. "If you're angry, you should contact every member of the congressional delegation," Packard told the crowd. "Why haven't Shaheen, Hassan, Pappas, and Kuster done something to protect New Hampshire workers? Since this was mandated by the president, they have said nothing. They have done nothing."
But the sign-waving protesters weren't interested in a civics lesson. The chant "Do your job" repeatedly rang out from the crowd. And from the beginning, it was clear they had one particular New Hampshire politician in mind.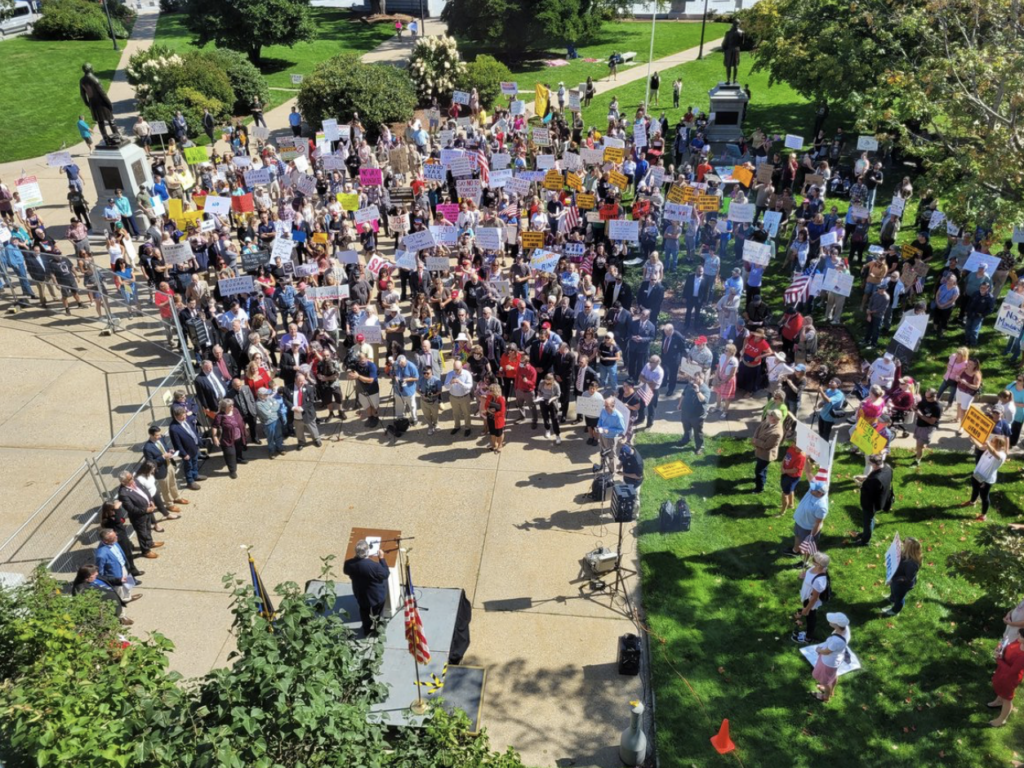 "Where is Sununu?" was the most frequently heard cry of the morning, along with shouts of "coward" and "loser." Many in the crowd wanted to know why Gov. Chris Sununu wasn't being more aggressive in opposing the mandate, like Republican Govs. Greg Abbott (Texas) and Ron DeSantis (Fla.).
"He's a RINO," one protester groaned when Sununu's name was mentioned.
Sununu has released two statements denouncing the mandate and insisting he's "collaborating" with his fellow governors. But that did little to appease Tuesday's unruly throng.
As the press-conference-turned-protest stumbled to a close, Packard began pleading with the crowd. "We're trying to help you," he said over their shouts. "You're yelling at the wrong people. We get it. We understand. We wouldn't be here if we didn't understand." House members even tried to match the moment with their own chant: "We hear you! We hear you!"
But as Packard wrapped up the event and walked away from the mic  lawmakers were treated to another round of "Do your job!"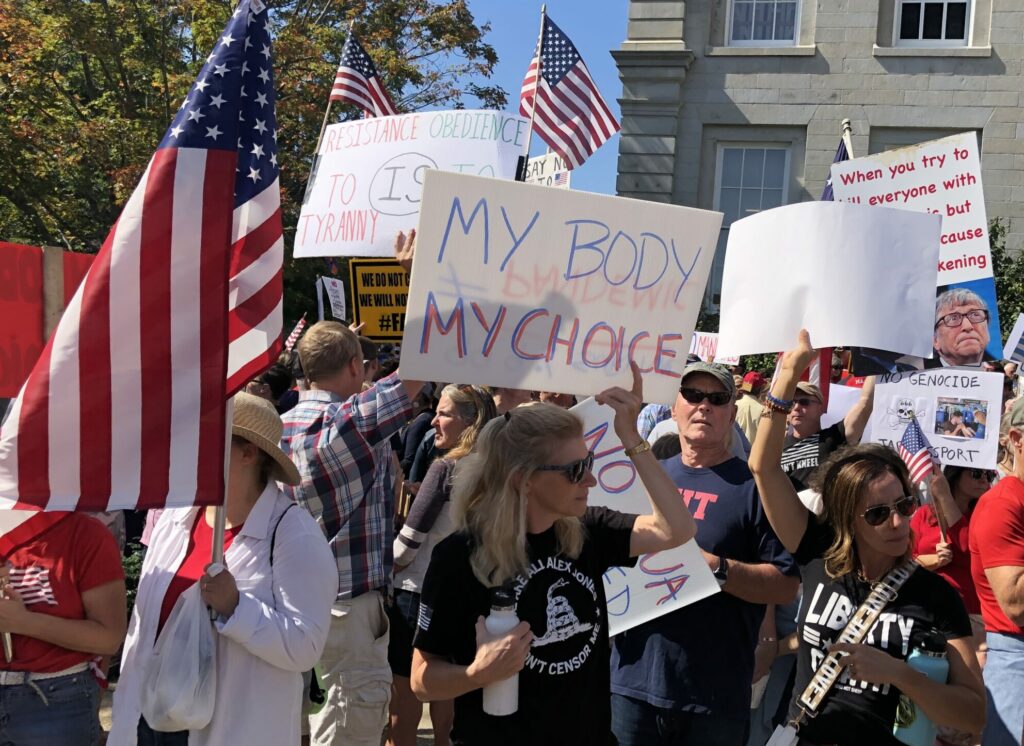 After milling around for a few minutes, the protesters decided they weren't done. They took over the stage, gave impromptu speeches and sang the national anthem. A preacher stood and urged the audience to embrace God. They slammed Sununu a few more times for good measure.
Democrats were delighted. When news broke later in the day that state Rep. William D. Marsh (R-Wolfeboro) was leaving the GOP in response to the Statehouse rally, the Democrats' legislative communications director Colin Booth tweeted: "Hey, NHGOP, just so you know, this is what a party in complete disarray looks like."
In an interview late Tuesday, Packard dismissed the "disarray" claim.
"Were those people angry? Of course they're angry. They could lose their jobs, lose their ability to feed their families and keep a roof over their heads, because of Joe Biden. If they are worried about a brand-new vaccine, if they're young and are wondering about the long-term effects — and I'm not saying there are any — but if they're worried about that and they don't want to put this vaccine in their bodies, they could get fired? I can understand why they're angry and upset."
Packard sees the problem as one of timing, not message. "Those people want something done right away, and it just doesn't work like that. Biden just made his announcement, what, five days ago? They want us to stop OSHA [the Occupational Safety and Health Administration]? We haven't even seen the rules yet. We aren't even sure what Biden's [order] is going to cover."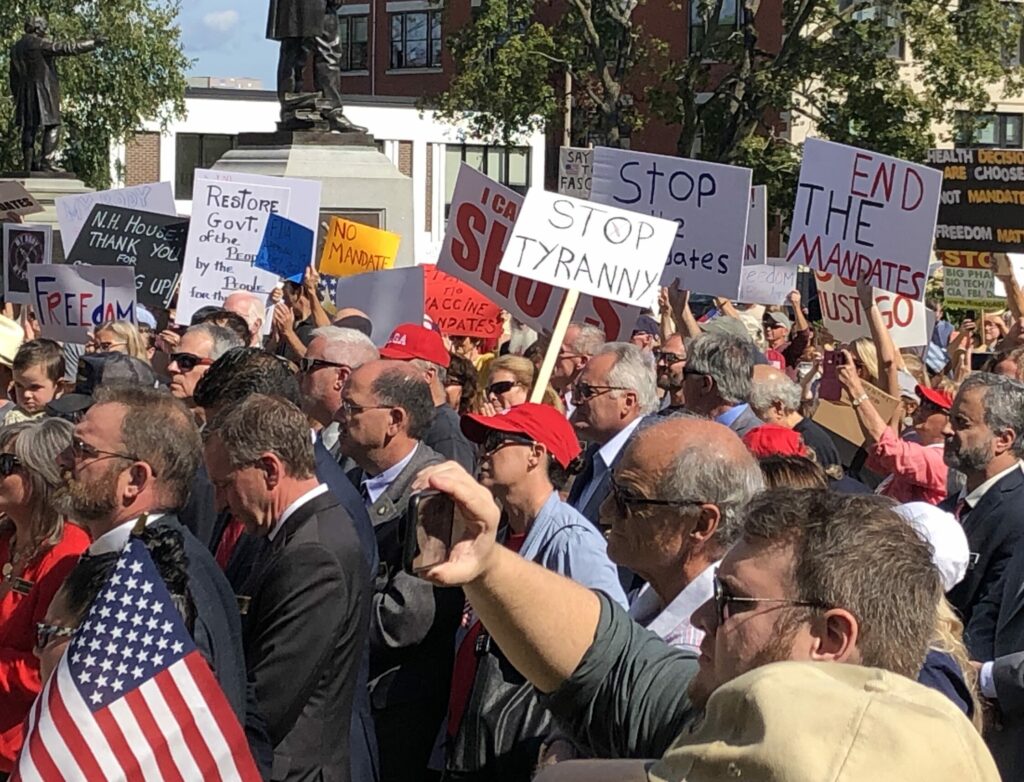 But, Packard said, legislation is definitely coming. And as for Sununu, he says the attacks are unfair. "Sununu is on the right side of this: He supports the vaccine but opposes the mandate. And he's as angry as we are about this. He's talking to the Republican Governor's Association to come up with a way to address it."
Those words aren't likely to be enough for the angry Granite Staters on the statehouse grounds. "Where are we supposed to go," one sign-waving woman shouted as the event ended. "Tell us what we can do to fix this!"