"U.S. Inflation Surges In September Over Prior Month," is the headline at Barron's.
"Core U.S. Inflation Rises to 40-Year High, Securing Big Fed Hike," says Bloomberg.
And what do New Hampshire's members of Congress have to say to Granite State voters about Thursday's news of inflation's continued rise?
Nothing. No comment to the press, no messages on their websites, and no posts on social media.
The latest inflation number is brutal, coming less than a month before the midterm elections. As the AP reported, "Inflation in the United States accelerated in September, with the cost of housing and other necessities intensifying pressure on households, wiping out pay gains and ensuring that the Federal Reserve will keep raising interest rates aggressively.
"Overall prices rose 8.2 percent in September compared with a year earlier," it added, with "consumer prices, excluding volatile food and energy costs, jumped 6.6 percent in September from a year ago — the fastest such pace in four decades.
Inflation Under President Donald Trump and Joe Biden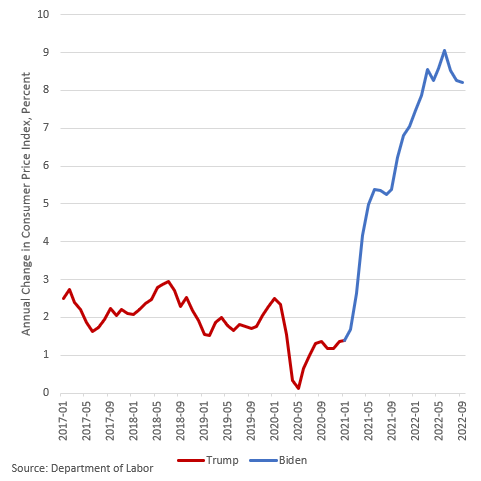 Given that polls consistently show inflation and rising prices are the top concern of voters, both in New Hampshire and nationwide, it is no surprise Republican candidates immediately reacted to the news.
"The cost of everything in your life is more expensive because Democrats in Washington have spent trillions and trillions of your tax dollars in less than two years," said Karoline Leavitt who, according to a new AARP poll, is in a neck-and-neck race with Rep. Chris Pappas. "In August, Chris Pappas voted for the so-called 'Inflation Reduction Act,' which actually increased inflation, cost our country another $740 billion, and hired 87,000 new IRS agents to target our small businesses. We literally cannot afford another two years of Chris Pappas and Democrat big-government policies. Make your life cheaper. Vote Republican on November 8th."
Pappas did not respond to repeated requests for comment about the inflation issue.
Gen. Don Bolduc, the GOP candidate for U.S. Senate, has made "inflation, inflation, inflation" his campaign mantra.
"Inflation continues soaring because of the misguided policy decisions of President Biden and his chief accomplice, Sen. Maggie Hassan," Bolduc said in a statement. "With winter approaching, too many in the Granite State are facing decisions between heating and eating.
"Families might be hurting, but it's warm and cozy for career politicians like Biden and Hassan who rely on the taxpayers for their housing, food, and transportation. The only way to change direction and stop the spending spree is by electing new leaders."
Hassan did not address the new inflation numbers. However, during a forum hosted by the Nashua Chamber of Commerce on Wednesday she touted her vote for the Inflation Reduction Act — she was the 50th vote that got it over the threshold for passage — as an effective way to fight inflation. But the Penn Wharton Business Model reports the bill, which increases federal spending by about half a trillion dollars, "would very slightly increase inflation until 2024 and decrease inflation thereafter. These point estimates are statistically indistinguishable from zero."
Hassan promoted additional spending on health care as a way to lower costs for some Americans but acknowledged the green energy aspect of the bill provided "tax cuts," as opposed to lowering price pressure for Granite Staters who "make energy efficiencies to their homes."
In other words, only people who buy energy-efficient furnaces, windows, etc. will get a financial benefit, and they have to spend the money upfront, adding to increased demand. And the act does nothing to lower price pressure on natural gas or home heating oil in the near term.
Meanwhile, all three Democrats supported the massive $1.9 trillion spending package in early 2021 that Democratic economists like Larry Summers warned would send inflation soaring. "Excessive fiscal stimulus provided during the pandemic, particularly the last $1.9 trillion package at the end of March 2021 just as the economy was already emerging from the lockdowns . . . was what turbocharged consumption and drove inflation to 40-year highs," the investment firm Morgan Stanley said in a statement.
While Granite State Democrats were tight-lipped about rising prices, President Joe Biden spoke out. "If Republicans win, inflation is going to get worse. It's that simple," Biden said after the new numbers were released. He did not offer any evidence other than claiming, "Republicans think inflation is rising because too many Americans are working."
Granite State Democrats have tried to keep the election focused on abortion and they rarely mention their party's record on the economy over the past two years. Republicans believe the latest numbers will help them convince voters to make a change.
"Voters are getting a timely reminder right before midterms that Chris Pappas and Annie Kuster's reckless spending is forcing them to pay higher prices for everything," said NRCC spokeswoman Samantha Bullock.