A New Hampshire House Democrat's use of the word "rape" to describe the ultrasound requirements in the state's new late-abortion ban is being denounced as "outrageous," "ridiculous" and offensive to victims of sexual assault.
Last week, the left-wing InDepthNH website ran an opinion piece by Conway Daily Sun columnist Jonna Carter opposing the new six-month abortion limit and the law's ultrasound requirement. "What House Republicans have legalized and in fact enacted is 'state rape,'" she wrote.
State Rep. David Meuse (D-Portsmouth) then publicly endorsed Carter's view,  tweeting the "state rape" statement, along with a link to the article.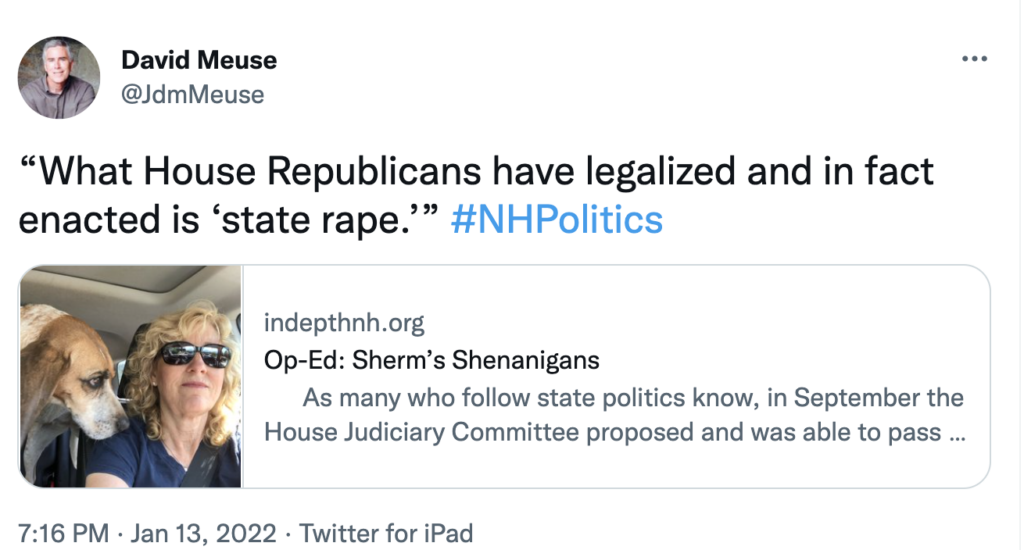 "That is an outrageous statement that is very disrespectful to women who have been the victims of rape," said state Sen. Sharon Carson (R-Londonderry) "Women get ultrasounds in America every day, at the direction of their doctors to help give them proper care. To compare a procedure that keeps women safe to a rape is awful."
Carson's colleague, Sen. Regina Birdsell (R-Hampstead) agrees.
"That's the most ridiculous thing I've ever heard," Birdsell. "I've spoken to women who've had children and have had ultrasounds — including transvaginal ones — and this is a normal procedure that has no comparison to rape."
Setting aside the comparison to sexual assault, the "rape" allegation is based on the Democrats' claim that the new law mandates the more invasive transvaginal ultrasound under the law. During the debate over the new law last summer, Sen. Tom Sherman (D-Rye) held up the medical wand used to perform the procedure.
Supporters of the late-term abortion ban say that, in addition to being insulting to victims, opponents of the new law are wrong about the facts.
"Invoking the image of transvaginal ultrasound and then likening it to rape is dishonest and wrong. The bill never mentions it, and the law is only focused on children at the 24th week — six months — or later whose gestational age can easily be confirmed with an external ultrasound," said Shannon McGinley with Cornerstone Action. "Moreover, carelessly conflating any diagnostic medical procedure with rape is reckless and minimizes the actual victims of violent sexual attack."
Meuse didn't respond to requests for comment.
NHJournal also reached out to the New Hampshire Coalition Against Domestic and Sexual Violence (NHCADSV) to ask how victims of rape might feel about the comparison made by Meuse. Rather than take offense, the activist group advocating for victims of rape appeared to side with the Democrat.
"Women and girls who are forced to undergo an unwanted transvaginal probe may feel strongly victimized by the procedure, which is by its very nature, physically invasive. This may be especially true for someone who previously experienced a traumatic event such as sexual abuse," Executive Director Lyn Schollett said in a statement.
One Republican who works on victims' issues in New Hampshire and didn't want to speak on the record told NHJournal NHCADSV's position was disappointing, but not surprising.
"Everything has become partisan. It's been happening for a while, and now it's [partisan politics] is their priority. Advocating for rape victims shouldn't be."