State Sen. Cindy Rosenwald took to social media to spread a now-debunked trope about ivermectin, one often used to demean Trump supporters.
"Also disturbing is that NH hospitals are seeing Ivermectin overdose patients #NHPolitics," the Nashua Democrat tweeted Wednesday night.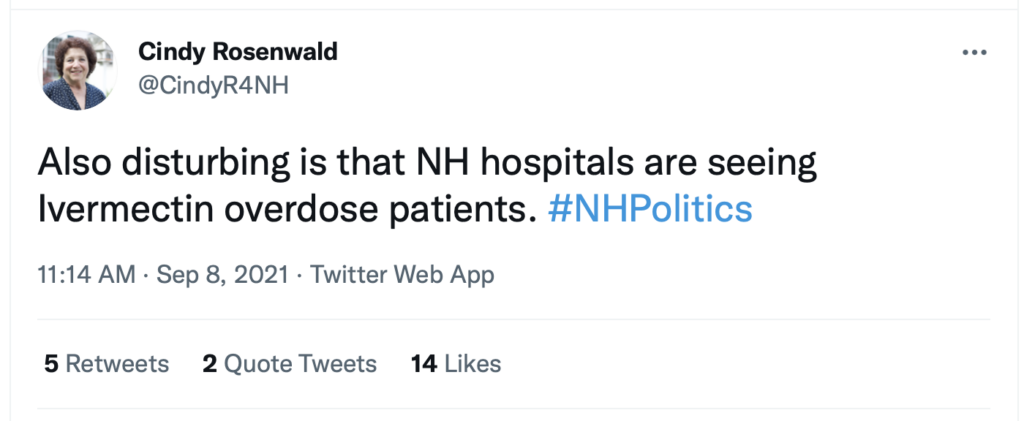 Rosenwald used the #NHPolitics hashtag for that tweet, apparently in an effort to score political points with the story of people getting poisoned.
There is no evidence, however, that this claim is true.
Rosenwald's claim was immediately challenged by people who wanted to know the source of her claim.
"This is shocking. So shocking that I called the Northern New England Poison Center," responded state Rep. Katherine Prudhomme O'Brien (R-Derry). "They get a handful of ivermectin calls each year, dog ate kids meds, kid ate dogs meds type and have seen no increase this year. Is there another source you have? What is it?"
After being repeatedly challenged, including multiple requests from NHJournal, State Senate Minority Caucus Director Marina Altschiller responded via email on Rosenwald's behalf. "She was given the information from a high-ranking executive of a New Hampshire hospital."
Rosenwald posted the same claim on Twitter Thursday morning.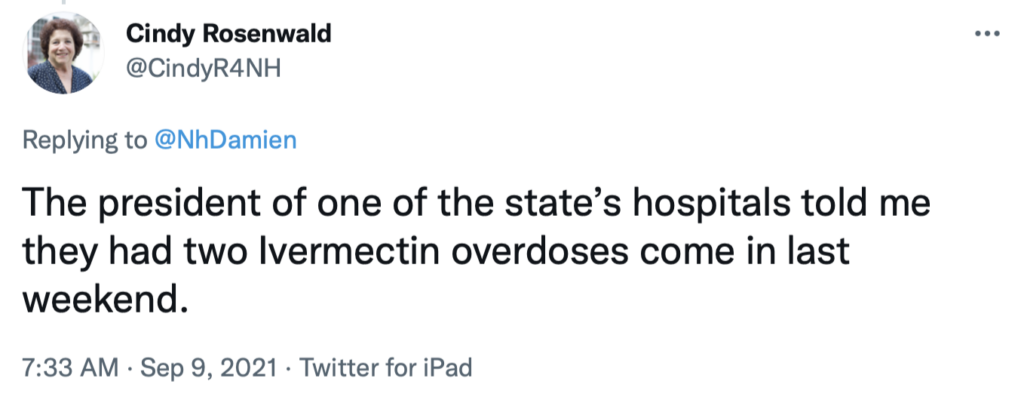 What official? Which hospital? Rosenwald declined to say. And two overdoses in a state with 1.4 million people is hardly "disturbing." It's also unclear if Rosenwald was specifically told that those overdoses resulted from people taking livestock-grade medication to treat COVID-19, and not from an accident as is typically more common.
The Northern New England Poison Control Center reports there is no reported increase in ivermectin poisoning.
"The records of poisoning with ivermectin is on pace with normal years," said Clay Holtzman, associate vice president of communications and public affairs at MaineHealth, which coordinates with Northern New England Poison Control Center.
The Northern New England Poison Control Center typically sees between 16 and 18 cases of accidental ivermectin poisonings a year in New Hampshire. So far, there have been about 10 cases, Holtzman said. 
"We're not seeing an uptick in ivermectin poisoning cases," he added.
Dartmouth-Hitchcock Medical Center in Lebanon, Catholic Medical Center in Manchester, Southern New Hampshire Medical Center in Nashua, and Wentworth-Douglass Hospital in Dover all report treating no cases of ivermectin poisoning when contacted by NH Journal.
False and misleading claims regarding ivermectin overdoses have become common in both mass media and social media in recent weeks, often as political attacks targeting Trump supporters or people who've declined to take the COVID-19 vaccine. 
Rolling Stone published a story claiming ivermectin poisoning cases are clogging rural hospital emergency rooms in Oklahoma, even forcing gunshot victims to wait for beds.
The story, headlined "Gunshot Victims Left Waiting as Horse Dewormer Overdoses Overwhelm Oklahoma Hospitals, Doctor Says," was spread widely by media outlets like MSNBC and the New York Daily News. It has since been retracted when it was discovered the entire story was based on the claims of a single doctor and was never fact-checked by journalists repeating the story.
The Washington Post's media critic Eric Wemple wrapped up the media coverage this way: "Bogus Oklahoma ivermectin story was just too good to check."
Rolling Stone was forced to publish a statement: "Rolling Stone has been unable to independently verify any such cases as of the time of this update."
The use of the phrase "horse dewormer" is no accident. Mocking ivermectin as "horse paste" and livestock meds has been a commonly-used tactic to demean people who've taken it as a COVID therapeutic. In fact, ivermectin is such a successful treatment for diseases plaguing humans that the inventors won the Nobel Prize in chemistry.
In addition to Rolling Stone misreporting, the Associated Press ran a story claiming  70 percent of the calls to Mississippi's poison control hotline were ivermectin-related. The real number was 2 percent.
And comedian and podcaster Joe Rogan, who's been accused of making misleading statements about the COVID vaccine, was mocked when he recently announced he caught the virus, and that he planned to treat it with a combination of drugs prescribed by a doctor, including ivermectin. 
Rogan survived his bout with the virus, but media outlets like CNN reported he was taking the horse version of the drug.
"Bro, do I have to sue CNN?" he said on his podcast. "They're making s*** up! They keep saying I'm taking horse dewormer. I literally got it from a doctor. It's an American company. They won the Nobel Prize in 2015 for use in human beings and CNN is saying I'm taking horse dewormer. They must know that's a lie."
There is no evidence that ivermectin is effective in treating or preventing COVID-19, according to Dr. Michael Calderwood, the chief quality officer at Dartmouth-Hitchcock Medical Center. Ivermectin might turn out to be useful in treating COVID-19, but that hasn't been thoroughly studied, he said.
"There may be an indication to study things like ivermectin in trials, and that is something that is actually being done," Calderwood said.