The case of Democratic state Rep. Cathryn Harvey, responsible for driving a fellow House Democrat out of the party, took a strange turn over the holidays when she reportedly confiscated — some say "stole" —  all copies of a hunting and fishing news magazine from the Fish and Game Commission offices in Concord.
It is just the latest story of a one-time committee chair whose ambition to sit on the commission she helps regulate has created headaches for House Democratic leaders, according to multiple sources from both sides of the aisle.
Harvey declined to respond to repeated requests for comment.
Just before Christmas, NHJournal reported on the disarray in the House Democratic Caucus, including a member who abandoned his House seat — and his job with the state Democratic Party — without telling his constituents; and Rep. Ellen Read of Newmarket, who switched her party affiliation to "independent" after Harvey attempted to get her kicked off the House Fish and Game and Marine Resources Committee where they serve together.
Now come reports that Speaker Sherm Packard's office has been contacted and asked not to seat Read with the Democratic Caucus when the House reconvenes this week at the DoubleTree hotel in Manchester. Read, a self-declared progressive, votes with the Democratic majority more than 95 percent of the time.
While Packard says any such request never made it to his desk, he confirmed that Democratic leadership asked him to remove Read from the Fish and Game Committee, apparently at Harvey's behest. Harvey was angry, multiple sources confirmed, over Read's allegation that her repeated attempts to rewrite the qualifications for serving on the state's Fish and Game Commission were self-serving and corrupt.
In fact, during the 2019-2020 session, Harvey was so angered by Read's comments that she called House security — a fact Harvey confirmed to NHJournal, though she declined to elaborate further.
Asked about the incident, Read acknowledged the incident.
"I wasn't inappropriate," Read said. "I was in a room full of other Democrats. And I looked her in the eye and I said, 'You're absolutely corrupt, and you have no business chairing that committee because of how you are running it.' And she got really upset and called security. And security came,  and I waved to them,  and they stood there for a while and then they went away.
"So yes, [Harvey] did call security. But it was not for any reasonable, rational reason. Now it's something of a joke among the people who know the story."
At issue are Harvey's legislative attempts to reduce the requirements for serving on the Fish and Game Commission. In an email to Rep. James Spillane (R-Deerfield), Harvey wrote "My suggestions would be to enlarge the commission to 5 House members and 3 Senators."
Spillane said the expectation was that, as the ranking Democrat on the committee, Harvey would be one of those five new commissioners. Despite her seeming lack of interest in the outdoors.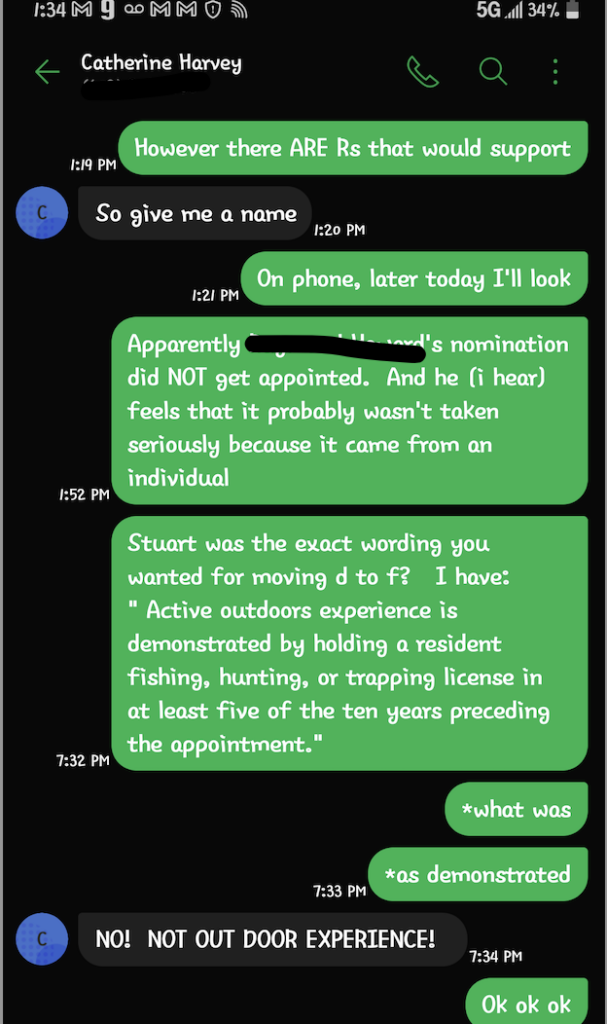 "[Rep. Harvey] made no secret of the fact that she was not interested in hunting or fishing and had never planned to," Read said. "She used to say that the closest she got to the outdoors was gardening in her garden."
Read proposed changing the make-up of the Commission to half scientists or experts, and the other half hunters.
"That way everybody's represented it. But [Harvey] was opposed to it. Then she reached out to me and said if I would lower the requirements to just having a hunting license for two years — which is the number of years she'd had her license — she'd support the overall bill."
"The current RSA said, you must be an active outdoors person. So, I'm reading back the RSA, and I had changed five years to two years like she wanted, and she texts me back in all caps: 'NO! TAKE OUT THE 'ACTIVE OUTDOORS PERSON.'
"And my response was, OMG, are you kidding me?"
Harvey's inexplicable obsession with the Fish and Game Commission continues, and it continues to result in problematic behavior. During the commission's December 28 meeting in Concord, an audience member accused Harvey of having stolen all the copies of the "Hawkeye Hunting and Fishing News" magazines from the commission lobby.
Rather than denying the allegation, Harvey said she took them because she found some of the articles offensive to Democrats. One article discussed the movie set shooting death at the hands of Democratic activist Alec Baldwin. Another was critical of Massachusetts legislators considering laws that would "negatively impact sportsmen," part of an "attempt to end hunting and trapping by zealous Democrat politicians."
Commission members are currently looking into Harvey's actions.
House insiders say the real issue is the lack of leadership in the caucus to prevent incidents like Harvey's ham-fisted attempt to push a member off a committee or use the legislative process for what some would consider personal gain.
"The only thing uniting us right now is trying to stop the Republicans. Other than that, nobody seems to really be in charge," one Democratic insider told NHJournal.
The House is scheduled to vote on another attempt by Harvey to again modify the Fish and Game Commission this week, legislation that all the Republicans and several Democrats, in a bipartisan fashion, have already deemed Inexpedient to Legislate.