Public schools across the U.S. are losing students and New Hampshire is leading the way.
Axios reported Sunday that, according to the National Center for Education Statistics, Granite State public school enrollment fell by 14 percent between Fall 2009 and Fall 2020, more than any other state.
And that 14 percent rate is projected to continue until 2030, emptying even more classrooms.
The Axios report comes just 48 hours after the New Hampshire Department of Education (DOE) released the latest data on taxpayer spending on K-12 education. Because cities and towns continue to increase their demands for taxpayer funding for schools, average per-pupil spending in New Hampshire has hit a record $19,400.
"Total operating expenses for the 2021-2022 school year were about $3.5 billion in New Hampshire," the DOE reported.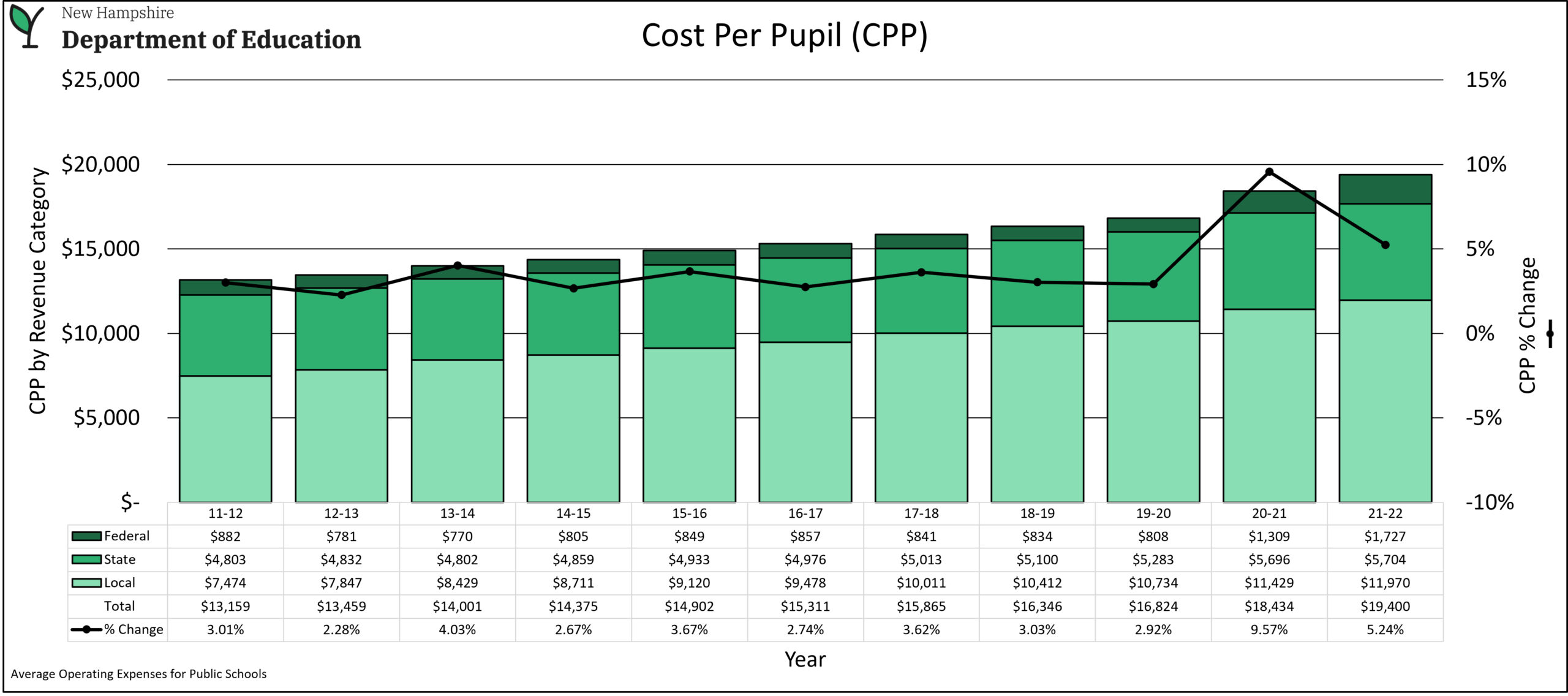 In dozens of smaller districts where enrollment has fallen by 20 percent or more, the per-pupil spending has more than doubled. In the seacoast community of New Castle, spending per student soared by nearly 300 percent over the past decade, to nearly $45,000.
"The cost per pupil numbers highlight the difficult but important job of shrinking a system that has been and will continue to support fewer students," New Hampshire Commissioner of Education Frank Edelblut said.
"The demographic trends are already set. The work of our school boards and school leaders is to right-size the school system to this declining population of students. This is a perfect time to rethink how we educate students in New Hampshire."
Granite State Democrats don't agree. Over the past decade as school enrollment declined, legislative leaders like Sen. Donna Soucy (D-Manchester) and House Education Committee chair Rep. Mel Myler (D-Merrimack) have called for more state spending on K-12 education. When Gov. Chris Sununu signed the most recent budget, passed by a GOP majority, House Democrats released a statement accusing him of "cutting education funding, raising property taxes," a reference to the fact that overall state spending declined. It was a charge leveled by his Democratic opponent for governor, former state Sen. Tom Sherman (D-Rye) as well.
But as Sununu has repeatedly pointed out — including in his most recent inaugural address — the state's per pupil funding is at an all-time high.
"Together we have crafted three balanced budgets —with no new taxes – and we are going to do it again," Sununu said last Wednesday. "We delivered full-day kindergarten and a historic school choice bill that puts students over systems — all while spending more money per student for public education than ever before."
Soucy and Myler did not respond to repeated requests for comment about the enrollment and spending data. Deb Howes and Megan Tuttle, leaders of the state's two largest teachers unions, continue to demand higher taxpayer spending on K-12 schools.
They also declined to comment on the latest numbers.
According to the data from the state, per pupil funding in the Granite State ranges from around $15,000 in communities like Auburn and Strafford, to $38,500 in Pittsburg and nearly $44,000 in Freedom, N.H.
"Republicans must protect taxpayers and this new data should be taken into account," said House Majority Leader Jason Osborne (R-Auburn). "We support both quality education and lower property taxes, and it's our job to make sure every tax dollar is well spent."
Democrats also oppose the state's Educational Freedom Accounts (EFA's) which allow parents to use the state portion of their child's per-pupil funding — usually around $5,000 — for private, parochial, or homeschooling. They claim it takes funding away from public schools, a claim that appears to fly in the face of the latest data.
In fact, EFA's are contributing to higher per-pupil spending. Students who choose a different education option only take the state share of their funding. The local funding, usually around 70 percent of the total, stays in the district with fewer students needing services.
"The continuing trends of declining enrollments but increasing local budgets is not sustainable. The local voters (aka 'taxpayers') will catch on," said Rep. Glenn Cordelli (R-Tuftonboro), vice chairman of the House Education Committee.
"The state legislature will have a vigorous debate on education funding in the next budget. One aspect that I hope we can fund is the continued $100 million cut to the statewide education tax to reduce local property taxes."
The current state budget includes $100 million in property tax relief to cities and towns. Critics note that as high as the $19,400 per pupil number is, it's artificially low. The DOE didn't include any capital spending in their data.
Meanwhile, as U.S. school enrollment fell from 50.8 million students in 2019 to 49.4 million in 2020, enrollment in private schools and charter schools rose, Axios reports. "The number of homeschooled students doubled to about 5 million."
Dan McGuire with Granite State Taxpayers says the numbers show education funding has become a "taxpayers beware" proposition.
"Clearly, school boards and SAUs are shrinking class sizes and padding school administration," McGuire said. "If student performance was improving this extra spending might be justified, but unfortunately it is not. Voters need to pay attention to who they put on school boards, and those boards in turn need to rein in their superintendents."
Even setting aside the impact of COVID-19 school closings, New Hampshire's National Education Assessment Progress (NEAP) tests scores have been flat or falling for nearly a decade.