Sen. Jeanne Shaheen wants New Hampshire voters to know that she supports the Black Lives Matter protests across the state, from "Portsmouth, Manchester, Wolfeboro, Concord and beyond," she tweeted on Saturday. "Granite Staters have come together this week to stand up for justice and equity, and to affirm that Black lives matter. I stand with all of you."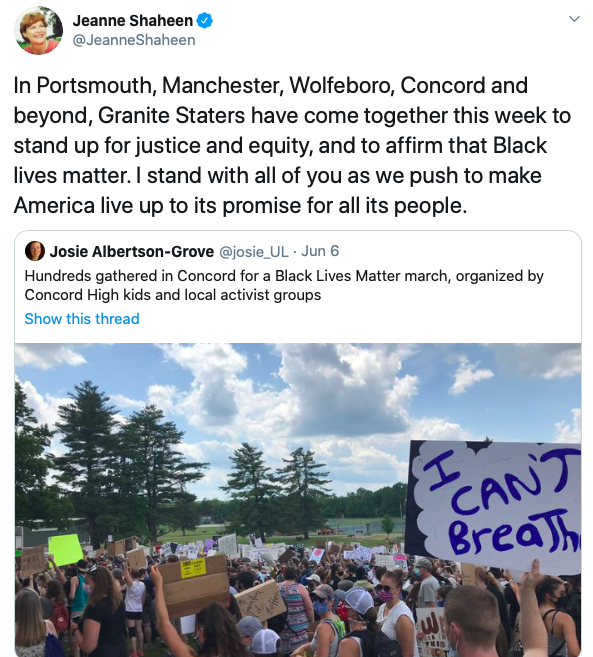 But just a few weeks ago, Shaheen had a very different take: "Stay Home. Save Lives." She tweeted out several messages urging Granite Staters to "heed" Gov. Chris Sununu's instructions for fighting the spread of COVID-19, including "Don't gather in large groups or get together with friends."
What happened between then and now? There's no coronavirus vaccine, no treatment. About the same number of Granite Staters are in the hospital from COVID-19 today as two months ago. Public health professionals like Dr. Anthony Fauci are still warning that gathering in crowds increases the chance of spread. So much so that former FDA chief Dr. Scott Gottlieb says, "we're certainly going to see transmission coming out of these gatherings."
If you believe, as Sen. Shaheen and New Hampshire Democrats were claiming just weeks ago, that the spread of COVID-19 was an imminent public-health threat and people who protested in public were endangering Granite State lives, what happened?
Politics. Two months ago, people were protesting the devastating economic impacts of the stay-at-home shutdown. Many of them were Republicans and/or Trump supporters. And so the message from NHDemocrats was this from Rep. Debra Altschiller:

Readers will be shocked to learn that Rep. Altschiller has not referred to any Black Lives Matter march as an #IdiotParade.
The same for Rep. David Meuse, who used to say this: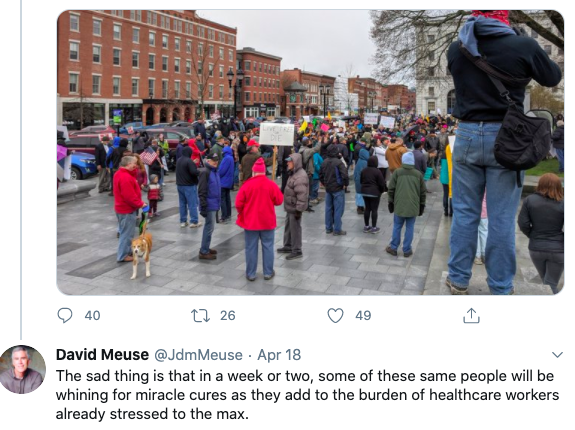 But when thousands of Black Lives Matter protesters packed together in his Portsmouth community this weekend, Rep. Meuse could barely contain his excitement: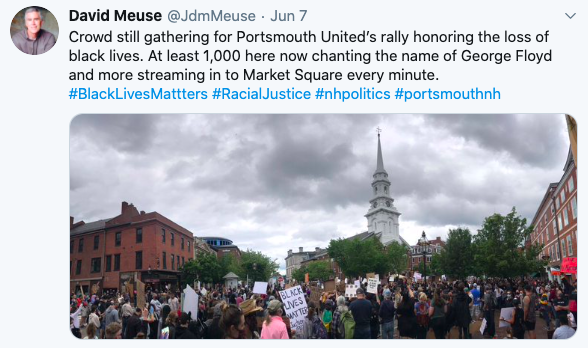 In April, State Sen. Melanie Levesque's message was "no more than 10 people."

But when several hundred people gathered at Greeley Park on Saturday, guess who was there?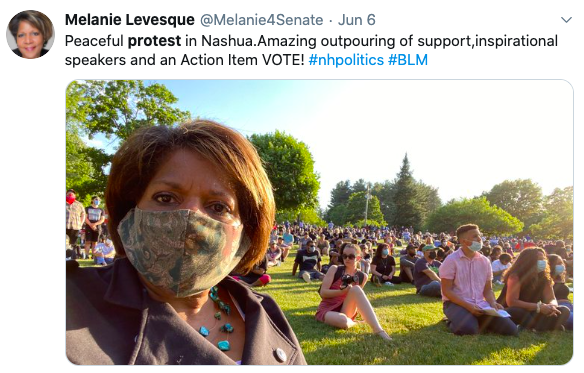 State Senator David Watters' reaction to anti-lockdown protesters?
But when a crowd of 1,000 met to protest in Dover — at just as much risk of infection as the ReOpenNH crowd– Watters didn't mention COVID-19 or potential illnesses, but instead celebrated their "incredible vigil."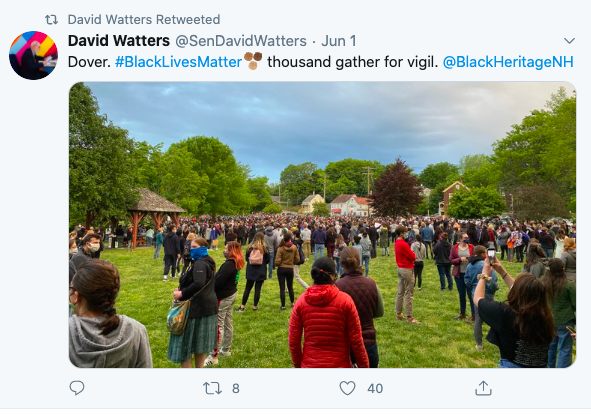 Many Democrats defend their apparent hypocrisy by saying that the cause of racial justice is so important it can't be compared to protesting to save your job or to end the lockdown so your small business can survive.
Health experts respond: "The virus doesn't care." If it's a significant threat at a softball game or a racetrack, it's certainly a threat when a thousand people are chanting, shouting and singing in a crowd. As Jim Geraghty reports at National Review:
 "A man arrested at a George Floyd–inspired protest in Lancaster, Pa., tested positive for the coronavirus; Columbus Public Health in Ohio announced that someone who was symptomatic attended protests in the past week. Oklahoma State University linebacker Amen Ogbongbemiga announced on Twitter that he had tested positive for the coronavirus, but had attended a protest in Tulsa and taken precautions.

Now in Lawrence, Kan.: "A release sent by the Lawrence Douglas County Public Health Department states that a resident that was downtown at the protest has tested positive for the virus.
What makes Granite State progressives think that won't happen here?
New Hampshire advocates for both the extended, economically-damaging lockdown and the mass protests amid the pandemic have put themselves in an awkward position: a reverse "Heads I win, tails you lose."
If the protests lead to a spike in COVID-19 infections, then they've helped spread a deadly disease after months of promoting a job-killing shutdown to stop it. If the protests don't result in a spike, then they've banned funerals and shut down businesses for no good reason. If chanting and shouting in a crowd won't spread it, retail sales and restaurant dining won't, either.
No matter what the outcome, these Granite State politicians are going to have some explaining to do.