The courtroom was in Manhattan, but the political impact was felt in Manchester, N.H.
From a meeting of New Hampshire GOP women at St. Anselm College to a TV appearance by Gov. Chris Sununu, the top-of-mind topic in Granite State politics was former President Donald Trump's appearance in court Tuesday. The frontrunner for the GOP presidential nomination in 2024 is now the first former president charged with a crime.
Legal experts, including opponents of Trump, say the indictment filed by progressive Manhattan District Attorney Alvin Bragg was even weaker than leaks indicated, raising the very real possibility the case may never make it to court.
If it does, prosecutors wanted the date to be in January 2024, just as voting in the GOP presidential primary would be set to begin. The request added fuel to the roaring fire of speculation that the charges were more about politics than upholding the law.
That was certainly the case Trump attempted to make after leaving the courthouse.
Back in Florida Tuesday night, Trump entered a Mar-A-Lago ballroom to a blaring WWE announcement for "the next president of the United States!" He used the massive media attention to list the many times he says he was falsely accused of wrongdoing, make the case he is being targeted over politics, and accuse members of the justice system of being biased against him.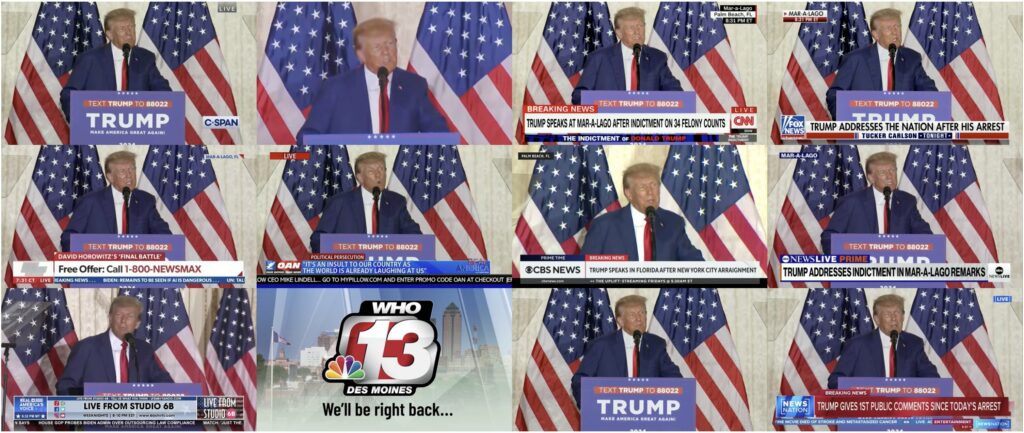 "I have a Trump-hating judge with a Trump-hating wife and family whose daughter worked for Kamala Harris and now receives money from the Biden-Harris campaign," Trump said. (Manhattan Judge Juan Merchan's daughter Loren was a digital director for Vice President Kamala Harris' 2020 presidential campaign. She currently works for a progressive marketing firm.)
"We have this [Department of Justice special counsel] Jack Smith lunatic threatening people every single day through his representatives," Trump added. "They're threatening jail terms. But talk about Trump, and you'll go free. This is where we are as a nation. They can't beat us at the ballot box, so they try and beat us through the law."
Polls show Trump's support among GOP primary voters soaring in the wake of his indictment. An InsiderAdvantage poll found 55 percent of Republicans are more supportive of Trump because of the indictment, while just 14 percent are less supportive.
Even Sen. Mitt Romney, one of Trump's most tireless critics, called out the Manhattan DA. "I believe President Trump's character and conduct make him unfit for office. Even so, I believe the New York prosecutor has stretched to reach felony criminal charges in order to fit a political agenda," Romney said.
At the New Hampshire Institute of Politics, former Congressman Mike Rogers (R-Mich.) said while he thinks it's time for the GOP to move on from the Trump era, he also sees the indictment as an act of political revenge.
"You're seeing a lot of people — for Trump, against Trump, don't care about Trump — seeing what's happening today and saying it's wrong, dragging a former president through something that they had to twist themselves into knots [to indict]," Rogers said, adding, "When you're talking about a former president of the United States, we don't get to talk about our personal grievances or revenge politics. It's bigger than that."
Elizabeth Girard is president of the New Hampshire Federation of Republican Women, which hosted Rogers for a policy roundtable. After the event, she told NHJournal she was concerned about the long-term consequences.
"What happens now with President Trump will be so telling of the future of our country. This is dangerous territory. We cannot set a precedent of weaponizing the federal judiciary system against political opponents in the United States," Girard said.
Sununu had just finished a TV interview down the hall at the NHIOP and dropped in to greet Rogers. In his interview with News Nation, Sununu said he was asked that morning, "Would this be happening if the president (Trump) wasn't running for president again?"
Sununu's answer: "No, I don't think it would be."
Sununu, who, like Rogers, is considering a 2024 GOP presidential bid, had broken from most of the field by refusing to condemn the prosecutor's case against Trump. He told HBO's Bill Maher over the weekend he assumes Trump is guilty. But he offered a more negative take on the case Tuesday.
"Is this going to bring America together? No," Sununu said. "It's going to drive a wedge…this is going to create another divide for us. It's unnecessary, and the drama is just starting.
"It's like we're watching the first episode of a new daytime soap opera," Sununu said. "It's going to go on for the next year, and nobody knows how it will end."