Soon after Kyle Rittenhouse was acquitted of all charges by a jury in Kenosha, Wisc., the chairman of the Democratic Congressional Campaign Committee expressed the outrage many of his party members felt:
"It's disgusting and disturbing that someone was able to carry a loaded assault rifle into a protest against the unjust killing of Jacob Blake, an unarmed Black man, and take the lives of two people and injure another — and face absolutely no consequences," Rep. Sean Patrick Maloney (D-N.Y.) said.
The only problem? Jacob Blake wasn't unarmed when he was shot by Kenosha police. And he's not dead.
The DCCC quickly sent out a corrected statement without acknowledging what, exactly, they'd gotten wrong.
The national Democratic committee was hardly alone. From New Hampshire to NBC, Democrats and their media allies spent much of Friday denouncing the jury's judgment and the American legal system as a whole. And spreading misinformation about the case along the way.
The incident in Kenosha in the summer of 2020 took place during riots following the shooting of a Black man, Jacob Blake, by a white Kenosha police officer. Blake was armed with a knife and was refusing to cooperate with police when he was shot. The prosecutor declined to prosecute the police officer for the shooting. Blake also had a past arrest for resisting police with a knife.
"Rittenhouse, a then-17-year-old former police youth cadet, said that he went to Kenosha to protect property from rioters but that he came under attack and feared for his life. He is white, as were those he shot," the AP reports. Rittenhouse was attacked by the three men, one hitting him over the head with a skateboard, and another admitting on the stand that Rittenhouse fired only when he pointed a gun at Rittenhouse.
The jury took three days to review the evidence before rendering their verdict. Immediately outrage ensued.
"If you're a white man you can literally get away with murder. What's the point of law and order if it's not the same for everyone. Disturbing," tweeted Rep. Nicole Klein Knight (D-Manchester), dismissing the jury's verdict.
Rep. Sherry Frost (D-Dover) retweeted a post calling Rittenhouse a "white supremacist," without any evidence.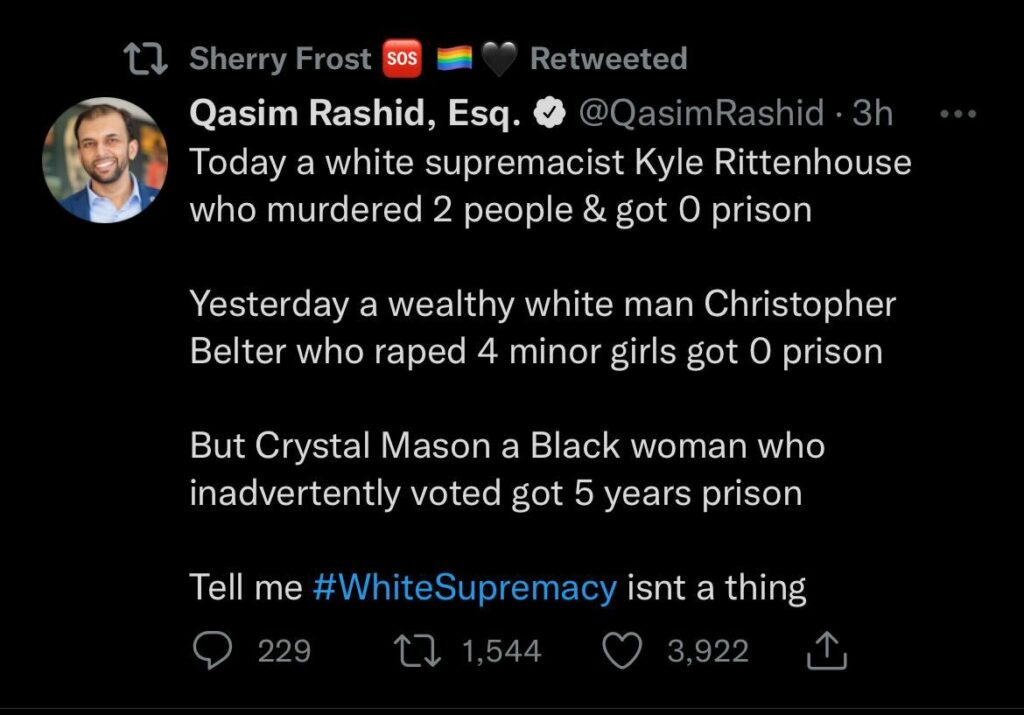 She was just one of many Democrats and media members who, without any proof, publicly declared Rittenhouse a racist. Before the trial, Rep. Ayanna Pressley (D-Mass.) called Rittenhouse a "white supremacist domestic terrorist." After the verdict, Pressley tweeted: "Racism & white supremacy remain the bedrock of our legal system," despite the fact everyone involved in the incident was white. 
The ACLU of New Hampshire also posted messages accusing Rittenhouse of "violence in defense of white supremacy" and suggesting Rittenhouse was a "white supremacist militia member." How shooting three white men during an attack is defending white supremacy isn't clear.
The ACLU-NH declined to respond to press requests for comment.
The unfounded accusation that Rittenhouse is a racist or part of a white supremacy movement is widespread among Democratic officeholders, all the way up to the White House. During the presidential race last year, Biden released a video linking President Trump to white supremacists. One of the images in the video was Rittenhouse — once again, without any evidence to support the accusation.
Both Biden and his White House spokesperson refused to answer questions about his unfounded accusation or why he made it.
Soon after learning of the verdict, President Biden said, "I stand by what the jury has to say. The jury system works."
An hour later, Biden offered a different take. "While the verdict in Kenosha will leave many Americans feeling angry and concerned, myself included, we must acknowledge that the jury has spoken." [emphasis added]
Republican Sen. Tom Cotton responded: "Joe Biden is 'angry and concerned?' He slandered Kyle Rittenhouse as a white supremacist. If he had any decency, Biden would apologize publicly —not attack the jury for following the law."