In a letter to House Democratic Leader Matt Wilhelm (D-Manchester), a group of 15 Republican women serving in the N.H. House of Representatives condemned a profanity-laced attack on a conservative women's group by one of his members. The GOP women legislators also asked Wilhelm to take "resolute action" on the matter.
"We write to express our strong condemnation of the recent attacks on Moms for Liberty by New Hampshire Democratic State Representatives," the GOP legislators wrote. "We stand united in our support for these mothers and denounce the offensive and baseless statements made against them.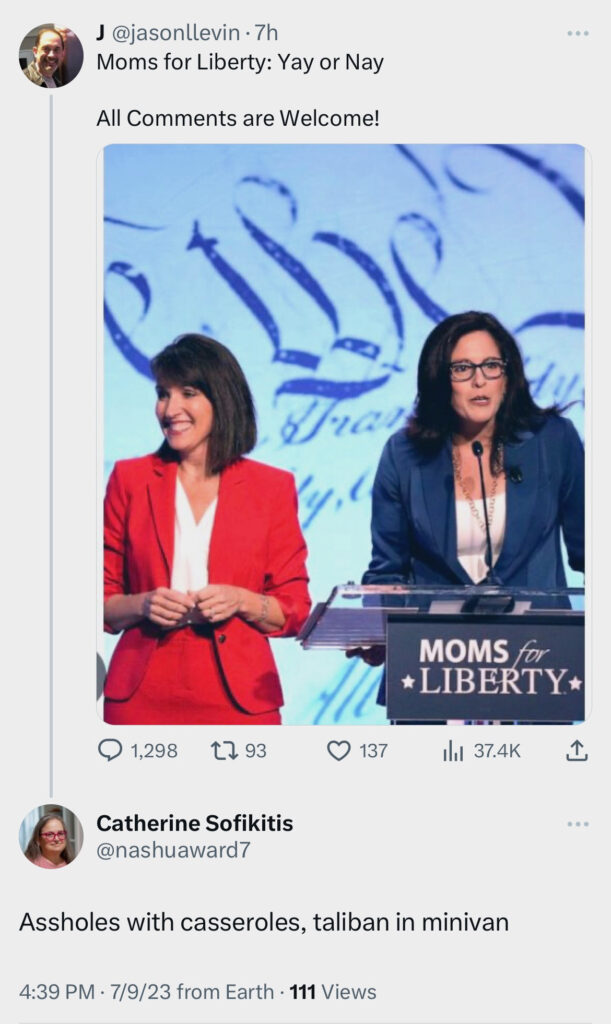 "Comparing Moms for Liberty to the Taliban is not only disrespectful but also deeply offensive. Such comparisons trivialize the suffering and atrocities endured by women under the Taliban's rule, undermining the gravity of their experiences," they wrote.
Earlier this week, NHJournal reported on a tweet by state Rep. Catherine Sofikitis (D-Nashua) referring to the Moms For Liberty organization as "a**holes with casseroles" and "Taliban in minivans."
When supporters of Moms For Liberty began responding on the social media platform, Sofikitis doubled down, tweeting a video by a far-left activist attacking the women's organization as "momzis who seem to have an affinity for authoritarianism and extremist groups."
More Democrats and progressive organizations have signed off on Sofikitis' statements. The New Hampshire Sierra Club, for example, responded to the "a**hole" tweet with one of its own, saying, "Yup, that works!"
And Sebastien Fuentes, political director for the progressive group Rights and Democracy New Hampshire, added, "Standing with you."
The GOP state representatives, including Reps. Jeanine Notter and Erica Layon defended the parents-rights organization.
"Moms for Liberty is a dedicated group advocating for educational freedom and parental rights. Attacking these mothers for expressing their concerns and exercising their rights is an assault on democracy and free expression. We must celebrate and support mothers who stand up for their children's well-being.
"We call upon the Democratic State Representatives involved to retract their offensive statements and offer a sincere apology to Moms for Liberty. As elected officials, it is their duty to engage in respectful dialogue and foster an inclusive environment for differing opinions. Mothers standing up for their children should be commended, not vilified. We must cherish their invaluable role and encourage their active involvement in shaping our nation's and their children's future," they wrote.
Republican presidential hopefuls have been outspoken in their support of the organization. "I'm going to stand with Moms For Liberty," entrepreneur Vivek Ramaswamy told WFEA radio host Drew Cline Tuesday when asked about the Sofikitis statement. "I was the first candidate to sign their parental rights pledge. They're 'joyful warriors.'"
Wilhelm would not respond to NHJournal requests for comment about the letter or Sofikitis' language. House Republicans say they will not back down.
"Attacks on Moms for Liberty are an attack on parental rights and the voices of parents everywhere. Thank you for your attention to this matter. We look forward to your resolute action and continued commitment to defending the rights of mothers and the principles of democratic discourse," they wrote.