N.H. House Democrats rejected a Republican attempt to postpone business tax hikes scheduled to kick in January 1, while at least one House Democrat publicly struggled to grasp the basics of the tax policy she supported.
The New Hampshire House was gaveled into session Thursday for the first time since the COVID-19 emergency. However, a partisan deadlock forced the House to operate under rules requiring a two-thirds vote approving any action, dooming nearly all legislation.
"Today showed that Republicans will do all they can to exploit this pandemic for raw political gain," said House Majority Leader Doug Ley (D-Jaffrey) in a statement. "By blocking revised House deadlines, which were necessitated by COVID-19 and the state of emergency, Republicans are saying 'no' to the very concept of doing their job."
The top priority of House Republicans was to stop the tax hikes that are nearly certain to kick in due to the drop in state revenue from the impact of the coronavirus shutdown. Gov. Chris Sununu agreed to the tax-hike (or tax-cut, depending on future revenue) triggers after vetoing Democrats' increase in business taxes during the last budget battle.
Democrats demanded the triggers as part of a compromise.
The budget deal raises business enterprise and profits tax rates to their 2018 levels if revenues fall 6 percent below budget projections. Now that revenues are likely to plunge low enough to hit the tax-hike trigger, Republicans argue that a tax hike on businesses weakened by the lockdown is, as House GOP leader Dick Hinch (R-Merrimack) called it, "insane."
The motion to suspend rules and to allow a vote on the tax-hike triggers failed to reach the two-thirds vote threshold, 154-174.
"By rejecting this simple modification to our tax law, Democrats are saying that they are OK with increased taxes on our struggling small businesses during a global pandemic and economic recovery," Hinch said Thursday. "This is not a dramatic change in policy. The time is now to act on this urgent need for our businesses to know their taxes will not go up, and they can get our citizens back to work. Piling tax increases on top of a difficult recovery will drag out our recovery even longer."
Democrats say the trigger won't be activated until after the state's comprehensive financial audit is released in December, and therefore the legislature still has time to act. Their view is summarized in this tweet by state Rep. Debra Altschiller (D-Stratham).
"Minority Ldr Dick Hinch wants to repeal Gov Sununu's business tax triggers. It's not the end of fiscal yr, absence of any financial audits (coming in Sept) & decisions to be made in Dec, & finally: struggling businesses don't pay this tax which isn't due until 2022. #NHpolitics"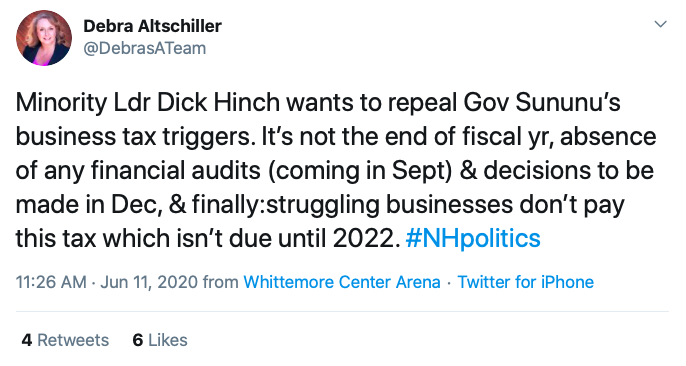 In fact, unless they're losing money,  "struggling businesses" will pay this tax hike. And under current economic conditions, they'll likely struggle even more to do so.  And that's not the only problematic part of Altschiller's statement.
As Greg Moore of Americans For Prosperity-NH notes, the new tax rates would take effect January 1, 2021. Far from the tax not being due until 2022, "the first quarterly payments at the higher rates would be due in March, 2021." he told NHJournal.
And most businesses pay their profits taxes quarterly, says David Juvet of the Business and Industry Association — New Hampshire's statewide chamber of commerce — adding that the BIA "supports repealing or postponing the thresholds. Raising taxes now during what has been declared a recession, I don't think the timing could be worse," Juvet said.
NHJournal also asked him about Altschiller's "struggling businesses" comment, Juvet replied: "We agree that these tax increases are bad for 'struggling businesses."
Juvet also took issue with Altschiller's phrase "Gov. Sununu's business tax triggers," saying nobody views these as part of Sununu's plans. "Sununu was not the one pushing for these triggers, he was just willing to agree to them to get a budget passed. It's a little unfair to put them on Sununu."
It also suggests that Altschiller and her fellow Democrats opposed the tax-hike triggers, which is odd given that Democrats overwhelmingly passed higher business taxes that were vetoed by Sununu. If Democrats had succeeded, there wouldn't be business tax triggers. There would just be higher business taxes, period.
"Democrats have stated they'd rather ask businesses to wait and see if the legislature does something in seven months. That doesn't make sense," Hinch said. "The Jan. 1 rate hike is affecting their decision making now, this year. Seven months of uncertainty is not what we were elected to deliver, but that's what Democrats voted for today."