The source of Gov. Chris Sununu's recent illness has been uncovered: a bleeding ulcer.
"Tests have confirmed that a bleeding ulcer caused the symptoms the Governor has been experiencing this week," according to a statement from the governor's office late Friday afternoon.  "After blood transfusion today, he is doing much better.  He is extremely grateful to the staff at Portsmouth Hospital for their outstanding care and to everyone who donates blood. As a blood donor himself he is happy he paid it forward and grateful to all who do the same."
Sununu's office also released a photo of the governor giving the "thumbs up" sign (below).
New Hampshire Gov. Chris Sununu was admitted to Portsmouth Hospital Friday afternoon after going in for tests that morning.
Sununu fell ill after returning from a fact-finding trip to Kentucky earlier in the week. On Wednesday, he announced that, despite having been vaccinated for COVID-19, he was isolating "out of an abundance of caution."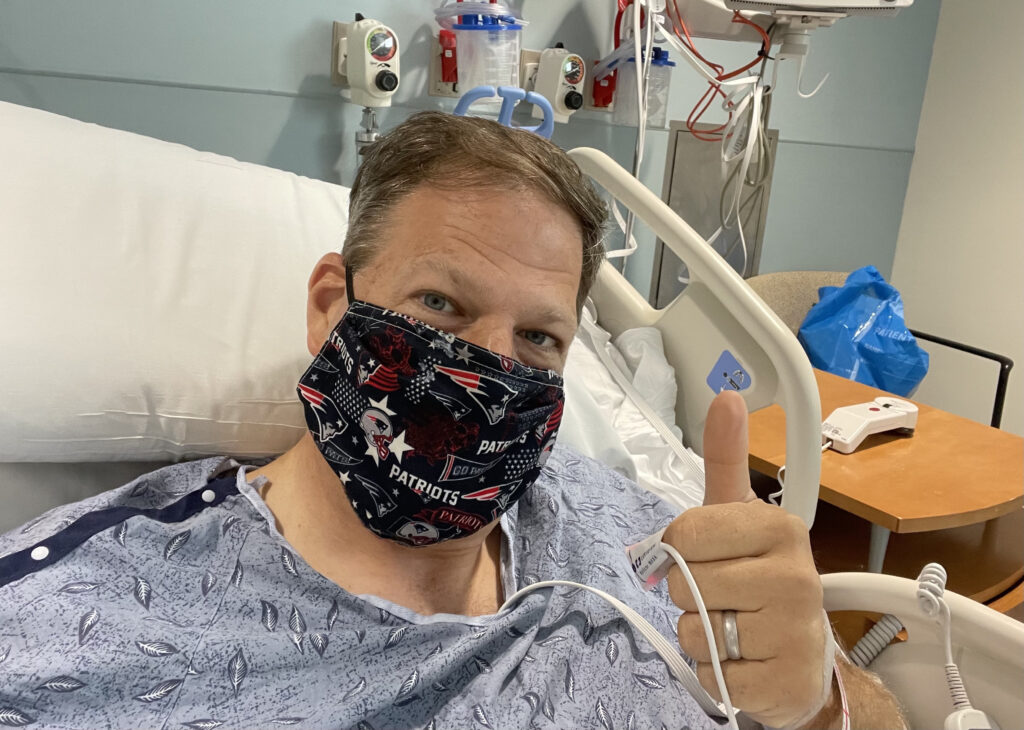 "I appreciate all the well wishes," Sununu said in a statement at the time.. "I woke up with symptoms similar to COVID and out of an abundance of caution I took two rapid antigen tests, which came back negative, and then followed up with a PCR test, which confirmed the negative. I am going to rest up, and look forward to getting back to the State House soon!"
Two days later, Sununu's Chief of Staff Jayne Millerick released this statement:
"Gov. Sununu is being evaluated by Portsmouth Hospital this morning as a precautionary measure to determine the cause of the flu-like symptoms he has been experiencing this week. More information will be shared as it becomes available."
Friday afternoon, Millerick sent a follow-up statement:
"Gov. Sununu has been admitted to Portsmouth Hospital this afternoon for additional testing. He is in good spirits and confident in his care."
New Hampshire political leaders have taken to Twitter to offer the governor their good wishes, including his potential opponent in a U.S. Senate race next year, Sen. Maggie Hassan.

State Senate President Chuck Morse (R-Salem), widely believed to be considering a run for governor next year should Sununu choose not to seek re-election told NHJournal he's been in contact with the governor's office throughout the day.
"Our thoughts are with the governor and we're hoping for a speedy recovery," Morse said. "I've let his office know that I'm available to help any way I can."
New Hampshire is one of seven states without a lieutenant governor. In cases when a governor is unable to perform his duties, the state Senate president assumes them.
In 2016, Morse took control of the governor's office for several days following then-Gov. Maggie Hassan's resignation after she defeated incumbent Republican Kelly Ayotte and was sworn into the U.S. Senate.
Sununu opposed a constitutional amendment to create a lieutenant governor proposed by NHGOP legislators earlier this year.
"We're good, we're good. We don't need a lieutenant governor," Sununu said when NHJournal asked about the proposal in February. "New Hampshire's gone without a lieutenant governor for over 200 years."
Asked about the succession issue, Morse said "We're looking forward to the governor being back at the State House."
New Hampshire Democrats seized on Sununu's illness earlier in the week to step up their criticism of his COVID-19 policies. The Republican governor has refused to impose state mandates for masks in schools and throughout the pandemic has largely supported local governments to set COVID policies. New Hampshire, which has one of the highest vaccination rates in the country and the eighth-lowest death rate, was the last New England state to impose a mask mandate in 2020 and the first to lift it.
However, New Hampshire's comparative rate has now dropped to number 11 and is the lowest in New England. Democrats claim it's a sign of Sununu's mismanagement, though evidence indicates it's likely linked to the high percentage of rural, non-college educated white residents in the state.
Developing…