Days after Democratic state chair Ray Buckley's attack on New Hampshire parents, Granite State Democrats are standing by him, refusing to condemn his statement and rejecting calls that they demand he step down.
At issue is New Hampshire Journal's coverage of the Manchester School District's policy of overriding parents' requests for information about their children's behavior regarding sex and gender identity at school, and the subsequent lawsuit by a plaintiff now known as the "Manchester Mom."
On Thursday, GOP congressional candidate Karoline Leavitt (NH-01) held a press conference condemning the policy and declaring her support for parents' rights.
In response to the media coverage, Buckley tweeted to NHJournal: "You're purposely going after children, endangering their lives, mental health & safety & its disgusting. Not all families are the same, some kids will be kicked out or beaten (to death), or commit suicide. All to try to get votes for Karoline?"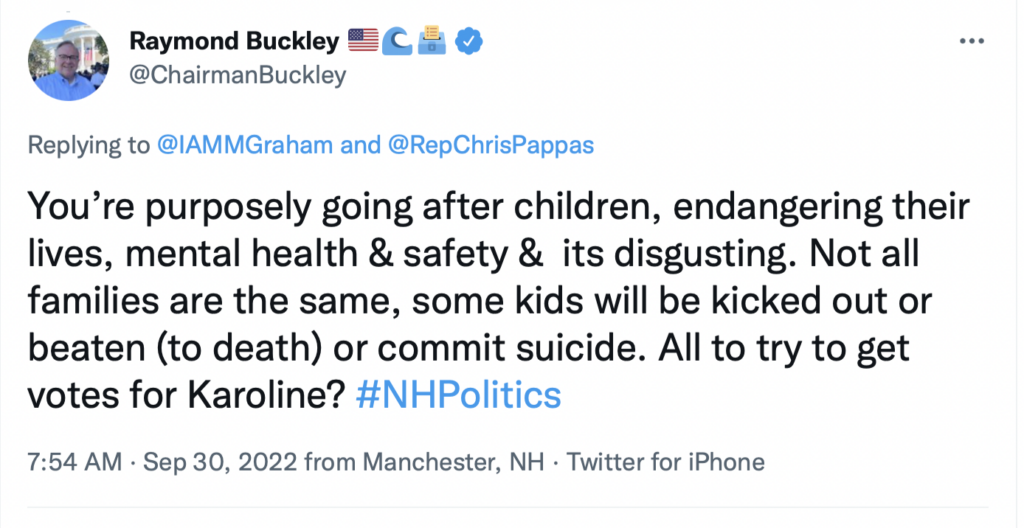 Buckley's smear of parents as abusers who would abandon or murder their own children was met with outrage from Republicans and parents' rights advocates.
"It's completely inappropriate," said Gov. Chris Sununu. "He needs to answer for that statement."
Granite State Democrats, however, are siding with Buckley. Not a single elected official in his party has condemned — or even disputed — his statement.
Despite repeated requests for comment over the past four days, Sen. Maggie Hassan and Rep. Chris Pappas have remained silent about Buckley's description of New Hampshire parents as potential murderers. The Democratic candidate for governor, state Sen. Tom Sherman, has also refused to comment.
Former state party chair Kathy Sullivan took the effort even further, tweeting out that Buckley never made the statement at all and accusing NHJournal of lying.
Buckley is hardly alone among Democrats in making demeaning comments about parents. Former state Sen. Jeanne Dietsch (D-Peterborough) lost her seat in 2020 in part for declaring parents without college degrees unfit to make educational choices for their children. And in the same vein as Buckley, Dietsch also claimed some parents choose to homeschool because they're child abusers.
And then there's the infamous declaration from Virginia Democrat Terry McAuliffe: "I don't think parents should be telling schools what they should teach."`
Meanwhile, Buckley has repeatedly been asked to substantiate his claim that Granite State children questioning their gender or sexuality are at risk of violence from their parents. He posted a tweet featuring four news stories about alleged incidents of such violence. None of them was from New Hampshire.
One was a case from Brazil, and another involved a mentally-incapacitated woman whose boyfriend murdered her eight-year-old son.
In fact, parents killing their own children for any reason is rare in the United States. Only a handful of cases in the entire country over the past 20 years match Buckley's description. In New Hampshire, NHJournal could find no reported case of such a crime in this century.
But there have been many recent cases of Granite State teachers abusing or sexually assaulting students, including the case of Primo "Howie" Leung of Concord, former N.H. "Teacher of the Year" finalist Bridgette Doucette-Howell of Sanborn Regional High School, and a Timberlane teacher, David Russell, fired from three different schools for repeatedly touching female students.
While there is no comprehensive source for data on teachers abusing students, a study done as part of the "No Child Left Behind" Act found just under 10 percent of students said they had encountered unwanted sexual attention from school employees ranging from inappropriate comments to rape.
For advocates of parents' rights, that data debunks the premise of Democrats like Buckley that parents represent a risk to their own children greater than that posed by school employees.
Sununu, however, says this "either/or" approach is the wrong one when it comes to protecting children.
"This isn't a 'one side vs. the other' battle to be won," Sununu said. "Parents have rights and they have the right to know what is happening to their kids, absolutely. But you can't take schools out of the equation. There has to be balance."
One way to get that balance, Sununu suggested, is for schools to stop mandating secrecy and embrace openness.
"Schools need to embrace an attitude of transparency rather than protectionism. By doing that, they'll get a lot more collaboration from all sides."