In the days leading up to the Executive Council's vote on Attorney General Gordon MacDonald's nomination to become the next chief justice of the New Hampshire Supreme Court, two things became clear:
The three Democrats on the Council were going to reject him.
Democrats had yet to find any non-partisan justification for rejecting him.
MacDonald's record as a lawyer was more than solid, he had the support of dozens of prominent Democrats, and the council just unanimously voted to make him Attorney General in 2017.
Voting down MacDonald– a mild-mannered, respected public official widely praised for his nonpartisan record in the AG's office–was going to take an act of brute, partisan force. And, it turned out, Democrats were more than happy to oblige. They defeated his nomination on a party-line vote, 3-2.
"This is a very good day for New Hampshire women, and a very bad day for Chris Sununu," NH Democratic Party spokesperson Holly Shulman declared with delight.
Democrat (and gubernatorial wannabe) Executive Councilor Andru Volinsky tried to justify his vote against MacDonald by raising the "shockingly extreme views" of politicians the AG  had supported, namely U.S. Sen. Gordon Humphrey. The pro-life senator last held office in 1990. The real reason, as Volinsky told people close to him, was his fear that NH Planned Parenthood would kill him in the gubernatorial primary if he voted for Sununu's nominee.
The New Hampshire Young Democrats made their case this way: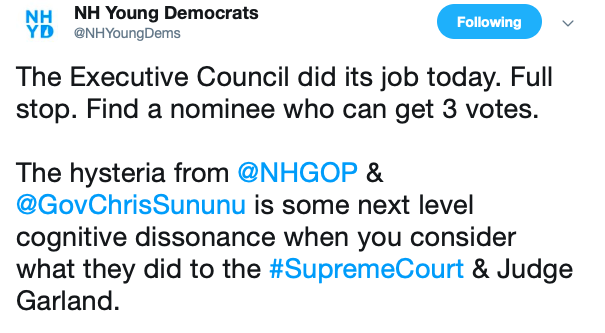 "Who knew Chris Sununu served in the U.S. Senate?" one NH political insider told NHJournal when he saw the tweet. "And his brother John is really going to be shocked!"
Taking revenge out on the N.H. Attorney General over U.S. Sen. Mitch McConnell's treatment of Barack Obama's judicial nominees is one way to run a state. But it's hard to hide your partisanship when you do.
Not that Democrats were trying. During MacDonald's hearing before the Executive Council, Democrat Deb Pignatelli explicitly declared the mere fact that he is a member of the GOP– "a political party which, in my opinion, has demonstrated a very poor record on access to health care,  voting rights, gerrymandering, campaign finance, gun safety, and many other issues"– raised questions about MacDonald's nomination.
So no more Republican nominees to the state Supreme Court? Gov. Chris Sununu doesn't sound ready to back down. Instead, he's bringing the judicial nomination process to a full stop.
"We need to take a pause on the judicial nominating process and not move forward with any nominees until I have confidence there's appropriate perspective from the Council on their responsibilities to the process and to the state," Sununu said in a statement.
Sununu also isn't being shy about calling out the partisanship at play.
"I have been involved in the Governor and Council confirmation process for judges going on nine years. Never have we had a nominee so resoundingly supported, including the three most recent Supreme Court Chief Justices, 18 past presidents of the New Hampshire Bar Association, leaders of all political stripes, and over 100 distinguished members of the bar. And never, until today, has politics ever come into play in the questioning and confirmation of nominees," Sununu said.
"This body has a tradition going back literally hundreds of years, working in a nonpartisan manner, executing their responsibility of confirming nominees based on their qualifications, body of work, and merit — without political bias.
"And today, the Executive Council has thrown that right out the window, which comes after their hyperpartisan hearing last month. The political extremism shown today is an unconscionable breach of the public trust.
"Allowing these types of Washington, D.C., circus theatrics to enter into what was, until today, an untainted process, is shameful," Sununu said.