New Hampshire Democrats have given one of their highest honors to a woman who attacked the victim of a domestic assault attack by then-state Sen. Jeff Woodburn (D-Whitefield). It's the latest in a series of stumbles by the party over honoring people despite their less-than-stellar treatment of women.
In August of 2018, Woodburn was arrested on charges of violently attacking his then-girlfriend. The Coos County Democratic Party stood by him even after the arrest, but the voters took a different view. Despite Democrats winning control of both the state House and Senate that November, Woodburn lost to a political newcomer. (Senate District 1 is currently held by Republican Erin Hennessey.)
After years of delays, the North Country Democrat finally faced a jury this spring. In May he was convicted of four counts including domestic violence and assault.
But Patty Dwyer, Woodburn's current girlfriend, is having none of it.
"The 'lady' is a huge liar and a thief, not to mention a SOCIOPATH!" Dwyer posted on social media. "She is an affront to woman who actually do experience domestic violence! Botton line; its the age old story of a woman scorned!" [All typos in the original.]
On Monday, Dwyer was awarded the C. Arthur and Lillian Soucy Award by the Manchester Democrats for her leadership in the party.
Sebastian Fuentes, vice chair of the N.H. Democratic Latino Caucus and a member of the N.H. Progressive Coalition's board of directors, was taken aback by the news Dwyer was being celebrated by his party.
"Granting awards to individuals that attack victims of domestic violence is pretty problematic," Fuentes tweeted. "Did we forget he was found guilty? Is that who we are? @ManchesterDems."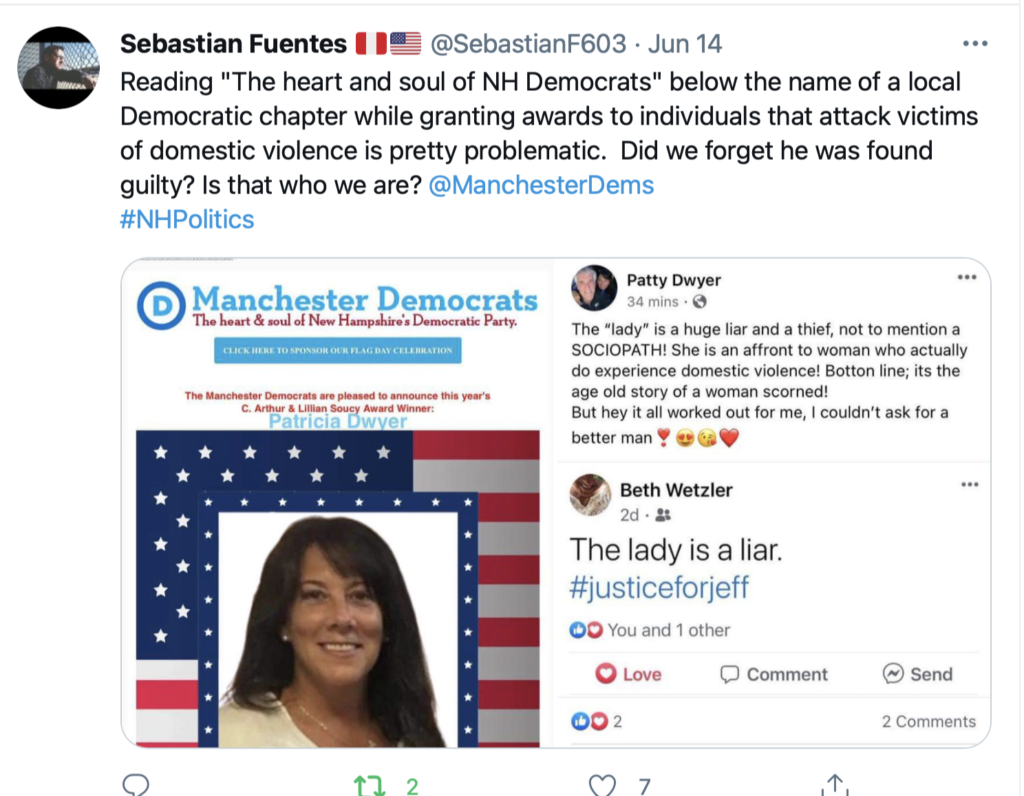 Democratic activist Marcus Ponce de Leon of Manchester responded, "Serious question."
Woodburn's victim was treated poorly by Democrats and the community, according to her attorney at the time.
"She got an email, sort of like a friendly warning, that her own party was planning – and these were the exact words –'a political lynching' for her," Patricia LaFrance told NHJournal in a 2018 interview.
"I spent 18 years in a prosecutor's office, and I know from experience it's hard enough getting victims of domestic and sexual violence to come forward. To see a woman treated like this…in 2018? It's unbelievable."
State Sen. Donna Soucy, the daughter of the award's namesakes, is treasurer of the Manchester Democrats' organization that gave Dwyer her "problematic" award. She declined to respond to repeated attempts for comment.
Manchester Democrats' Chair Alan Raff, vice president of the New Hampshire AFL-CIO, also declined to respond to requests for comment.
And New Hampshire Democratic Party chair Ray Buckley sent a tweet celebrating "this great event" of honoring Dwyer.
However, NHGOP chair Steve Stepanek released a statement denouncing the Democrats' decision.
"Today, New Hampshire Democrats openly scoffed at survivors of domestic violence by awarding Manchester Democrats' Patricia Dwyer [this award]," Stepanek said. "Democrats are not only honoring a domestic abuse defender but disregarding the trauma faced by survivors across the country."
Despite their frequent attacks on Republicans on women's issues, Granite State Democrats have had several high-profile faux pas regarding honoring people notorious for mistreating women.
In 2016, Democrats changed the name of their annual statewide fundraising dinner from the "Jefferson-Jackson" dinner to the "Kennedy-Clinton" dinner. Almost immediately, some Democrats began pointing out both former Democratic presidents were notorious for mistreating women. Less than two years later — and amid the #MeToo movement that brought down several high-profile Democrats including big-dollar donor Harvey Weinstein and former U.S. Senator Al Franken — Granite State Democrats changed the name again. It's now the Eleanor Roosevelt dinner.
And who was the first speaker at the newly-named dinner? Actor Alec Baldwin, notorious for his sexist and homophobic rants.
Based on the track record, Granite State Democrats may want to consider getting out of the awards business altogether. During the 2020 presidential campaign, notorious anti-semite Rep. Ilhan Omar (D-Minn.) was a featured speaker at the N.H. Young Democrats' Granite Slate Awards. Not a single state Democrat criticized Omar's appearance or called for her to be disinvited.
Coos County Democratic activist Theodore Bosen, an outspoken critic of the Democrats' defense of Woodburn in 2018, told NHJournal he's not happy about the award for Dwyer.
"Seems we Democrats shouldn't be rewarding people who defy jury trial results. Makes us look like Trumpers," Bosen said.