As primary day approaches, Republican candidates like Matt Mowers and Matt Mayberry are battling tooth and nail for their party's nomination. Mowers has a strong 48-17 percent lead, but winning the NH-01 primary is the easy part, according to a new UNH poll.
Both Republicans trail incumbent Democrat Rep. Chris Pappas in head-to-head matchups by nearly 20 points.
The numbers are similar in the NH-02 race as well, where Democrat Rep. Annie Kuster has a double-digit lead over both of her potential GOP challengers, Lynne Blankenbeker and Steve Negron.
From the Granite State Poll, conducted by the University of New Hampshire Survey Center
And in the hotly-contested GOP U.S. Senate primary, the gloves have come off in the waning days. A PAC backing Corky Messner has dropped an attack ad attempting to link retired Gen. Don Bolduc to progressive Rep. Alexandria Ocasio-Cortez.
It's a dubious accusation at best. ("The charges in this advertisement are comical and obviously false," says Bolduc senior advisor Josh McElveen.) But even if it works, Messner has an 18-point gap to make up to catch incumbent Sen. Jeanne Shaheen. Bolduc's in basically the same spot.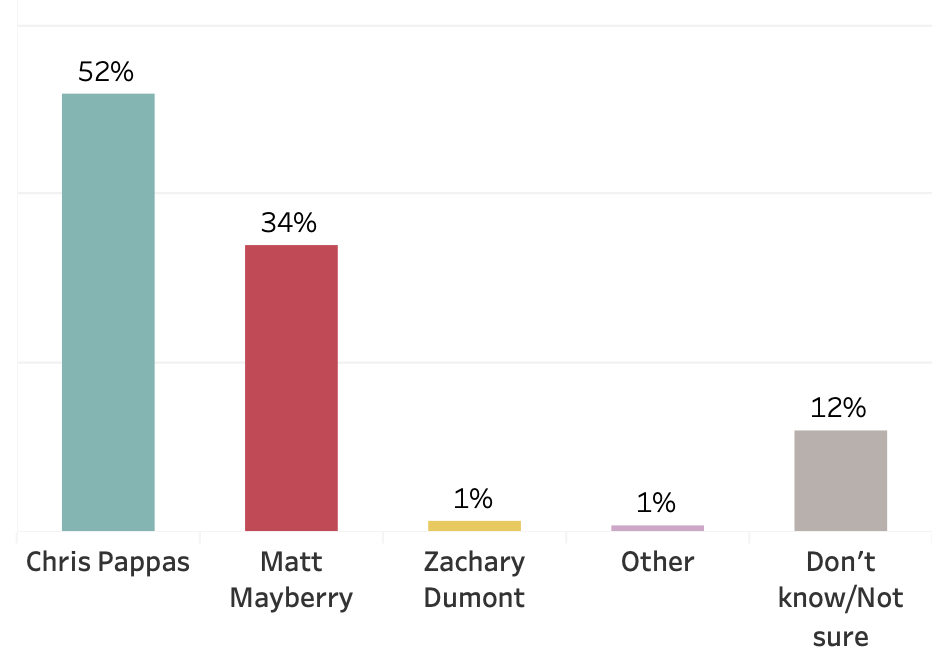 From the Granite State Poll, conducted by the University of New Hampshire Survey Center
Across the political board, the polls tell the same story: New Hampshire Democrats leading in federal races, while Gov. Chris Sununu has a solid lead for governor. And in New Hampshire political circles, it's hard to find insiders or analysts who believe the polls are far off the mark.
It could just be the power of incumbency: Not a single 2020 challenger in the major races is within 10 points of the current officeholder, regardless of party.
Or it could be that Granite Staters are more like their fellow New Englanders than Republicans care to admit. In the six New England states, there are three Republican governors but just one federal officeholder: Sen. Susan Collins, who's currently fighting for her political life in Maine. Republicans control half of New England's governorships, but just one of the 33 U.S. House and Senate seats.
It could be that Granite Staters are purple enough to embrace a Republican for statewide office, but too blue to send any help to Donald Trump and Mitch McConnell in Washington.
NHGOP sources tell NHJournal these polls are irrelevant because they miss the X factor: Trump. NHGOP chairman Steve Stepanek has been talking for months about the more than 100,000 potential voters without college degrees who are likely Trump supporters but didn't turn out in 2016. If the Trump organization and state party can get these blue-collar, working-class voters to the polls, they could easily flip a congressional seat.
In fact, if Republicans can get just a third of these people to vote, Shaheen could find herself in a tight race (She only beat Scott Brown by 16,000 in 2014.)
There are a lot of "ifs" in that scenario, and all the political pros NHJournal talked to agree: They'd rather be in the Democrats' position than Republicans.