Just days after President Joe Biden was criticized for smearing opponents of his federal voting legislation as "on the side of Bull Connor" and "Jefferson Davis," a New Hampshire Democrats used the same language to attack Gov. Chris Sununu on Martin Luther King Day.
"Today, we pause to reflect upon the wisdom and courage of Dr. Martin Luther King Jr," Sununu tweeted Monday morning, a seemingly uncontroversial message. But it prompted this reaction from Granite State progressive leader Sebastian Fuentes,  vice-chair of the state's Democratic Latino Caucus  and a member of the Board of Directors of the NH Progressive Coalition:
"Please tell me you are kidding. You have no moral stance to tweet here say you are 'reflecting.' He opposed exactly people like you and your NHGOP. You are like George Wallace, spineless …different years, same racists. How dare you mention his name? #shameful"
Denouncing all Republicans as "racist," as Biden did last week, is fairly common among progressive activists like Fuentes. However, in this case, Fuentes' attack was tweeted by Colin Booth, Legislative Communications Director for the New Hampshire Democratic Party.
Booth declined to respond to NHJournal's request for comment.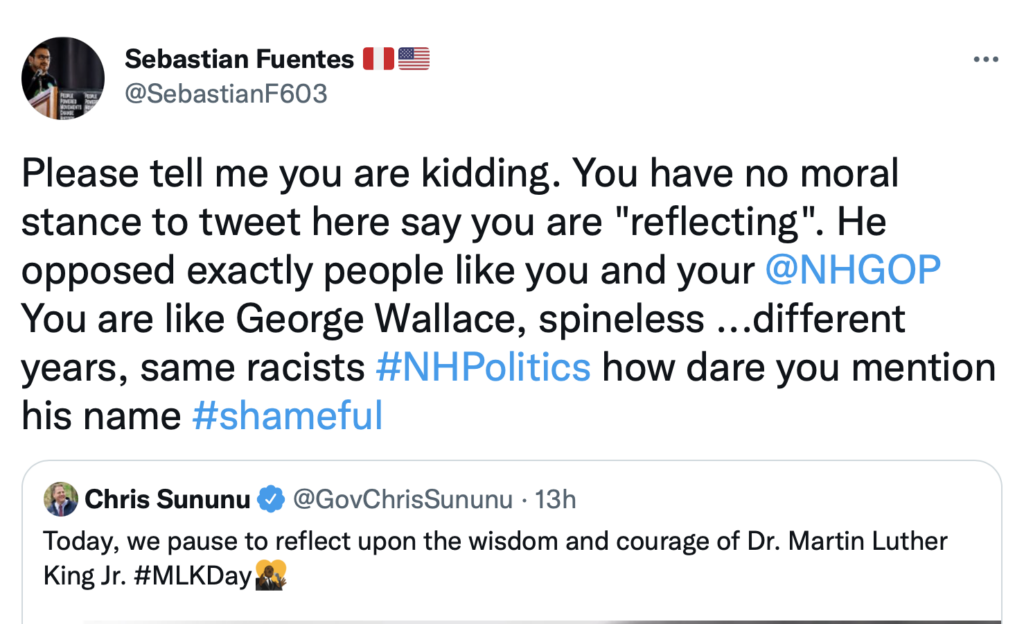 Democrats' decision to use the "George Wallace" slur on Sununu is somewhat surprising given the backlash to Biden's speech last week. White House spokesperson Jen Psaki claimed Biden "didn't mean to insult Republicans" by saying they were on the side of segregationists and the Confederacy,
"I think everybody listening to that speech — who's speaking on the level, as my mother would say — would note that he was not comparing them as humans," Psaki said.
Biden has since said he stands by his comments.
As for Fuentes, he followed up his "George Wallace" attack on Sununu by receiving an award for promoting unity from the Martin Luther King Jr. Coalition-New Hampshire on Monday.
"[Dr. King] changed this world with his words, his action and message of love," Fuentes posted on his Facebook page. "The kind of redemptive love that we all need.
"It seems to us that every year his words are remembered but his wisdom is not implemented," Fuentes added.