With control of the New Hampshire House just two seats from their grasp and the recounts going their way, state Democrats are staying silent on the behavior of Nashua Rep. Stacie Laughton, a repeat offender who was arrested over the weekend in a domestic violence-related stalking case. 
Laughton, New Hampshire's first transgender elected official, spent the weekend at Valley Street Jail after she was arrested for allegedly violating a domestic violence order by stalking another person. Hudson police did not provide details about the misdemeanor charges when contacted this week, out of a desire to protect the identity of the alleged victim.
Democrats, who claim to be advocates for victims of domestic violence, have refused to respond to repeated requests for comment about Laughton's case or condemn her actions. Some Republicans have compared it to state Sen. Jeff Woodburn, who was charged (and eventually convicted) of assaulting his girlfriend in 2018 yet faced little opposition from Democratic leadership in his primary and general elections. Woodburn won the primary but lost the general to obscure GOP newcomer David Starr.
Woodburn was eventually convicted and sentenced to 60 days in jail. Woodburn is appealing his conviction.
Laughton is charged with stalking a woman in violation of a civil restraining order, according to Hudson police. Laughton, and her spouse, were unavailable for comment about the arrest.
At least one House Democrat came to Laughton's defense on Twitter. Rep. Timothy Horrigan (D-Durham) likened the stalking charges to a victimless crime.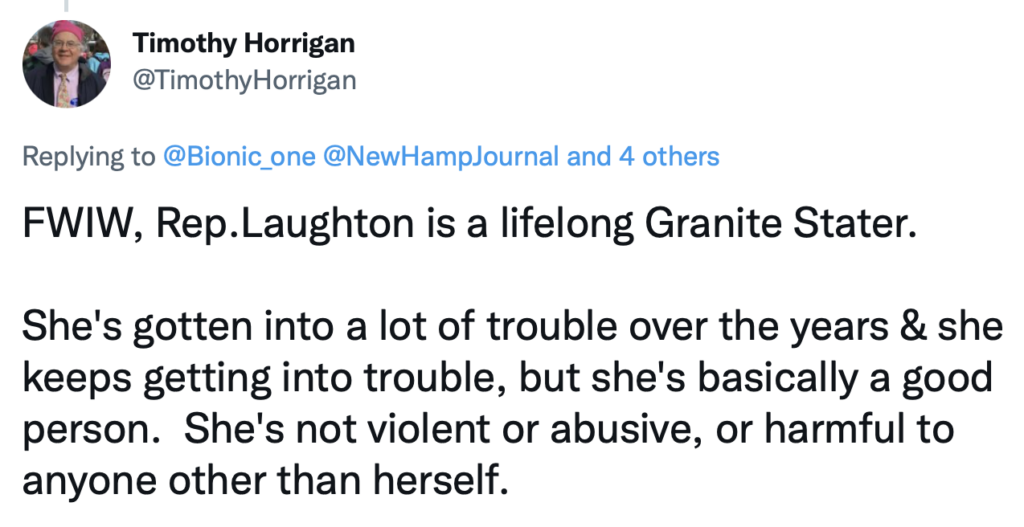 "She's gotten into a lot of trouble over the years & she keeps getting into trouble, but she's basically a good person," Horrigan tweeted. "She's not violent or abusive, or harmful to anyone other than herself."
Former GOP state Rep. Kim Rice was taken aback by Horrigan's stance.
"I don't think the person she was stalking would feel the same way," Rice responded. "I am thinking that person would definitely think they were harmed. I'm shocked sitting on the [House] Judiciary Committee you would even say this."
And Laughton's criminal history is far from victimless. She was convicted in 2008 of credit card fraud for stealing from a person in Laconia. In 2015, Laughton was charged with calling in a bomb threat at the Southern New Hampshire Medical Center hospital in Nashua. These charges were later dropped as Laughton claimed she was suffering from a mental health crisis at the time.
Last year, as a sitting state representative, Laughton was charged with several counts of sending false texts to the city's 911 system. Laughton claimed she did not send the texts in question, and the state and city party did seemingly nothing about her continuing legal adventures.
The protective order Laughton violated was issued in July, months before both the September Democratic primaries and last week's midterm elections. That meant state and local Democrats were aware of Laughton's actions and could have taken action.
Horrigan did not respond to NHJournal's request for comment.
New Hampshire's Democratic State Party has also declined multiple requests for comment, as have local Nashua Democratic Party leaders.
New Hampshire has few rules when it comes to legislatures in legal trouble. Paul Smith, clerk of the New Hampshire House of Representatives, said the state has no mechanism to remove a lawmaker charged with a crime.
"There are no rules," Smith said. "There is no automatic process for expulsion."