A New Hampshire state representative with a history of gender-specific attacks against Republican women compared winning the endorsement of U.S. Rep. Elise Stefanik (R-Va.) to being backed by "the stray cat outside the local Chik-Fil-A" [sic].
Republicans say it's another sign that Democrats and the media will accept slurs of conservative women they would never tolerate if directed at women of the Left.
On Thursday, state Rep. Rosemarie Rung (D-Merrimack) responded to a news report of Stefanik's endorsement of Matt Mowers in the NH-01 GOP primary by tweeting: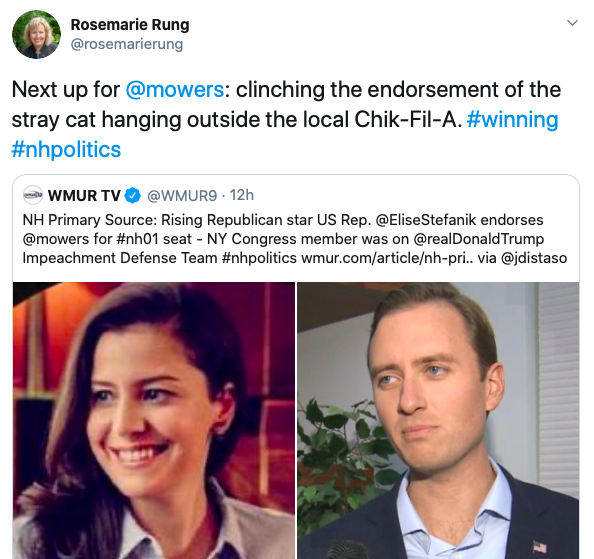 Not surprisingly, the GOP congresswoman responded:
"What a deranged thing to say! I'm proud to endorse Matt Mowers and am also proud to be one of the leading voices in Congress from the Northeast. I don't know who you are, nor do I care. But get help, Rosemarie."
Other Republican women took issue with Rung's comment as well.
"Democrats are going after Congresswoman Elise Stefanik because they don't like seeing successful and young empowered Republican women," N.H. Federation of Republican Women chairwoman Elizabeth Girard told NHJournal. "Congresswoman Stefanik is a role model for young people across the country and for the New Hampshire Democrats to attack her shows how frightened they are by a conservative woman speaking her mind."
Rung dismissed the criticism and doubled-down.
"How useless do you have to be in Congress to take time out of your day to go after a JOKE? Elise needs to toughen up and realize she's only proving that Mowers has to go out of N.H. to get endorsements. #sad"
When asked for a response from NHJournal, Rung replied via Twitter:
"Do you comprehend the words' next up'? Do you need a dictionary? I can't help it if people can't read for comprehension.
Interestingly, this isn't the first time Rung has played on sexist stereotypes to insult Republican women. In 2017 she attacked then-White House spokeswoman Sarah Huckabee Sanders for allegedly neglecting her children as a working mom.
"Why are you spending time on a Sunday night on Twitter, still obsessing about @BarackObama, when you should be spending time with your CHILDREN. Are you a mother?" Rung asked.
She also invoked First Lady Melania Trump's sexual relationship with her husband in an attack on President Trump.
Rung is hardly alone. The New Hampshire Democratic Party has struggled to find a consistent voice on the treatment of women, promoting the partisan meme of a #WarOnWomen by Republicans, while simultaneously supporting treatment of women that's far below the feminist standard.
In 2018, the top Democrat in the state senate, Sen. Jeff Woodburn, was charged with sexual assault, and his fellow Democrats declined to support a serious primary challenge. Woodburn lost to a GOP challenger amid the #2018 Blue Wave.
A week after Woodburn's arrest, the party was forced to change the name of their annual fundraising dinner. In 2016, Democrats changed the name of the Jefferson-Jackson dinner to the Kennedy-Clinton dinner, despite their well-known abusive treatment of women. In 2018, they named it for Eleanor Roosevelt.
Who was the first speaker at a New Hampshire Eleanor Roosevelt fundraiser? Actor Alec Baldwin, who is notorious for his attacks on women and members of the LGBTQ community.
And while New Hampshire Democrats embrace the #BelieveAllWomen message when Dr. Christine Blasey Ford made unsubstantiated claims about Judge Brett Kavanaugh, they have pointedly ignored presumptive Democratic nominee Joe Biden's problematic treatment of women — both in public, and in allegations of a private sexual assault from Tara Reade.
"If a Republican attacked a Democratic woman the same way Republican women are routinely attacked they'd call it flat out misogyny," says Bethany Mandel, editor at the conservative Ricochet.com website and host of the LadyBrains podcast. "There is a clear double standard in this supposed War on Women in that it only tends to go in one direction."
Several of Rung's fellow House members have described her to NHJournal as an unserious member of her body ("Nobody listens to that nut," one member said), it could be that she's an accurate reflection of the N.H. Democratic Party's troubled treatment of women in politics.