Donald Trump may have skipped the first debate of the 2024 GOP presidential race, but he was there in spirit.
The two-hour Fox News forum repeatedly devolved into a shoutfest, with candidates hurling insults at each other that would have been gasp-inducing in the pre-Trump political era but which were par for the course on the stage in Milwaukee. Again and again, candidates simply talked over each other and ignored the timekeeper until Nikki Haley urged moderators Bret Baier and Martha MacCallum, "Y'all need to get control of this debate!"
And at the center of the conversation-turned-chaos was Trump acolyte Vivek Ramaswamy, who insulted every other candidate on the stage as "bought and paid for," and many of America's Catholics saying supporters of U.S. backing of Ukraine "will make a pilgrimage to Kyiv to their pope Zelensky."
Ramaswamy rejected what he called "morning in America" politics, saying instead that "we live in a dark moment and we have to confront the fact that we're in an internal sort of cold, cultural civil war."
He also declared Donald Trump "the greatest American president of the 21st century," inspiring conservative radio host Erick Erickson to respond, "So why is he running against him?"
Ramaswamy's culture-war hot takes often inspired cheers from the audience in Milwaukee, as well as some 80 or so Granite States gathered at Murphy's Taproom in Manchester for a debate watch party hosted by Americans for Prosperity (AFP)-New Hampshire.
As the debate proceeded, one thing became clear: The room was responding to Vivek Ramaswamy.
In fact, NHJournal spoke with four New Hampshire voters both during and after the debate, asking them who they thought "won" the debate, had the best night, or just stood out above the rest. And all four gave the same name: Vivek.
"I feel like Vivek did a really good job, surprisingly so," Renee Forcier of Pembroke, N.H., told NHJournal. "He talked about the border; he said there are only two genders, which is real. That's what I was looking for — somebody to be real."
When Ramaswamy attacked the "career politicians" on stage, called the climate change agenda a "hoax," defended his stance against sending more aid to Ukraine, and talked about defending the U.S.-Mexico border rather than Ukraine's border, many in the AFP crowd were clapping and hollering.
"I enjoy Vivek and what he's been saying," Zach Hayes of Northwood, N.H., told NHJournal midway through the debate. "Vivek's been doing really good."
And when Ramaswamy tried to fend off attacks from former Vice President Mike Pence over his political inexperience, former N.J. Governor Chris Christie for sounding like "ChatGPT," and former UN Ambassador Nikki Haley over his stance on the war in Ukraine, many in the AFP audience defended Ramaswamy with boos.
"As far as who seemed to have performed the best, I would probably say Vivek," Joël Valenzuela of Somersworth, N.H., said. "He seemed to command a lot more of the room, and it definitely seemed like the other candidates thought that as well. They started directing all their attention towards him."
Ramaswamy did take some punches, most notably from Haley, who, in a shouting match with him over his call to end U.S. aid to Israel and reward Putin's invasion with Ukranian territory, declared, "You have no foreign policy experience, and it shows!"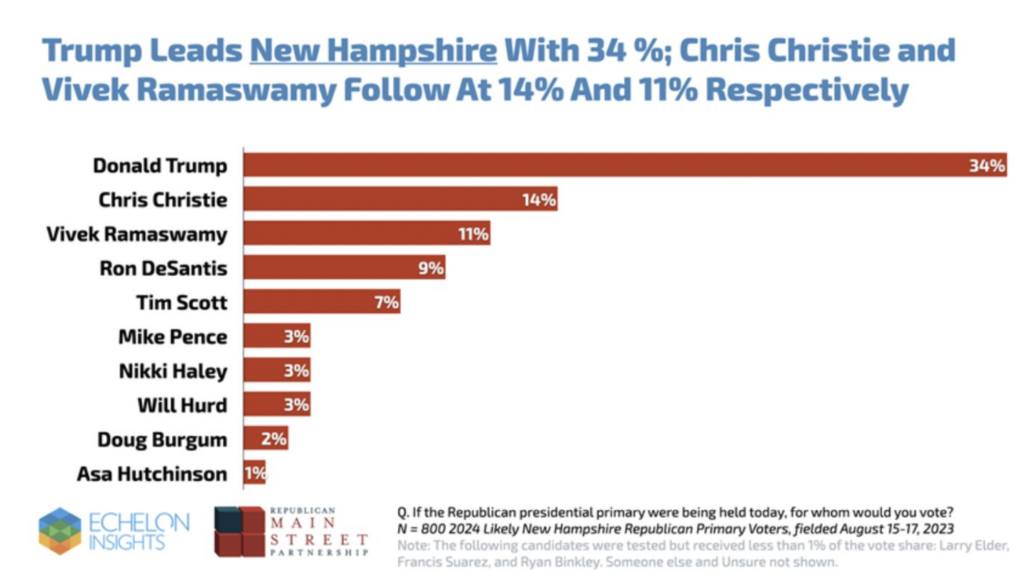 Ramaswamy has been moving up in both national and New Hampshire polls. A new Echelon Insights poll of Granite State Republicans gave Trump 34 percent support, with Christie at 14 percent and Ramaswamy at 11 percent. DeSantis was down to fourth place at nine percent.
Despite the rowdy tone, AFP-NH state director Greg Moore said the good news was that "an actual debate about serious policy issues broke out."
"Yes, there was shouting, but it was about policies, not personalities," Moore said.
New Hampshire GOP communications professional Alicia Preston Xanthopolous agreed: "Vivek certainly made himself the only choice for those who support Trump but aren't voting for him. Do those people exist?"