Two months ago, few Granite Staters were aware that New Hampshire had an active Black Lives Matter organization.
Today, they are a force to be reckoned with in New Hampshire politics and, in particular, the race for governor.
Just days after pressuring Executive Councilor Andru Volinsky into an apology for what BLM members called his "racist" treatment of black nominees for state positions, the Black Lives Matter organizations in Manchester and Nashua issued a list of demands on policing and criminal justice reforms.
The two organizations issued the following demands via Twitter:
1. We demand that you commit to mandating ongoing and retroactive implicit bias training for all state and local government employees and personally undergo the same training within your first 100 days as Governor.

2. We demand that you commit to appointing a Civilian Oversight Board to oversee law enforcement and build public trust through accountability and transparency within your first 200 days as Governor.

3. We demand that you commit to appointing a new Racial Equity Task Force of paid staffers, focused on acknowledging racial disparities and seeking solutions to systemic racism in New Hampshire, within your first 250 days as Governor.

4. We demand that you release a plan of action and take specific steps to reverse the disproportionate incarceration of Black and brown people in New Hampshire within your first 300 days as Governor.

5. We demand that you publicly support the prohibition of the use of tear gas and rubber bullets on unarmed demonstrators by New Hampshire law enforcement.

6. We demand that you publicly support legislation to legalize the use of recreational cannabis, pardon those who are currently serving time due to non-violent cannabis-related sentences, and expunge the records of all those charged with non-violent cannabis-related offenses.

7. We demand that you publicly support the NH Education Reform Initiative; an initiative that seeks to provide resources to teachers, reform whitewashed curriculum and promote policies that actively uproot systemic racism in New Hampshire's education system.

We are asking for detailed, substantive responses to these demands. We also request that any responses be made accessible to all members of the public.
On Saturday morning, both Democratic candidates responded via Twitter: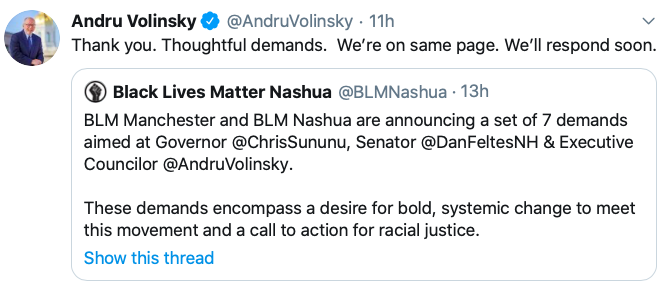 "Whether subtle or overt, caught on tape or not, every day our Black brothers and sisters face words, actions, & policies that rob them of the American dream," state Sen. Dan Feltes (D-Concord) wrote. "These are important steps I support that will make a real difference right now. Thank you for your activism and advocacy."
Volinsky's campaign is still struggling to recover from criticism of the Democrat's racially charged language and his decision to block an African-American nominee, Republican Eddie Edwards, from even receiving a hearing before the Executive Council for more than 100 days. Edwards eventually asked Gov. Chris Sununu to withdraw his nomination due to what he called the "structural political racism" of the Democratic-controlled council.
Both of Volinsky's fellow Executive Council Democrats, Mike Cryans and Deb Pignatelli, also voted to reject or block these black nominees.
The ACLU of New Hampshire, usually a reliable ally of the state's Democratic Party, took the noteworthy step of retweeting a statement critical of Volinsky and adding their own critique: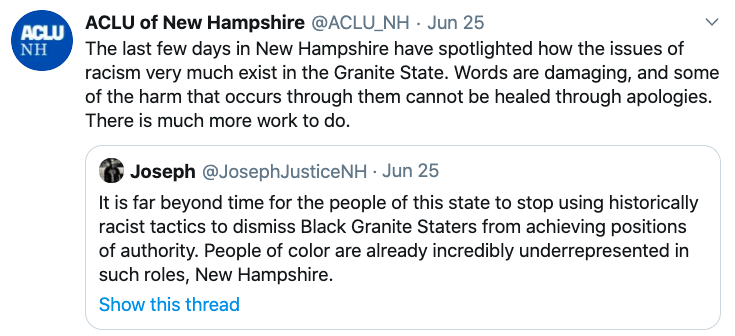 After issuing an initial list of appointees to his Commission on Law Enforcement Accountability, Community, and Transparency without any representation from Black Lives Matter, Gov. Chris Sununu updated the participants to include BLM Manchester activist Ronelle Tshiela.
"Black Lives Matter has been one of the leading voices on this issue in the last month," Sununu said.