Wednesday began with bad news for New Hampshire Democrats, and it only got worse.
The National Republican Congressional Committee updated its poll of 77 "battleground districts," which President Joe Biden won by nearly six points just over a year ago. Today, Biden's approval in those same congressional districts is just 40 percent, while 55 percent of voters disapprove. And Republicans lead the generic-ballot question by four points, too.
Those numbers are significant because the voters are all in potential pick-up districts like New Hampshire's First Congressional District while leaving out voters in both deep blue and deep red communities.
"Battleground voters continue to hold Democrats responsible for the negative impact that record-high inflation, soaring crime, and the crisis along our southern border are having on their lives. Additionally, these voters overwhelmingly support Republicans who are focused on addressing these issues," the NRCC said in a statement.
NRCC spokesperson Samantha Bullock was more succinct. "This poll only confirms the binary choice Chris Pappas has to make: retire or lose."
Though the poll is conducted by the Tarrance Group, a respected polling firm, Democrats dismissed it as partisan.
Unfortunately, just hours later came another poll from renowned nonpartisan pollster Ann Selzer — and its numbers were even worse.
Her Grinnell College poll of 1,002 Americans found Biden's approval had dropped to 34 percent, driven largely by disappointment in his handling of the economy. Even President Donald Trump, who had the lowest average poll numbers of any president in the modern era, didn't hit 34 percent approval until his widely-condemned behavior around the January 6th Capitol Hill riot.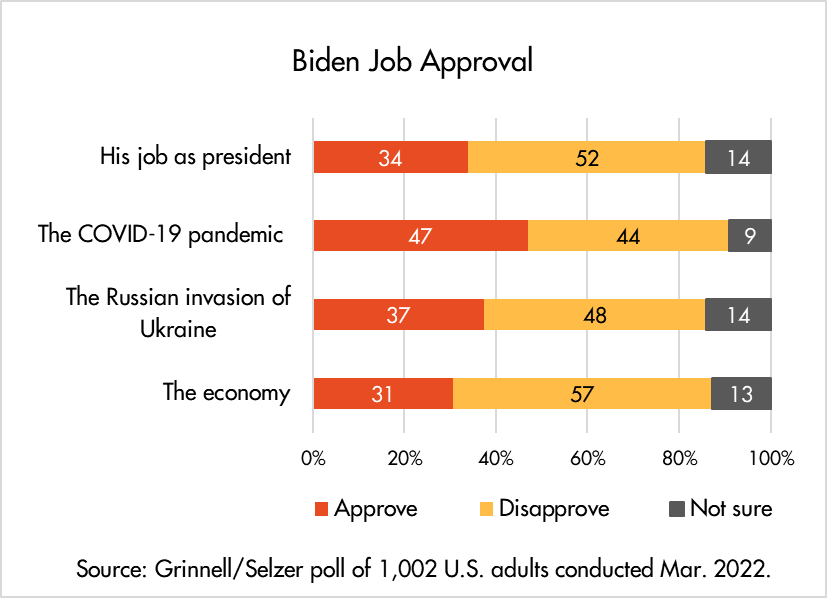 Among independent voters, Biden's approval is down to 31 percent.
"The collapse in economic confidence means that President Biden and congressional Democrats are facing strong headwinds as they head into the November elections," said Peter Hanson, Grinnell College National Poll director.
The day ended with the release of a Fox News poll which, despite the news network's partisan reputation, has actually been pretty good for Biden and Democrats compared to other polls. While Biden's approval is a less-than-disastrous 45-54 percent, the survey also found Republicans are far more motivated to vote in November. More  GOP voters (52 percent) say they are "extremely interested" in the midterm elections than Democrats (44 percent) and the breakdown on voters who say the outcome of the election is "extremely important" is 55 percent Republicans, 48 percent Democrats.
Taken together, all those numbers add up to a Democratic disaster in November.
"Biden below 40 percent in November? It would mean that Republicans are angry as hell, independents are discontented, and Democrats are fearful and ambivalent," said UNH political science professor Dante Scala. "That's the double whammy for the party in power – the opposing side is more energetic, and the independents turn their backs on you. And there's just not much margin for error, given how equally balanced the partisan sides are here."
D.C. Democratic strategist Joel Payne, however, says all hope is not lost. "President Biden is experiencing what most incumbents would in his situation. His pathway out is to tell a better story on the economy, continue positive momentum on COVID, and continue to let Republicans trip themselves up with culture war issues that drive away independents."
And veteran political journalist Josh Kraushaar of National Journal summed up the polling with one word: "Yikes!"
In the Grinnel College poll, Biden is underwater by -18 points. At the same point in his presidency, President Barack Obama's approval was 49-44 percent, or +5. On the eve of the 2010 midterms (November 1), Obama was only slightly upside down with the voters, 45-47 percent.
Democrats lost 63 seats and control of the House of Representatives less than a week later.