America loves Republican governors, and they really love them in the northeast.
Democratic governors? Not so much.
A new Morning Consult poll released Thursday found all of the 10 most popular governors are Republicans. New Hampshire's Chris Sununu is among them at number six.
Sununu and his fellow northeastern GOP governors– Charlie Baker of Massachusetts (#1), Maryland's Larry Hogan (#3), and Vermont's Phil Scott (#2) — have dominated the top of the Morning Consult rankings for years. In fact, Sununu's sixth-place finish is a bit lower than usual for the three-term incumbent.
According to the new poll, Sununu has a 63 percent job approval, while 32 percent disapprove, for a net +31 point approval rating. No member of the all-Democrat federal delegation comes close to matching those numbers.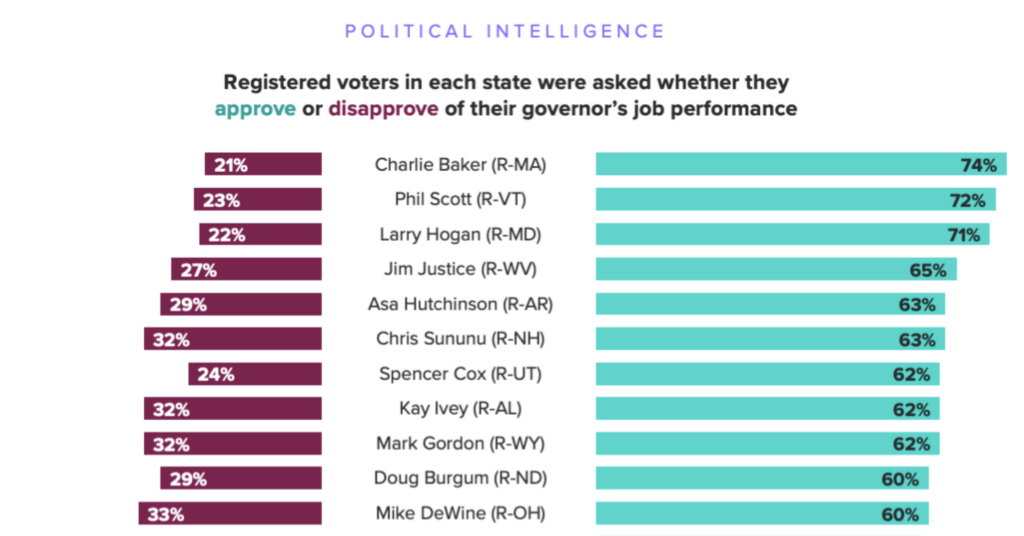 Sununu's approval has actually drifted downward in the Morning Consult poll. He was at 71 approve/22 disapprove in the first quarter of 2021, and hit a low of 60 approve/37 disapprove in the fourth quarter of 2021 when COVID's Omicron variant was surging across the state.
That is a trend with governors across the country — Republican governors. Democrats dominated the bottom of the list, led by Oregon's Kate Brown with a net rating of -13 points. Seven of the 10 least popular governors are Democrats.
Interestingly, Morning Consult found almost the opposite when ranking U.S. senators. Eight of the 10 least popular members of the upper chamber are from the GOP and their leader — Sen. Mitch McConnell of Kentucky — "leads" in the race to the bottom. Just 33 percent of Kentucky voters approve of the job he is doing while 60 percent oppose.
New Hampshire's two U.S. senators are in the "below average" category, with Sen. Jeanne Shaheen ranked 70th and Sen. Maggie Hassan 75th on the "disapprove" numbers.
Granite State political observers believe Sununu will be elected to a fourth term in November, the first Republican governor to ever do so. His only announced major opponent, state Sen. Tom Sherman (D-Rye), is running from the progressive side of his party in a year when the political climate appears to overwhelmingly favor Republicans.
Sununu has maintained his relatively high poll numbers despite — or perhaps because of — picking high-profile fights with his fellow Republicans. He infamously said former President Donald Trump was "f'ing crazy" during a lighthearted speech to the Gridiron Dinner in Washington, D.C. He has also pledged to veto a congressional districting map after it was approved by both GOP-controlled chambers of the legislature.
When the House Redistricting Committee passed a new Republican-backed map with a nearly perfectly balanced partisan split (50.05 percent GOP in 2020), Sununu denounced it as "not competitive" as well.
Some Republican activists are upset by Sununu's attacks on his fellow Republicans, and Trump advisor Corey Lewandowski says the former president wants Sununu taken down in a primary. But based on the latest polls — St. Anselm found 86 percent of New Hampshire Republicans support Sununu— the voters like what they see.
In fact, in a recent NHJournal poll, voters said if the election were between Sununu and President Joe Biden, the Granite State governor would win going away, 53-36 percent.