The day before Republican presidential candidates gather at the Ronald Reagan Library for the second 2024 primary debate, yet another poll puts former President Trump at or above 50 percent in the key early states of Iowa and New Hampshire.
"Today, national frontrunner and former President Donald Trump also leads the Republican primary field comfortably in both Iowa and New Hampshire. And most of his supporters are backing him enthusiastically. His current margins would translate to him getting half of Iowa's delegates and the lion's share in New Hampshire," CBS News reported.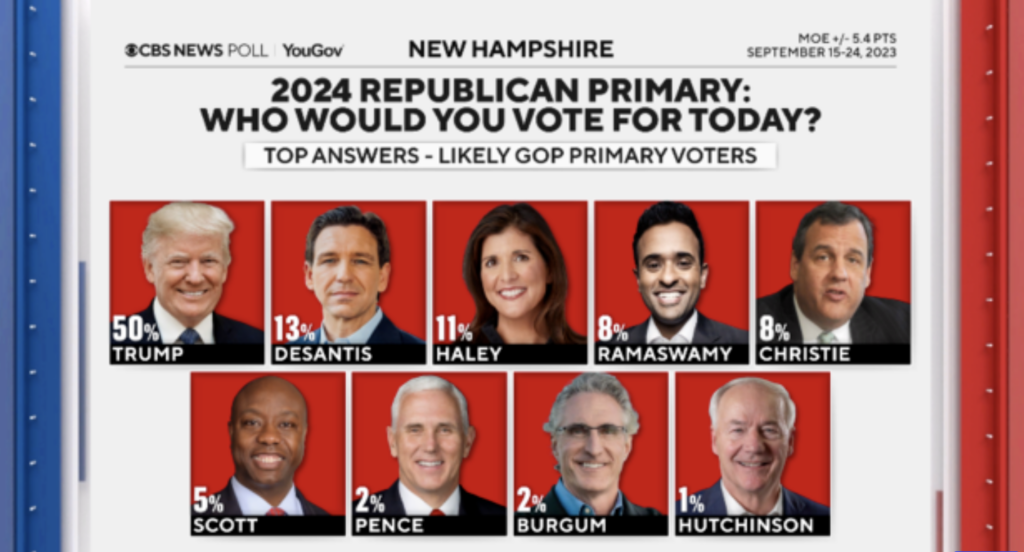 Among the CBS News poll findings:
Trump has 51 percent support in Iowa and 50 percent in New Hampshire. Trump has been at or above 40 percent in eight of the last ten Granite State GOP polls.
In Iowa, Ron DeSantis is at 21 percent, with Nikki Haley in third at 8 percent. Anti-Trump Republican Chris Christie is at one percent.
In New Hampshire, DeSantis narrowly edges out Haley for the second spot, 13 to 11 percent. Christie is tied for fourth with Vivek Ramaswamy at eight percent.
On who would be best to beat Joe Biden, 58 percent of Granite State Republicans say Trump would definitely defeat the president, followed by DeSantis at 38 percent and Haley at 29 percent.
While some traditional Republicans predict independent voters will rescue the party from Trump, the new CBS poll shows Trump leading among unaffiliated voters with 42 percent support. Haley is second with 15 percent.
In both Iowa and New Hampshire, 'Only-Trump' voters are outnumbered by the third of the electorate who aren't considering him at all.
And defenders of the "New Hampshire Way" of campaigning have to confront the finding that Granite State GOP primary voters say they are far more focused on national issues (88 percent) than state and local issues (12 percent).
In a column published Tuesday and headlined "No, Donald Trump doesn't have the 2024 GOP nomination locked up," liberal Boston Globe columnist Scot Lehigh tries to make the case that Trump may be in trouble in New Hampshire's primary. He argues that "in the Granite State, he has nowhere to go but down."
But that's just an indication of how high Trump's standing is among New Hampshire Republicans. His poll number could go down 35 percent and still be in the lead.