Just days before President Joe Biden is expected to announce he plans to seek a second term, new polls show that both across the U.S. and in Manchester, N.H., Democrats agree:
Don't run, Joe.
A new national poll from NBC News released Sunday found 70 percent of Americans believe Biden should pass on a second White House run. That includes 51 percent of Democrats.

Those numbers echo the findings of the Granite State Poll, a States of Opinion Project, released by the University of New Hampshire Survey Center last week. Just 43 percent of Granite State Democrats said they thought Biden should run for another term, while 50 percent said he shouldn't.
Among all voters, Biden had a 41 percent approval rating nationwide, while 54 percent disapproved of the job he's doing as president.
Among New Hampshire Democrats, Biden's 54 percent approve/23 percent disapprove number is unusually low for an incumbent president with members of his own party. In fact, his net approval among Granite State Democrats (+31) is lower than Transportation Secretary Pete Buttigieg (+55) and Stacy Abrams (+51). Even Rep. Alexandria Ocasio-Cortez is more popular with Granite State Democrats (+32) than Biden.
That may be one reason Robert F. Kennedy, Jr. is already campaigning in the Granite State for the Democratic presidential nomination.
Republicans have their own problems. Just 34 percent of all Americans have a positive view of 2024 frontrunner Donald Trump, while 53 percent have a negative view, a net – 19. Biden's at 38 percent approve/48 disapprove, or -10 points underwater.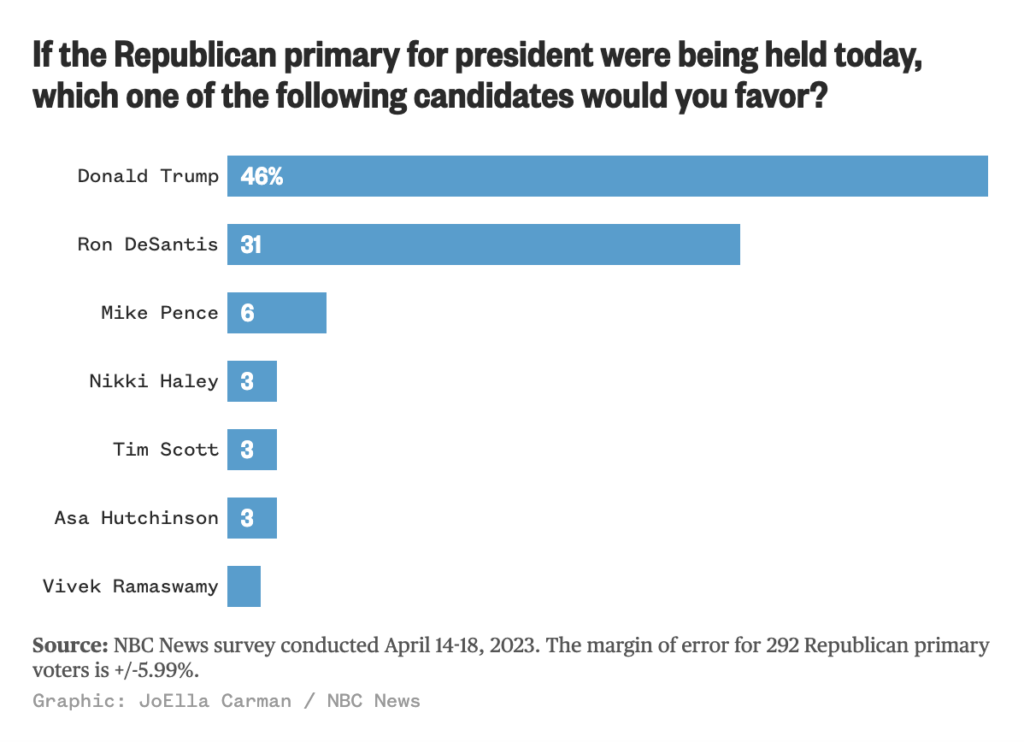 And just like the UNH survey, the NBC News poll gave Trump a solid lead among Republicans over Gov. Ron DeSantis (R-Fla.) in the GOP presidential primary, 46 to 31 percent.
But asked if the election were held today, would they vote for Joe Biden or "the eventual Republican nominee," Biden trailed 41 to 47 percent.
Why? What is holding Biden's numbers down? Among those who said Joe Biden shouldn't run again in the NBC News poll, 48 percent said the 80-year-old president's age is "a major reason." Biden would be 82 when sworn in for a second term and 87 when he finished.
Another is ideology, with 57 percent of New Hampshire self-identified progressives opposed to another Biden White House bid. Among self-identified liberals, it was 45 percent, and for moderate Democrats, it was 41 percent.
There are no conservative Democrats identified in the poll. About nine percent of New Hampshire Democrats identify as "socialists." Only 21 percent of them wanted Biden to run again.