Angered by support for energy infrastructure projects like Granite Bridge, New Hampshire environmentalists plan to protest outside the Democrats state convention in Stratham on Saturday.
"Pipelines are not in line with the values Democrats say their represent," the progressive group EchoAction says in a statement. "Why are Dems putting our finances, health, safety, children, schools. water, air and future at risk instead of supporting renewable energy jobs?"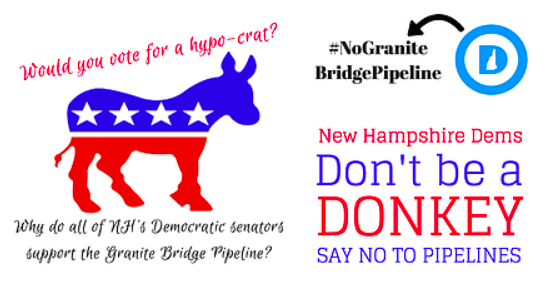 In particular, the group is angry over support for Liberty Utilities' Granite Bridge project from all ten Democrats in the state senate, and is urging grassroots green activists to show up at the convention to express their disappointment.
"The Democratic Senators likely support it because they support the unions," Echo Action's Pat Martin says in an op-ed for NHJournal, acknowledging that the issue pits (often affluent) environmental liberals against blue-collar workers in the Granite State.
In fact, while Echo Action decries the project ("When we choose natural [fracked] gas, we become complicit in the poisoning of the water, air, people and wildlife!"), Granite Bridge has been endorsed by the NH Building Trades Council. 
Is anti-pipeline absolutism a winning political position? The size and impact–or lack thereof–from Saturday's protests at the Democrats' state convention may help answer that question.