First Congressional District candidate Matt Mowers voted in both the New Hampshire and New Jersey GOP presidential primaries in 2016, a fact first revealed by the Associated Press Tuesday morning.
By lunchtime, the Gilford Republican was getting hit with political fire from both sides of the aisle — including Hillary Clinton — as both his primary opponents and Democratic operatives accused him of committing election fraud.
"The Republican Party is the party of election integrity, and we cannot nominate someone who has engaged in voter fraud and expect to be taken seriously on the topic," said Gail Huff Brown, also a candidate in the 1st District race. "We can do better."
From the Democratic Congressional Campaign Committee: "Hypocrite Mowers, a former Trump official who was previously endorsed by Trump, has been running on 'election integrity.' This is against the law."
Hillary Clinton even weighed in. "Republican officials are so determined to transform voter fraud from a flimsy pretense for suppressing votes to an actual phenomenon, they keep committing it themselves," she tweeted.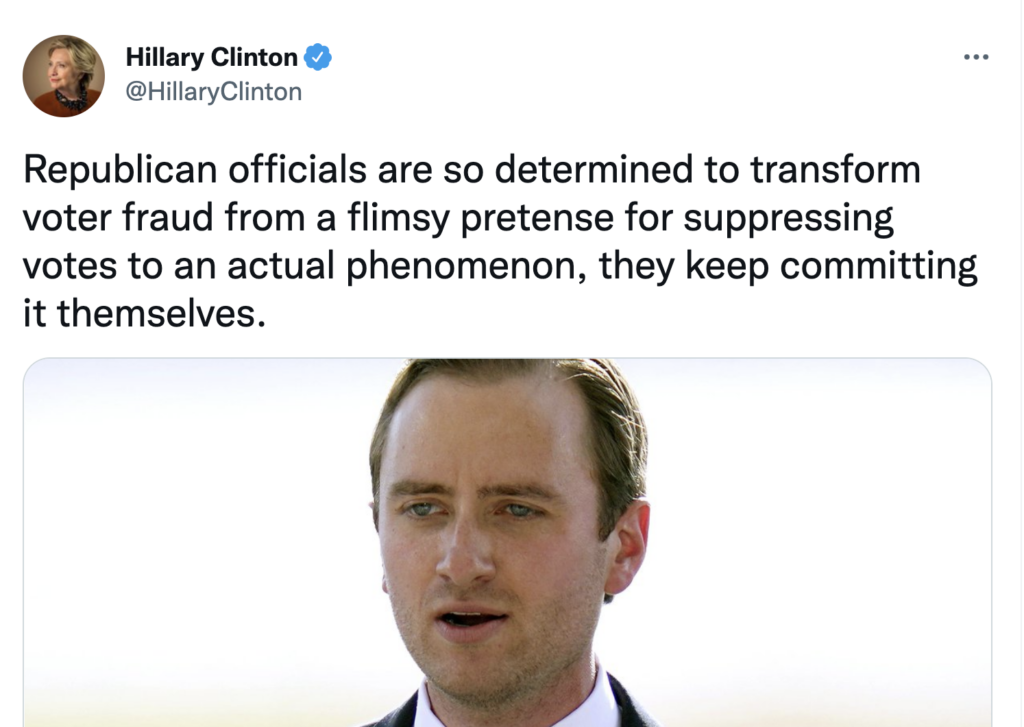 So, did Matt Mowers break the law by voting in two different state presidential primaries in the same year?
No, says J. Christian Adams, president of the Public Interest Legal Foundation and former Justice Department election lawyer. "To violate the federal law, someone must vote twice for the same office. But residency is a state of mind, and it is perfectly plausible for him to be a resident of New Hampshire and vote in the primary and then become a resident of New Jersey and legally vote by the time that primary occurs."
"He didn't break the law," said state Rep. Ross Berry (R-Manchester), who serves on the House Election Law Committee and calls himself "one of the largest advocates for voter integrity in New Hampshire."
Rider University's Rebovich Institue for New Jersey Politics, a left-leaning think tank, was more direct: "The Mowers flap is silly. He did not vote twice in the same primary election. He voted in two different primary elections. The only New Jersey requirement to re-register is to live in the county for 30 days, which he would have had plenty of time to do. Campaign professionals move around."
In fact, the Associated Press only quoted one person, liberal political science professor David Schultz, who said that "on the face of it looks like he's violated federal law." Their other sources either dismissed it or said the case was murky.
In an interview on the NHJournal podcast, Mowers insisted he had done nothing wrong and said the story is being pushed by political opponents desperate for a way to undermine his frontrunner status.
"This is politics. I know whether it's Pelosi or Pappas or the other people in this primary, they all want the same job. They want to shoot at the guy up front.
"The line for second place in this primary started at WMUR today to get on camera," Mowers added.
As for 2016, Mowers said after becoming executive director of the New Hampshire state party in 2013, he worked for New Jersey Gov. Chris Christie in the First in the Nation primary.
"After the New Hampshire presidential primary, like a lot of out-of-work operatives, you start looking around. I got an opportunity to support the Trump campaign and actually ended up working [for Trump] full time. I relocated to the New York City area — in this case, Hoboken, N.J. I lived there, worked there and registered to vote there — actually at the request of the Trump campaign."
Mowers pointed out that in the later primaries, there was a concerted effort by Sen. Ted Cruz (R-Texas) and others to win delegates, with the goal of taking the fight over the nomination away from Trump and onto the convention floor. Mowers voted in New Jersey's June 7 primary and eventually became a delegate from the state to the national convention in Cleveland.
"I've followed the law 100 percent of the time," Mowers insists. "This is much ado from a bunch of hacks down in D.C. who spend all day researching everyone and trying to make fire out of smoke. They can't do it here, but they're going to try."
While Mowers may not have broken the law, he is not off the hook with the people who matter: GOP primary voters. How will they respond?
Opinion among Granite State political pros was mixed, but his GOP primary opponents clearly believe Mowers is vulnerable.
"This is a huge bombshell. It's a serious allegation against my opponent," 1st District candidate Karoline Leavitt told radio host Jack Heath on Tuesday. "Election integrity is the most important thing to voters.  It's serious, that he potentially violated federal law."
Julian Acciard, another primary candidate, called Mowers "a good friend." but said "he's going to have to make a decision as to what this means for his campaign. As someone who started this campaign on election integrity following the Windham, N.H. audit, I take election integrity very seriously. I truly believe this is a nonpartisan issue that affects all American citizens."
And state Rep. Tim Baxter (R-Seabrook) said of his primary campaign opponent, "Unbelievable."
"'Jersey Mowers' voting in two primaries in 2016 is the exact election fraud problem voters across America are sick of. While I'm running the bill in New Hampshire for a full forensic audit of the 2020 presidential election, Matt Mowers is potentially breaking federal law by voting in both New Hampshire and New Jersey."
GOP strategists and grassroots activists who spoke to NHJournal on background said the likely outcome for Mowers is unclear. If the average voter decides what he did was illegal, it could create real problems for the frontrunner. But if they accept his explanation or dismiss it as politics as usual, it could be forgotten long before September's primary.
"First question — do the voters care? Second question — does your opponent have enough money to remind them they care between now and Election Day," one GOP strategist who is not affiliated with any 1st District campaign told NHJournal.
It is definitely not an issue his opponents are going to drop.
"Matt Mowers may be the only Republican in the country to vote against Trump twice in the 2016 primaries," tweeted Gail Huff Brown's campaign manager Ben Hincher.