The GOP primary in New Hampshire's First Congressional District is a year away, but the announced candidates are already hauling in some serious campaign cash. 
The 2020 GOP nominee, Matt Mowers, announced he'd raised $450,000 ahead of the Oct. 15 filing deadline, while 24-year-old newcomer Karoline Leavitt raised a respectable $333,000. 
"I am grateful for the incredible energy and enthusiasm we have felt since announcing our candidacy just a few weeks ago," Mowers said.
Mowers said his fundraising operation got started four weeks ago, making the $450,000 in four weeks a new fundraising record for New Hampshire GOP candidates. 
Leavitt, meanwhile, is touting her total collected over the past ten weeks as a sign voters want her brand of conservatism on the ballot.
"I have been traveling across our district to share my message with voters and the response is clear — New Hampshire needs a bold, conservative, homegrown fighter in our federal delegation who will advance our values, stand for freedom, and never back down from a fight," she said in a statement.
The Federal Elections Commission requires quarterly fundraising reports from candidates and candidate committees. The third quarter cutoff was on Sept. 30, though the reports do not have to be filed until Oct. 15. 
Neither Leavitt's nor Mowers' full reports were publicly available through the FEC website on Monday.
The money edge for Mowers and Leavitt helps them pull away from the other candidates in the CD-1 race. Julian "Ace" Acciard signaled that he expects to report a smaller figure when his reports are finalized.
"I've been focused on building a strong foundation instead of tap dancing for dollars," Acciard said. "The goal is liberty, not money or my ego."
Tim Baxter could not be reached for comment on Monday. 
The CD-1 field is far from settled, however. Looming on the perimeter of the race is Gail Huff Brown, former T.V. news anchor and wife of former Massachusetts Senator Scott Brown. Huff Brown announced she is exploring entering the race, and she's been on the campaign trail as an unofficial candidate.
In fact, just last week, Huff was in Massachusetts raising money at a "Boston Friends of Gail" event.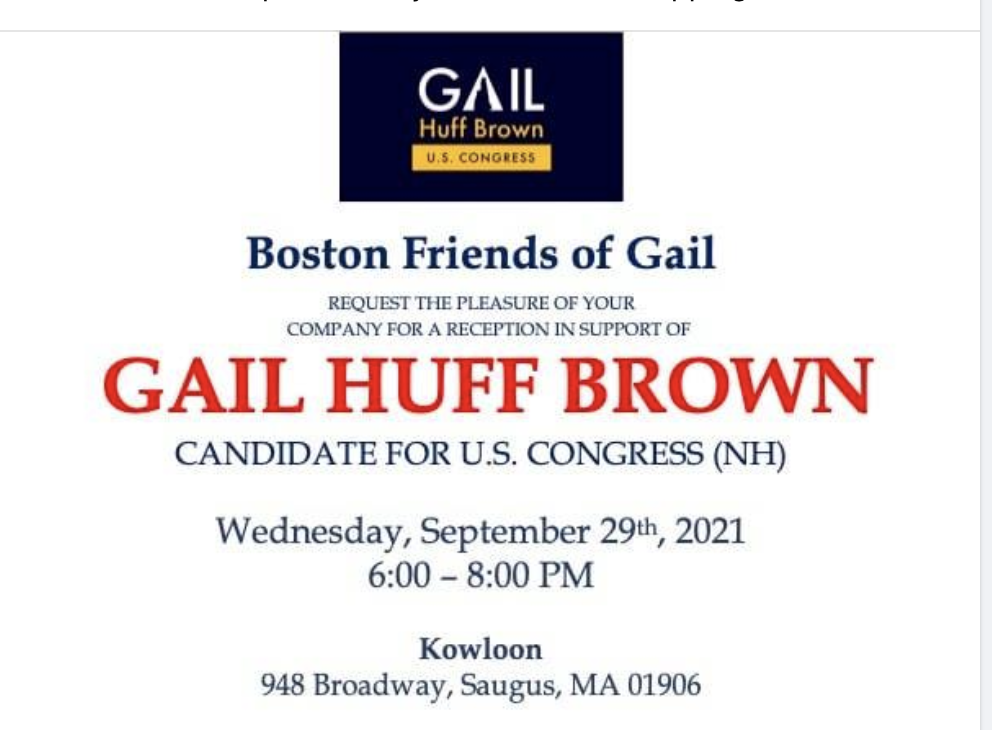 There is also speculation among GOP insiders that at least one other Granite Stater is interested in entering the race, but is waiting to see the results of the state's redistricting effort. The new district maps are not expected to be done until April.
Meanwhile, the biggest news for the Mowers campaign isn't his fundraising success but the flameout of his campaign advisor — and doorway to Donald Trump — longtime NHGOP activist Corey Lewandowski. Politico released a devastating report alleging violent and sexually inappropriate behavior by the hard-charging New Hampshire politico.  
According to a police report filed by Trump donor Trashelle Odom, Lewandowski touched her repeatedly and inappropriately, stalked her, said "vile and disgusting things" about the size of his genitalia and told her he'd killed two people in the past.
David Chesnoff, a Las Vegas attorney representing Lewandowski, told Politico, "Accusations and rumors appear to be morphing by the minute and we will not dignify them with a further response."
Trump's organization announced they have cast Lewandowski out.  Asked repeatedly if he is doing the same, Mowers declined to respond.