"Would you label the FBI a 'terrorist organization?'"
"Should we investigate Sen. Chuck Schumer and Speaker Nancy Pelosi for their role in January 6th?"
"Would you support the repeal of the 17th Amendment and return the appointment of U.S. senators to the state legislatures?"
Those were just a few of the non-traditional questions fired at Republican candidates in two debates hosted by the Government Integrity Project, an organization promoting claims that the outcome of the 2020 election is either in doubt or that it was out-and-out stolen by Joe Biden and the Democrats.
Karoline Leavitt, one of the Republicans who participated in Saturday's First Congressional District debate, left no doubt where she stands on the integrity of the 2020 vote.
"I am the only candidate in this race to say Joe Biden did not legitimately win 81 million votes. That's preposterous," Leavitt said.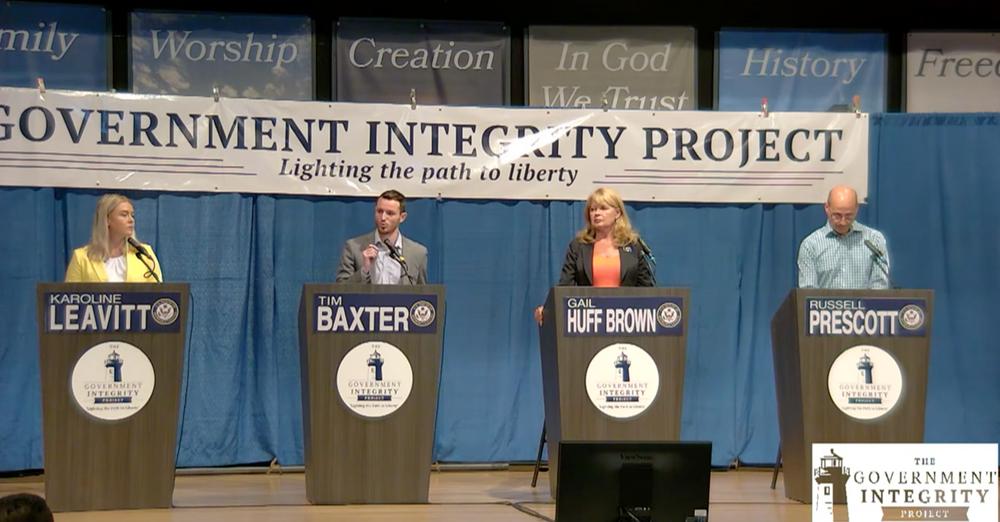 "We will never know about all the fraud unless there's an audit," said state Rep. Tim Baxter, who has called for an audit of the 2020 election, including New Hampshire's ballots.
The debate, which featured Baxter, Leavitt, Gail Huff Brown, and Russell Prescott — but not presumed frontrunner Matt Mowers — featured multiple references to the movie "2000 Mules," which is wildly popular in the election conspiracy/'Stop The Steal' movement. There were also questions about impeaching U.S. Attorney General Merrick Garland. (Participants' answer: Yes.)
Typical debate topics like inflation and education also made an appearance. But the audience was most animated when the conversation turned to claims of election fraud and government abuse.
"What happened in the raid was abominable. I can't imagine what it's like to be Melania and have people go through my closets," said Huff Brown. "How do we trust the FBI when they're doing things like this?"
While there were shots fired at Mowers for being a no-show, they were surprisingly few and far between. Not surprising for an event focused on election issues, Huff Brown took the opportunity to ding Mowers for voting in 2016 in both the New Hampshire and New Jersey presidential primaries.
Prescott, the most traditional GOP candidate in the race, often appeared uncomfortable with the line of questioning and unfamiliar with some of the references from the Steve Bannon wing of Republican politics. He acknowledged having not seen "2000 Mules" and, when asked if he would commit to holding a town hall with the Government Integrity Project, Prescott said he would have to investigate it first.
"Russell, it's the organization that put on this debate," the moderator replied.
There were no such faux pas in the U.S. Senate debate on Sunday when retired Gen. Don Bolduc, bitcoin millionaire Bruce Fenton, and Londonderry Town Manager Kevin Smith faced off — and faced very similar questions.
Missing from the action were state Sen. Chuck Morse and entrepreneur Vikram Mansharamani. Fenton, who attacked Morse relentlessly during the New Hampshire Journal debate in June, did not let the senator's absence go unnoticed. He used his opening remarks to deliver a message to Morse.
"There's no shame in dropping out because you can't cut it, Chuck. This is the big leagues. This is the United State Senate, not the state senate," Fenton said. "It's a big deal, not everyone can do it. I think Chuck served the establishment for 55 years or something like that.
"Chuck, I know you're watching. There's no shame. You did the best you could."
Asked about Morse's absence, campaign manager Joe Sweeney said, "Sen. Morse expressed regrets to the organizers weeks ago that he couldn't make their debate due to pre-existing scheduling conflicts that couldn't be rearranged. He's looking forward to participating in at least five debates or forums over the next four weeks leading up to the primary and will promote his conservative record and agenda at each one."
Like Mowers on Saturday, Morse was rarely mentioned the rest of the Senate debate. Instead, the questions focused on issues discussed among far-right activists, such as "where do our rights come from" or the legitimacy of the investigation into the January 6th riot on Capitol Hill. (Fenton called January 6th a "nothing burger" and said people upset by it have been "brainwashed.")
Smith was booed when he declined to support shutting down the FBI or declaring it a terrorist organization. Instead, he said he supports a top-down review. "I believe at its core, it's a good institution, and I believe there are fine men and women who want to do their jobs and want to protect us."
Bolduc said the political appointees need to be held accountable by Congress, and he called the FBI's actions in Mar-a-Lago illegitimate, no matter what is found in Trump's house.
"You shouldn't be able to raid a former president's house at any time," Bolduc said.
And again, Felton was very direct: "It's time to abolish the FBI and replace it with nothing."
The candidates were united in their opposition to the new $739 billion version of Build Back Better and opposed to the Biden administration's border policy. They embraced traditional GOP stances of parental control of education and ending the federal Department of Education.
But for GOP political insiders, the most interesting debate was over the various candidates' decision to attend or avoid a debate that targeted the party's fringe. Few pollsters or political pros believe topics like the 2020 "stolen election" conspiracy or defunding the FBI are winners in November.
Is it better to show up and take the questions, risking being linked to extremism in the general election; or avoid the debate and send a message to the GOP's most hardcore base that you are not willing to show up?
"This wasn't a debate, it was an in-kind contribution to the Hassan campaign," one DC-based GOP strategist told NHJournal after Sunday's event. "We're writing her ads for them."
Not everyone agrees. A New Hampshire Republican campaign veteran speaking on background said the surge in Trump support after the Mar-a-Lago raid and the former president's ability to turn events to his advantage are reminders that no Republican can win while ignoring Trump-centric voters.
"You've got to show up and let them know they're important to you, even if you can't agree on every issue. Some of them are just going to vote for the most pro-Trump candidate, but some are going to vote for a 'Trump-enough' candidate who they think can win.
"But nobody's going to vote for the candidate who doesn't show up."