"What we do in Concord doesn't happen by accident. It's not luck. We elect conservatives to get the job done. That's what I did as Senate president. And that's what I'll do as governor of the state of New Hampshire."
And with that, former state Sen. Chuck Morse announced his candidacy in front of more than 300 people at the Atkinson Resort and Country Club attending his Harvest Fest event.
The 62-year-old Republican resigned from the state Senate last year to run for U.S. Senate. He lost the GOP primary to retired Gen. Don Bolduc, who went on to lose handily to Sen. Maggie Hassan (D). Morse had been the longest-serving state Senate president in New Hampshire history.
Before addressing the crowd, Morse told NHJournal he felt good about his campaign's launch.
"I think it's exciting," Morse said, looking at the crowd. "The local people who are here can't help but drive up the enthusiasm."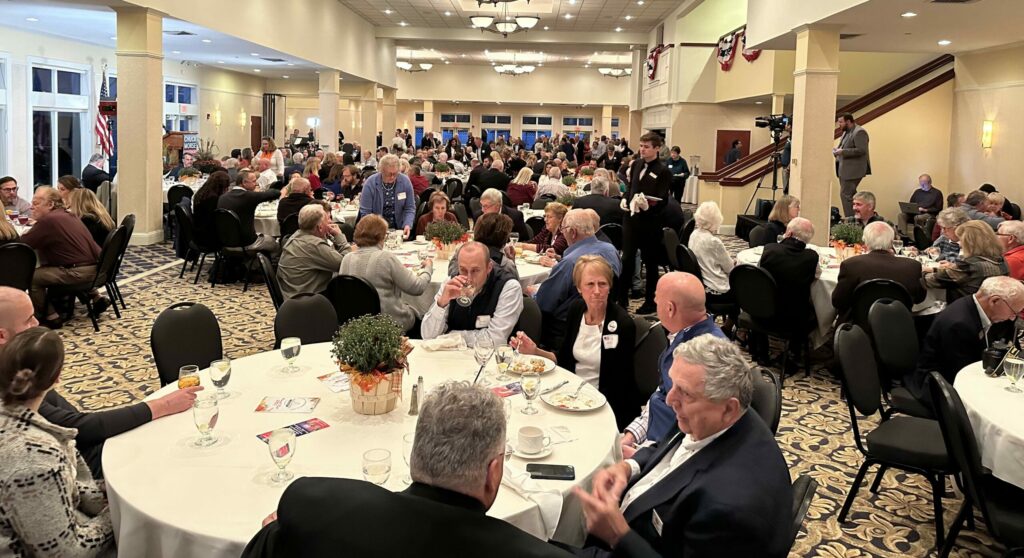 Morse was introduced by his friend and close political ally, state Senate President Jeb Bradley (R-Wolfeboro). Bradley conceded low-key candidate Morse "isn't the flashiest guy."
"But if you want a guy who has fought for New Hampshire, made New Hampshire the state it is, and kept New Hampshire the state it is — all for $100 a year. If you want somebody with the most honest, straightforward style, that's Chuck Morse."
"Not flashy," Bradley added, "but darn, darn competent."
Several of Morse's fellow state senators were on hand, including Sens. Daryl Abbas (R-Salem), Ruth Ward (R-Stoddard),  Timothy Lang (R-Sanbornton), and Majority Leader Sharon Carson (R-Londonderry).
Also on hand was Commissioner of Education Frank Edeblut, who spoke to the crowd about progress in education but carefully avoided endorsing Morse in the primary. "No, not an endorsement. As I said, when it comes to promoting education, I'll talk to anyone, anywhere," Edeblut said.
Edulblut had been widely expected to enter the GOP primary for governor himself, representing the social conservative wing of the party, but he announced earlier this month he's not going to run.
Asked about Edelblut appearing on stage at Morse's kickoff, a source close to Morse told NHJournal, "Maybe [Kelly] Ayotte should have thought about that before she bullied Edeblut to get out of the race."
Once he took the stage, Morse kept his remarks brief, touching mostly on his biography and years of legislative service. But he did hit on a few issues the campaign appears likely to key on. Among them: parents' rights, Education Freedom Accounts, defending the 'New Hampshire Advantage', and supporting the Second Amendment.
Morse also spoke about the opioid overdose crisis and how America's border chaos is adding to the flow of drugs. He dismissed the argument that border security is a federal, not a state, issue.
"People would have you believe that the [border problem]  is not getting to New Hampshire," Morse said. "It's coming through our northern border right now, and it's been coming through our southern border.
"And as governor, I promise you, I will make this the safest state in the nation."
Many of the attendees were residents of Salem and Atkinson who have been longtime Morse supporters. And despite polls showing Ayotte with a significant lead at this early stage in the race, they told NHJournal they are confident Morse is a winner.
"He's awesome," said Sheila Casey, who identified herself as a Navy veteran of the Vietnam War. "I've watched him come up through the ranks, and he's always given back to the community. I was disappointed that he wasn't elected senator, but if he wants to be governor, we're going to support him, and he'll be the best governor ever!"
Like nearly every Republican primary in America, the New Hampshire governor's race is almost certain to be impacted by Donald Trump and any decision he might make to back a candidate. Morse has been a regular fixture at Trump's campaign appearances in the Granite State, getting a noteworthy shoutout from the former president at the New Hampshire Federation of Republican Women luncheon in June.
"Good man, great guy," Trump said of Morse. "I wish I'd endorsed you." Then Trump added with a grin, "He says, 'Me, too!'"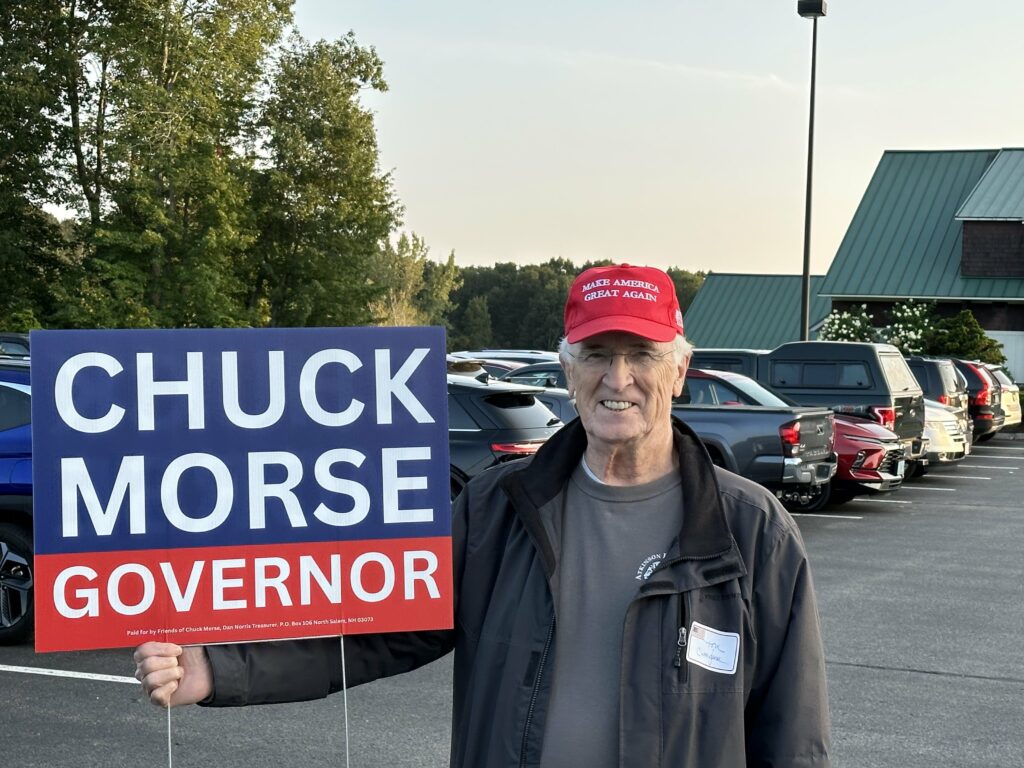 Several Morse supporters showed up at this event wearing Trump's iconic "Make America Great Again" gear.
Ayotte supporters tell NHJournal privately that while they like Morse and admire his service, they believe she will emerge as the consensus candidate with the strongest support in the party. They point to her list of endorsements and donors, many of whom have been Morse backers in the past. For weeks, they have pushed the narrative that Morse would eventually choose not to file to enter the governor's race due to lack of support.
That did not appear to be the case in Atkinson Thursday night.
"Chuck's a businessman, but he's also the longest-serving Senate president. He's done so much work for the state of New Hampshire — and all for just $100 a year," said Rockingham Sheriff Chuck Massahos. "He's got a good heart, he's got a good mind, and he's going to be a great governor."