If Gov. Chris Sununu is looking for a way to make Republican legislators even angrier with him, he's found the map for it.
And he released it, too.
Last week, Sununu announced his decision to veto new congressional district maps that went through a months-long process of public hearings and negotiations between the GOP-controlled House and Senate. The maps would have created a GOP-leaning First Congressional District, the only GOP-friendly congressional district in the six New England states.
Instead, Sununu released a map Tuesday that gives Democrats a virtual lock in Rep. Annie Kuster's CD-2 (it was Biden +10.5 percent in 2020) and a "leans Democrat" in Rep. Chris Pappas' CD-1 (where Biden won by 4.5 percent).
"This is certainly not the only solution, but hopefully will be helpful. It keeps our districts competitive, passes the smell test, and holds our incumbents accountable so that no one elected official is immune from challengers or constituent services," Sununu wrote in a letter to legislative leaders accompanying the map. "There is still enough time in this process to deliver a map for our citizens that gets the job done."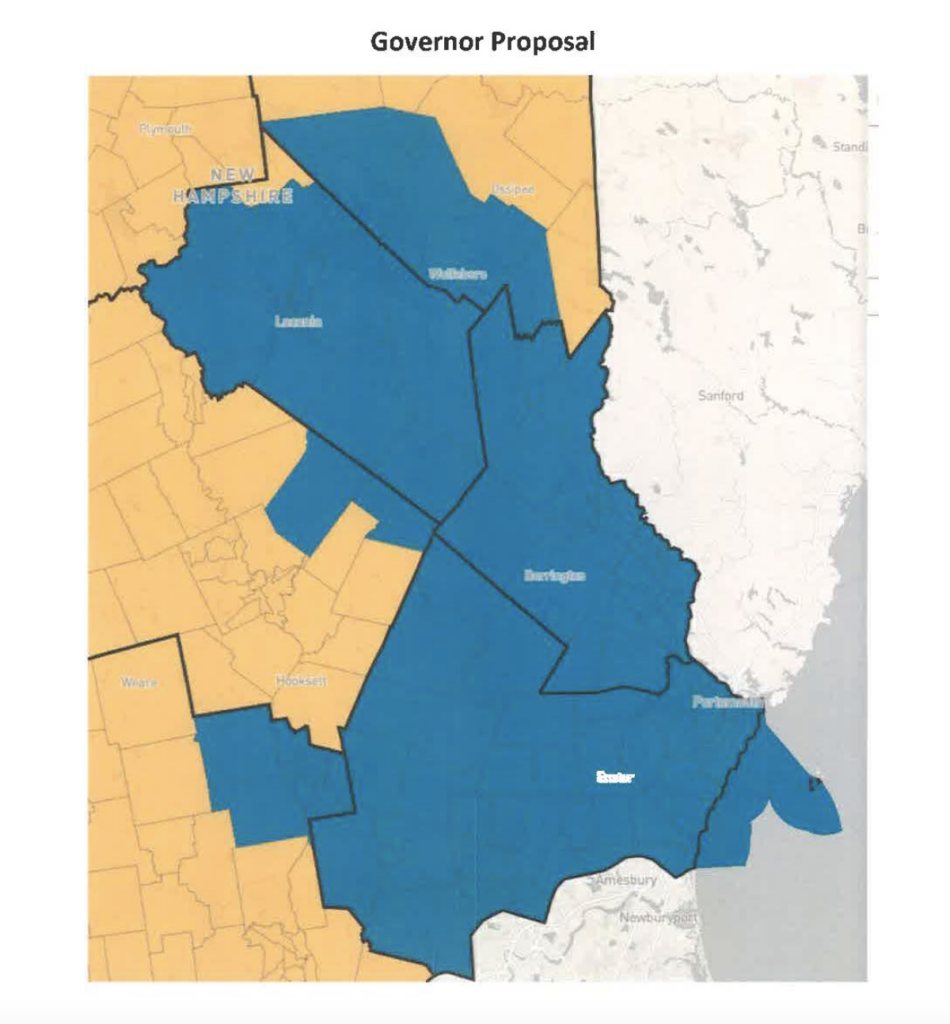 New Hampshire Democrats were thrilled by Sununu's decision to veto the GOP maps — "I couldn't agree more with Gov. Sununu," Pappas said at the time — and several described Sununu's new version as good as it's likely to get given a GOP legislature and governor.
Portsmouth Progressive state Sen. Rebecca Perkins Kwoka, for example, said she was "pleased to see the governor break with his party."
Not surprisingly, Granite State Republicans unhappy with Sununu's decision are reluctant to talk on the record about a Republican governor. Speaker of the House Sherm Packard (R-Londonderry) declined to comment on the merits of Sununu's map,  simply saying the veto presents another challenge the House will have to deal with before the end of the session.
"We'll get through it," Packard said, and he identified May 5 as the key date in the process under the state Senate's rules. "We've got to get it done by then."
On background, however, other legislative Republicans were not as circumspect.
"It's a map designed to elect Democrats," one GOP source close to the redistricting told NHJournal. "Why is he [Sununu] trying to do Nancy Pelosi a favor?"
"I don't think the governor has a career in coloring," another quipped.
Several rejected the premise that the map is balanced. They argue that, while 2022 is shaping up as a "red wave" year, in a typical election the seat would still be a Democratic district.
"Sununu's map is great — if you are a Democrat planning to run in CD1 or CD2," a Republican familiar with the redistricting process told NHJournal.
Sununu's decision is just the latest setback for Republicans, in New Hampshire and nationwide, who believed the GOP's success in the 2020 election cycle would help them take back the U.S. House of Representatives this fall. Voters gave Republicans control of 30 state legislatures, compared to 17 for Democrats. And Republicans control the governor's office and the legislature in 23 states, while Democrats have total control in just 14.
But thanks to aggressive legal action from Hillary Clinton's former attorney Marc Elias and red states with elected Democrats serving as judges, the consensus is Republicans are losing the redistricting battle this cycle.
Sununu says his proposed map "passes the smell test." Many Republicans disagree.
"It doesn't pass our smell test," one GOP legislator said. "I think it stinks."