Maura Sullivan's southern roots may be starting to show.
The former Obama administration official–and Virginia resident– who was reportedly considered a potential congressional candidate in the Old Dominion before settling in New Hampshire a year ago, gave a surprising answer to a question about monuments and memorials to the Confederacy: She staked out the "state's rights" position.
At the end of an interview on WMUR that aired Sunday, Political Director Adam Sexton notes that Sullivan's resume includes service "on the American Battle Monuments Commission."
"What is your perspective on Confederate monuments?" Sexton asked. "Do those deserve to remain standing?"
Instead of giving taking the anti-Confederate memorial position that's become common on the Left, Sullivan deferred to the states:
"That is an issue for states and local communities to decide for themselves," Sullivan replied. "I don't think the federal government should be coming into New Hampshire and telling New Hampshire what to do with its monuments."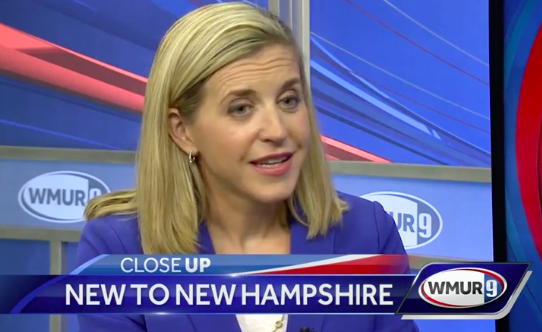 If that sounds familiar, it echoes John McCain's position on the state of South Carolina flying the Confederate battle flag atop the state house during his first presidential bid in 2000—a position he later repudiated.
"Probably the worst piece of advice I've ever given to myself was when the Confederate flag was flying over the state capitol in South Carolina," McCain said in a 2008 interview. "And I decided that I would say it's not an issue I should be involved in, that it should be decided by the people of the state of South Carolina. I knew it was a symbol that was offensive to so many people. And afterwards, I went back and apologized. But it was needless to say, by saying that I wouldn't have anything to do with an issue like that was an act of cowardice."
For the record, there are no Confederate memorials of any kind in the Granite State. In fact, the only Confederate memorial in all of New England, a small stone marker for 13 Confederate soldiers who died in prison on Georges Island in Massachusetts, was removed in response to a public outcry in 2017. 
However, the issue of funding for Confederate memorials and icons on federal property like military bases and national parks is already before Congress. House Democrats have proposed a bill banning any Confederate monuments from all federal property. It's an issue the next member of Congress from NH-01 is almost certainly going to deal with.
And then there's the broader issue of state's rights and local control.  If Sullivan supports state's rights on the Confederate monument issue, what about other public policies? Abortion? Gun laws? Work requirements for welfare recipients?
If she does, it certainly makes her stand out from the crowd in the Democratic congressional primary.
UPDATE: Terence O'Rourke, one of the other Democrats in the NH-01 primary race, released this statement regarding Sullivan's comments:
Maura Sullivan sounds like every Neo-Nazi and Southern Revivalist I've ever had the misfortune to encounter. This is the same coded language I dealt with as a Counter-Terrorism Prosecutor. As a party, we Democrats can not support her as our candidate.