Mayor Dan Rivera of Lawrence, Massachusetts isn't impressed by Mayor Pete Buttigieg's credentials and doesn't understand why anyone else would be, either.
In fact, Rivera believes the 2020 field of Democratic candidates is far too big, and one reason is because of "a little bit of sexism" among men like Buttigieg, Rep. Seth Moulton and NYC Mayor Bill de Blasio who insisted on entering the race when there were far-more-qualified women already running.
Last week, the Massachusetts mayor made headlines with a series of tweets complaining to the Democratic National Committee about the size of the 2020 field, which currently stands at 24.  "Adults in the party need to say: no reason a Jr. US Rep from Salem, MA (@sethmoulton) should be running, when the Sr. Sen. from MA (@ewarren) has been in for months! Same with @SenGillibrand & @BilldeBlasio," Rivera tweeted. "24 is not choice 24 is noise. You can't even name them all never mind analyze their [small] differences.
"Right now any Dem with a pulse and a perch is running. They are choosing, not us. That's not good."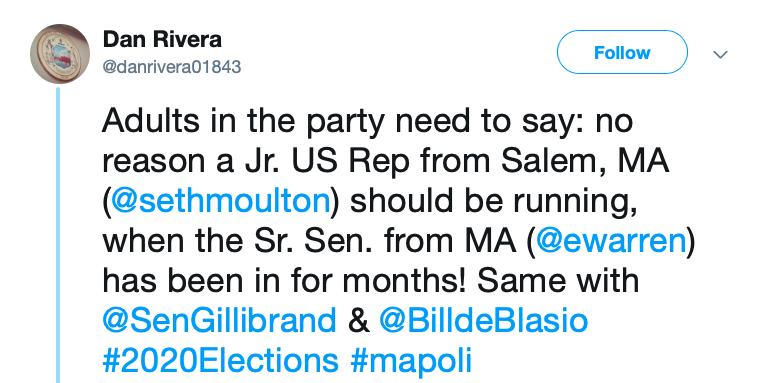 Lawrence is a key city in the region when it comes to Democratic politics. Sitting on the borderline of First-in-the-Nation New Hampshire, it has the largest Hispanic population in the state and is where Sen. Elizabeth Warren (Rivera's candidate of choice) made her formal 2020 announcement speech.
In an interview on the WGBH podcast "The Scrum" released Thursday, Rivera repeated his criticism of the field before pointedly turning on Buttigieg, suggesting that he's both unqualified and at least partially motivated by sexism.
After noting that South Bend, Indiana's population of 103,000 isn't significantly larger than Lawrence's, Rivera expressed astonishment that Buttigieg decided to run "when there are so many people in the race of high quality."
"I got nothin' against Mayor Pete…whatever-his-name-is, but he gets into the race after Kamala Harris is in the race?" Rivera said. "Someone who has less responsibility than [Boston Mayor Marty] Walsh is running for president against these great women is an issue to me," Rivera said.
Rivera says he sees  "a little bit of sexism" at work among these candidates, including his home-state Rep. Seth Mouton's run against Liz Warren.
"To look at a field that includes your senior senator and think 'Nah, I'll be better than her, let me run'— that's a problem for me.  I think there's a little bit of sexism as well. When de Blasio gets in and Gillibrand is already in. Mouton gets in, and Warren is already in.
"If this is 1975, your political career would basically be over," Rivera said.
Mara Dolan, a longtime political activist and co-founder of the Massachusetts-based organization Left of Center, doesn't see sexism at work, but instead sees a fundamental shift in party politics.
"Mayor Rivera is talking about the old rules," Dolan told NHJournal. "And the old rules don't apply. Today, anyone who wants to run can get in, with or without the backing of the party. Look at the primary challenges of Rep. Joe Kennedy III, or Mike Capuano, or even Joe Crowley [the incumbent Democrat who lost to Alexandria Ocasio-Cortez in NYC]. There's no sexism."
Rivera sees no legitimate reason for so many "fringe" candidates to be in the race and he worries that the large field will shrink the odds of a Democratic victory against Trump.
"I'm going to vote for our nominee, 100 percent," Rivera said. "But here's another problem with 24 people in the race: Not all of their people will do that. What percentage of Bernie Sanders voters ended up voting for Donald Trump? You create a fringe element inside the electorate — who's now motivated by the way — to vote against the party's candidate.
"We would be foolish to ignore the signs of [the problem of] a crowded field for the Democratic Party," Rivera said, "just as the Clinton operation was foolish to ignore a weak financial, economic message…which people are now saying it's the reason she didn't win."
Once again Dolan disagrees, arguing that more candidates "are a good thing because it brings attention to the issues. And more candidates reaching out to more supporters means more votes for Democrats in the general election."
Rivera says the feedback he's gotten from Democrats in his community has been mostly positive. "I'm shocked that no one else is saying this. It's not because I'm wrong. I think it's because they're afraid to say 'there are too many people.'"
"Because what if one of them wins?"