Democratic primary voters seem fine with it. Major New York Democratic donors are all about it.  In the era of Alexandria Ocasio-Cortez and public support for socialism, is the Democratic Party really prepared to play it safe and nominate a moderate in 2020?
It's hard to ignore the numbers.  The latest RealClearPolitics average shows that despite any missteps or flip-flops, Joe Biden is holding a solid lead among Democratic primary voters.
And a new Morning Consult poll released Tuesday found Biden's margin remains solid despite recent dust-ups over abortion and women's issues.
Yes, Sen. Liz Warren's been on the rise recently. But Biden's average remains larger than progressives Sens. Bernie Sanders and Liz Warren combined.
The race is tighter in the early states where the ground game has more impact, and Warren/Sanders have spent a great deal of time in Iowa and New Hampshire.  And yet Biden remains above 30 percent in those states, including New Hampshire where Warren and (especially) Bernie have a home-field advantage.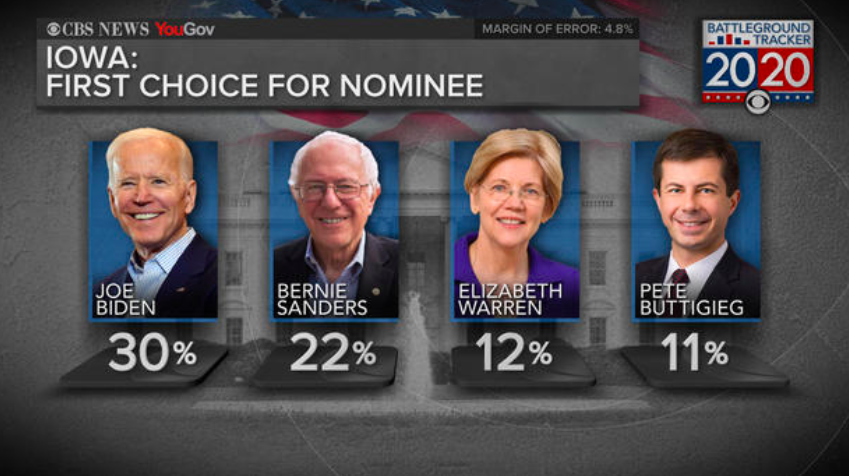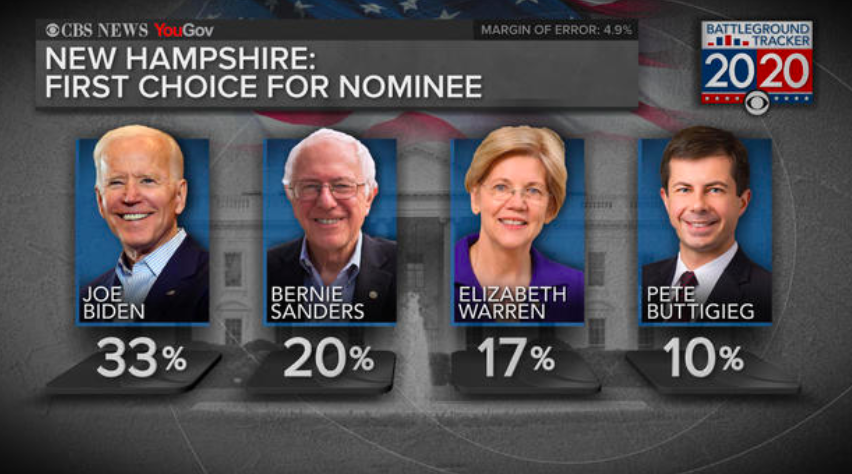 And South Carolina is just brutal for Bernie and Liz:
Ah, but those aren't the only numbers of note.  Sen. Kamala Harris and Mayor Pete Buttigieg are filling out the top five. Both are perceived as more moderate candidates in the race–a perception that may not match reality, but that doesn't change the fact that, in a party whose voters consistently say they support a more socialist government by a 60-40 margin, the non-socialists (Biden, Kamala, Buttigieg) combined have more than half the vote.
Now add the other numbers: Fundraising.  Buttigieg raised a whopping $7 million in April alone.  And a New York Times report says that among the high-dollar fundraisers of the Wall Street Democrats, "three candidates are generating most of the buzz: former Vice President Joseph R. Biden Jr., Senator Kamala Harris of California and Mayor Pete Buttigieg of South Bend, Ind."
"Those are the three," Julianna Smoot, who was national finance director for Barack Obama's 2008 campaign and remains plugged into the donor community, told the paper. "If you could roll all three of them into a single candidate, you'd have the perfect candidate."
Perhaps. But what is indisputable at the moment is that if you rolled all the progressive/Democratic Socialist candidates together, you still couldn't win the Democratic nomination.
Why? Because amid all the talk about Green New Deals and Medicare For All, there's only one thing the truly matters to Democratic primary voters. As local Warren supporter Maureen Murphy of Newton, NH told the New Hampshire Union-Leader:
"I did some canvassing for her in Nashua, and the people who were home said their top issue was they wanted to defeat Trump. Then when you ask them what the second most important thing was, they said it was to get rid of Trump."
Democrats are so desperate to defeat Trump that 45 percent of them admitted to Fox News that voting for the candidate who can take out Trump is more important than voting for an ethical one.
Biden appears to understand that the promise of victory is the essence of his campaign. It explains his declaration this week that, "if I'm your nominee I'm winning Georgia, North Carolina, South Carolina, believe it or not, and I believe we can win Texas and Florida." The prospect of crushing Donald Trump in a landslide is far more appealing to many primary voters than any policy proposal, no matter how progressive.
Can Biden really beat Trump in Texas and South Carolina? Almost certainly not.
But if primary voters believe it's even possible, he can definitely defeat Bernie Sanders and Elizabeth Warren to become the nominee.