Granite Staters who take a gritty pride in their state's spirit of independence and individual liberty may have to hang their heads in shame the next time they're in Massachusetts. According to a new analysis from WalletHub.com, the alleged Nanny State of Taxachusetts ranks higher on the list of "Most Independent States."
"In this report, WalletHub's data team addressed that question [of most independent populations] by comparing the 50 states based on five sources of dependency: consumer finances, the government, the job market, international trade and personal vices. We broke down these categories into 39 key indicators of independence in order to determine which states are most self-sustaining," WalletHub says.  And the results?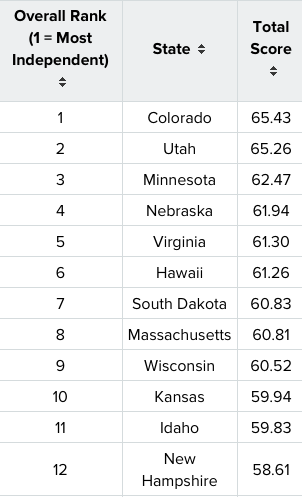 New Hampshire did particularly poorly when it came to jobs dependent on foreign trade.  And Massachusetts smoked New Hampshire, believe it or not, in the category of "government dependency."
Yes it's true that, at #12, New Hampshire is still relatively independent compared to the rest of the US.  But…behind Massachusetts? It's time for some soul-searching in the "Live Free Or Die" state.
Here's a map of all the states and their rankings: