A new poll from Saint Anselm College Survey Center sent shockwaves through Granite State politics Tuesday, showing both Democratic incumbents Sen. Maggie Hassan and Rep. Chris Pappas trailing their Republican challengers.
The survey of 1,541 likely New Hampshire voters on October 28-29 found political newcomer Karoline Leavitt with a six-point lead over incumbent Democrat Rep. Chris Pappas, 51-45 percent. And Republican Gen. Don Bolduc had a one-point edge over Sen. Maggie Hassan (48-47 percent), while Rep. Annie Kuster had an eight-point lead over GOP challenger Bob Burns.
Gov. Chris Sununu continued to hold a significant (55-37 percent) lead over his Democratic challenger state Sen. Tom Sherman.
"In the closing stretch of this election, Republican candidates have gained the momentum and are in position to score some upsets," said New Hampshire Institute of Politics Executive Director Neil Levesque.
The Bolduc campaign said the new poll results were not surprising "since General Bolduc has spent this entire campaign speaking directly with New Hampshire voters about the important issues facing our country," said spokeswoman Kate Constantini.
"While Sen. Hassan continues hiding rather than explaining her votes for high inflation, soaring gas prices, and high crime, she is thumbing her nose at the voters she is seeking to represent. Momentum is hard to get and even harder to stop, and we are taking nothing for granted this last week of the campaign," Constantini added.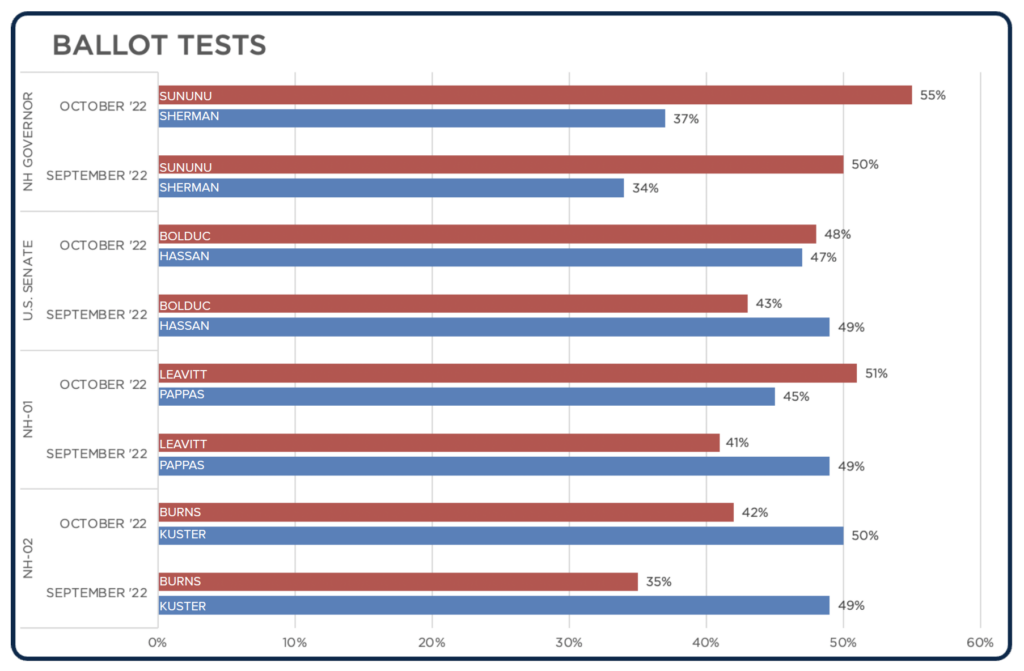 Hassan and Pappas declined to respond to requests for comment, as they have consistently done throughout the campaign.
While the margins are different, the poll offered the same fundamental view of the elections as previous surveys: Both Hassan and Pappas are in danger of going down to defeat next week. How did that happen?
In part, it is the political environment. President Joe Biden's approval was 43 percent, close to the national average, but his "strongly disapprove" was 50 percent, more than twice as high as his "strongly approve." And 71 percent of Granite Staters said the country is on the wrong track.
But veteran NHGOP political observer Alicia Preston Xanthopoulos said part of the blame goes to Democrats and their strategy.
"The Democrats made two major mistakes," Xanthopoulos said. "An almost complete focus on abortion, and their decision to ignore inflation."
"The decision-makers in this election will be independent women, and they are not one-issue voters. If they were, they'd already be Democrats or Republicans. Those voters focus on family first and that includes the cost of living and supporting their families," Xanthopoulos noted.
On inflation, she said their hopes of simply avoiding it by talking up abortion were always forlorn.
"Even if they knew they'd take the blame, even if they had no solutions for inflation, they had to at minimum empathize. Instead, they ignored it. Empathy could've closed the gap for them."
Longtime New Hampshire strategist Tom Rath was not as pessimistic about Democrats' chances, but he said he is impressed by Leavitt's performance.
"Leavitt has run the best campaign for a first-timer that I have seen in a long time," Rath said. "I have thought that race has been inside the margin of error since the primary, and I think it still is."
To turn things around, Rath went on, "Pappas needs voters to come home to him. I suspect his campaign will try to make Leavitt a risky bet — 'Do you really know her and who she is?'  I would be surprised if that race was more than 3 or 4 points either way."
As for the tied U.S. Senate race, Rath predicted the next week "will not be pretty."
"Hassan's numbers reflect the heavy, constant, and unrelenting negative messaging that has been directed at her. At the moment the race is more about Hassan than it is about Bolduc, and that has helped him," Rath said.
"But he better be prepared for heavy incoming in the next six days. It is going to be severe. I expect the last week to be basically heavy negatives against the other by both campaigns."
Republicans argue that if an incumbent like Hassan can't close the deal a week out, she is not going to do it now. Historically speaking, undecided voters break for the challenger, and that is particularly true when the wrong-track number is high.
"The steady but unmistakable rise of General Don Bolduc in public polls illustrates exactly why he will be New Hampshire's next U.S. Senator," said NRSC spokesman T.W. Arrighi. "He has outworked his opponent and spoken directly to voters' concerns with compassion and honesty. Meanwhile, Maggie Hassan is content with hiding out and trying to win on the airwaves alone. She's quickly learning she has horribly miscalculated."