Longtime GOP activist and Franklin City Councilor Karen Testerman tells NHJournal she's going to file papers Wednesday to challenge incumbent Gov. Chris Sununu in the Republican primary.
"I've had enough.  I want New Hampshire to be free again," Testerman said.
For weeks, grassroots conservatives upset by Sununu's handling of the COVID-19 emergency — in particular his extended stay-at-home order shutting down "non-essential businesses"— have privately discussed a primary challenge. However, with Sununu's approval rating consistently north of 80 percent, some of the most ardent activists acknowledge it would be an all-but-unwinnable fight.
Testerman says she doesn't believe the polls and that Granite Staters are looking for a leader who will put principle ahead of politics.
"We have a party platform. We have a Constitution. We should be following both. And from what I can see right now, this governor is not operating by either," Testerman said. "It's not time to elect the person with the right letter behind their name. It's time to have a governor who believes in the people."
In one of the most secular states in the union, Testerman is an outspoken social conservative. She is the founder and former executive director of N.H.'s Family Policy Council (Cornerstone Policy Research) and disagrees with Sununu on issues like abortion and transgender legislation. And, unlike Sununu, she's a full-throated supporter of President Trump.
But the centerpiece of her run is going to be Sununu's lockdown of the state's economy, one of the longest business shutdowns in the country.
"He tells businesses when they can and can't open, he tells us to wear a mask, and that's all fine. But then he turns around and says to the protesters, 'Come across the border and you don't have to social distance. You don't even have to wear a mask. Please just don't break anything,'" Testerman said.
"Is that really the way we that New Hampshire people should be treated?"
In a prepared statement she made available to NHJournal, Testerman refers to Sununu as "King Chris" and says:
"In his drunken state of power, he has decided that we the people do not matter; that we are to function as he sees fit. King Chris rendered you non-essential and directed you what to do and how to do it. He forgot that every person who brings home a paycheck is essential to the well-being of their family.
"The king sits on his throne, dictating who is essential, who lives and who dies, who can get medical care and support, and who can play golf and where you can get fresh air," Testerman writes. "His conduct has compelled me to… file for the candidacy of the Governor of New Hampshire."
Testerman's bid is already being backed by former NHGOP party chair Jack Kimball who posted on Facebook, "We must support Testerman in the primary against Sununu."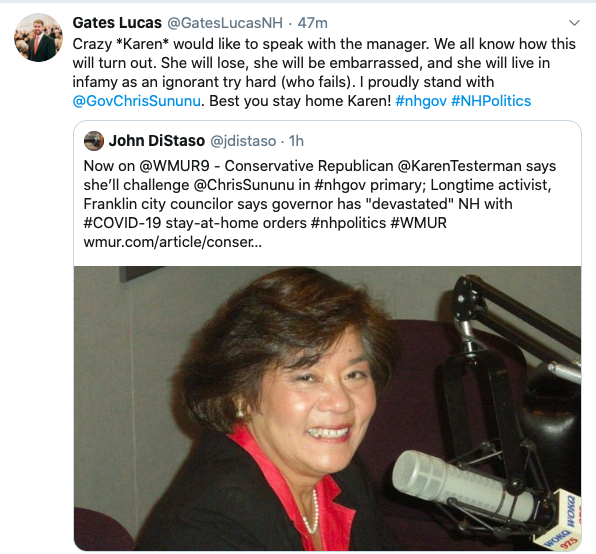 One NHGOP strategist tells NHJournal Testerman's race could be a problem for the governor in November. "She could fracture the base. This is bad news for Sununu."
Sununu's camp did not respond to a request for comment. But GOP State Rep. Gates Lucas of Sunapee, a Sununu ally, tweeted:
"Crazy *Karen* would like to speak with the manager. We all know how this will turn out. She will lose, she will be embarrassed, and she will live in infamy as an ignorant try hard (who fails). I proudly stand with @GovChrisSununu
Best you stay home Karen!"