New Hampshire politicians from both sides of the partisan aisle praised the verdict in the murder trial of Minneapolis police officer Derek Chauvin. The veteran cop was found guilty of all three charges — second-degree murder, third-degree murder and manslaughter — after just a single day of deliberations by the jury.
Granite State leaders reacted immediately.
"Based on the overwhelming evidence, I supported charges being brought against Derek Chauvin from the beginning and I am glad justice has prevailed," said Governor Chris Sununu in a statement just minutes after the verdict was announced. "George Floyd should be alive today, and while he will sadly never be able to return to his friends and family, we can appreciate that justice through our legal system has been delivered. I join the people of New Hampshire in praying for George Floyd and his family and hope we can heal as a nation."
Sununu declared Floyd's death a murder almost immediately after the video of Chauvin pinning him to the ground for more than nine minutes went viral. He also supported mass protests in New Hampshire cities last summer in direct violation of his own COVID-19 emergency orders forbidding large gatherings.
"George Floyd should be alive today," Rep. Chris Pappas (D) tweeted on his personal account. "This verdict is an essential step, and while it won't bring him back, I hope it brings a sense of justice and peace to his family."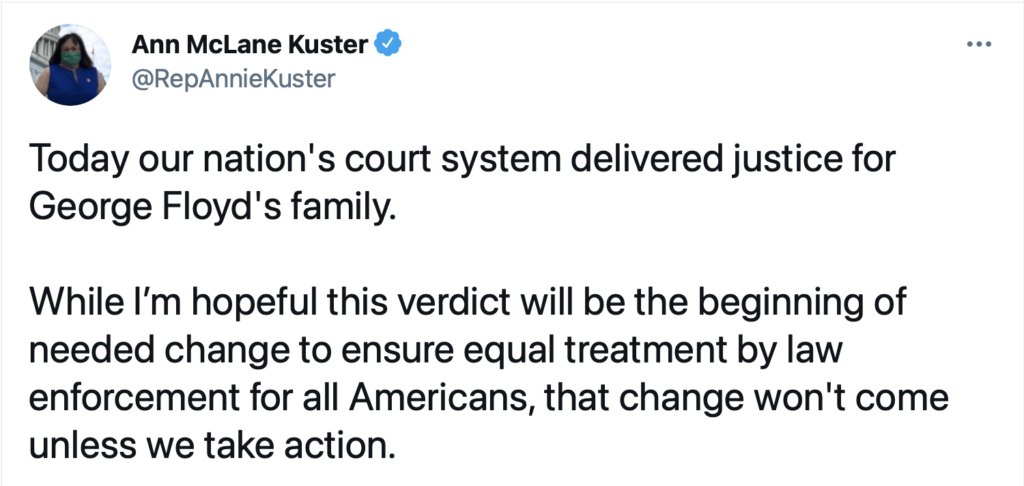 Senator Jeanne Shaheen tweeted: "Justice has been served, but George Floyd should be alive today. My heart breaks for Mr. Floyd's family who've endured more pain than any family should ever have to. This has been the experience for too many in our communities of color. It has to stop."
Shaheen's colleague Sen. Maggie Hassan said, "Today our criminal justice system worked as it should, bringing justice to George Floyd's family and to the millions of Americans who know that our nation can and must do better."
National Democrats spoke out as well, though many of them created controversy with their remarks.
For example, before the jury returned its verdict, President Biden created a firestorm when he said he was "praying the verdict is the right verdict."
"It's overwhelming, in my view," Biden said in the Oval Office. "I wouldn't say that unless the jury was sequestered."
Biden's statement that there was a "right verdict" people outside the jury room already knew before a decision had been reached promoted the premise of Rep. Maxine Waters (D-Calif.) that unless jurors deliver the right verdict, crowds in the streets should become "more confrontational." The House narrowly defeated a measure to censure Waters for her provocative comments at a time when the potential for street violence was viewed as so high cities were calling out the National Guard. The vote was 216 -210, with both NH Reps. Annie Kuster and Chris Pappas voting against censure.
After the verdict, Democratic Speaker of the House Nancy Pelosi shocked many by thanking Floyd for "sacrificing your life for justice" by getting killed by a police officer during an arrest for counterfeiting.
"Thank you George Floyd for sacrificing your life for justice…Because of you and because of thousands, millions of people around the world who came out for justice, your name will always be synonymous for justice," she said.

As Philip Lewis of Huffpo put it on Twitter: "Nancy Pelosi thanks George Floyd for being murdered."
New Hampshire Democrats were more measured in their responses.
"What happened today does not bring George Floyd back to his family," said State Senate Minority Leader Donna Soucy. "It does not erase where we have been, but it is a critical step forward towards what this nation can become. Today, justice prevailed. Tonight, tomorrow, and in the days and years to come we must continue to work towards that vision of a just system for every single American." 
And Manchester Mayor Joyce Craig tweeted: "Justice has been served, but we must do better. As Mayor of the largest city in New Hampshire, I know the responsibility lies with people such as myself. I will continue to support and listen to our community, knowing this verdict is not the end of the change we must see to move our country forward. Manchester is a welcoming city, and together we will work to combat systemic racism and prejudice."