New Hampshire has some of the most liberal abortion laws in America (there are no restrictions of end-of-pregnancy abortions, for example) and one of the most aggressive Planned Parenthood organizations in the country. Which made it the less-than-ideal spot for Joe Biden to flip-flop on the Hyde amendment.
The Hyde amendment, named for longtime Illinois GOP Rep. Henry Hyde, blocks federal funds from paying for abortions except in cases of rape, incest or if the woman's life is in danger.
NBC reported Wednesday morning that, just a month after saying in a rope line interview in South Carolina that "it [the Hyde amendment] can't stay," Biden told reporters in New Hampshire that, in fact, he wants to keep it right where it is. Biden, a longtime supporter of the amendment, has reversed his reversal on the issue.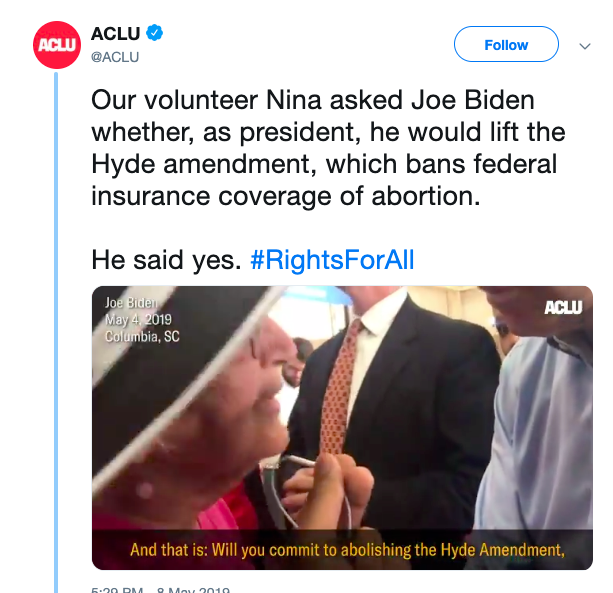 "Biden misheard the woman on the rope line and thought she was referring to the Mexico City rule, which prevents federal aid money from going to organizations overseas that perform abortions," his campaign said in a statement.
"He has not at this point changed his position on the Hyde Amendment," the campaign added.  "But given the current draconian attempts to limit access to abortion, if avenues for women to access their protected rights under Roe V Wade are closed, he would be open to repeal."
This is hardly satisfactory to abortion-rights activists in New Hampshire. While Planned Parenthood New Hampshire Action Fund (PPNHAF) declined comment to NHJournal, they did forward a statement from Kelley Robinson, executive director of Planned Parenthood Action Fund:
"To support the Hyde Amendment is to block people — particularly women of color and women with low incomes — from accessing safe, legal abortion," she said. "As abortion access is being restricted and pushed out of reach in states around the country, it is unacceptable for a candidate to support policies that further restrict abortion.
"We strongly encourage Joe Biden to speak to the people whose lives are impacted by this discriminatory policy and reevaluate his position," Robinson said.
One Democratic state representative who was considering endorsing Biden was clearly disturbed by this and now tells NHJournal: "I have to think about that."
Pro-abortion Democrats have plenty of choices in the 2020 race, so there's no reason to settle for a candidate like Joe Biden with a mixed history on choice issues.  Four of the U.S. senators in the race have already proposed legislation repealing the Hyde Amendment, (Sens. Kamala Harris, Kirsten Gillibrand, Elizabeth Warren and Amy Klobuchar), and Bernie Sanders tweeted today that "There is #NoMiddleGround on women's rights. Under my Medicare for All plan, we will repeal the Hyde Amendment."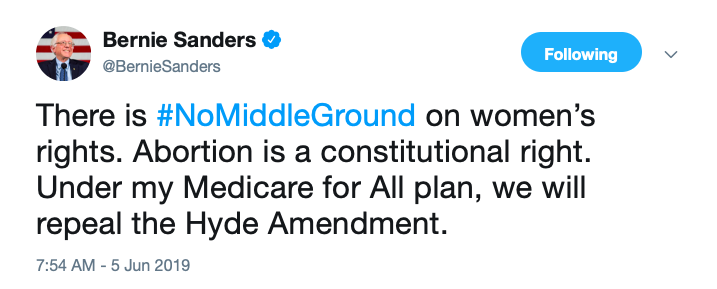 "Nearly all our presidential candidates recognize, as do a majority of American voters, that denying Medicaid insurance coverage of abortion can be the same as an outright ban," said Destiny Lopez, the co-director of the All* Above All Action Fund, which works to overturn bans prohibiting access to abortion.
Given the abortion-on-demand movement in the Democratic Party, this would appear to be a major setback for Biden. However, Planned Parenthood New Hampshire has a checkered past on endorsing pro-choice candidates.
In the 2018 gubernatorial primary, it endorsed former state Sen. Molly Kelly over former Portsmouth Mayor Steve Marchand despite what NHPR described as Kelly's "murky" position on abortion rights. Marchand, on the other hand, supported taxpayer-funded abortions with no restrictions up to the point of birth, the most pro-abortion position possible.
And in 2016 the national Planned Parenthood organization endorsed Hillary Clinton in the Democratic primary, despite Sen. Bernie Sanders' 100 percent rating from both NARAL Pro-Choice America and Planned Parenthood itself. In addition, Sanders has spent his career voting against the Hyde amendment and other abortion restrictions. And yet Planned Parenthood endorsed his opponent.
Which opens the door for PPNHAF and other pro-abortion groups to continue to support the front-runner Biden, whatever position on abortion he finally settles on.
As one Democratic activist told NHJournal today: "There is no priority higher than beating Donald Trump."
If Joe Biden can keep convincing Democrats he's got the best chance of beating President Trump, he can take any political position he wants and he'll keep primary voters on board.