It was the hottest topic on Granite State Twitter Thursday: Democrat Maggie Hassan's dismal numbers in the latest UNH Survey Center poll. Just 33 percent of voters approve of her job performance, while more than half (51 percent) disapprove.
Republicans couldn't hide their glee.
"Maggie Hassan's horrific favorability rating this far out from Election Day reflects her embrace of the far-left agenda of President Biden, Chuck Schumer, and Bernie Sanders," said NRSC Spokesman T.W. Arrighi. "Granite Staters appreciate legislators with an independent streak, and Hassan is a partisan liberal with a voting record to prove it. It's a long way until November of 2022 and the sirens have begun blaring in Hassan campaign HQ."
NHGOP Chair Steve Stepanek piled on.
"This latest UNH poll is an absolute disaster for Senator Hassan," tweeted NHGOP Chair Steve Stepanek. "The more time she spends in New Hampshire and the more money she spends on TV ads in support of her, the more her favorability sinks to new lows."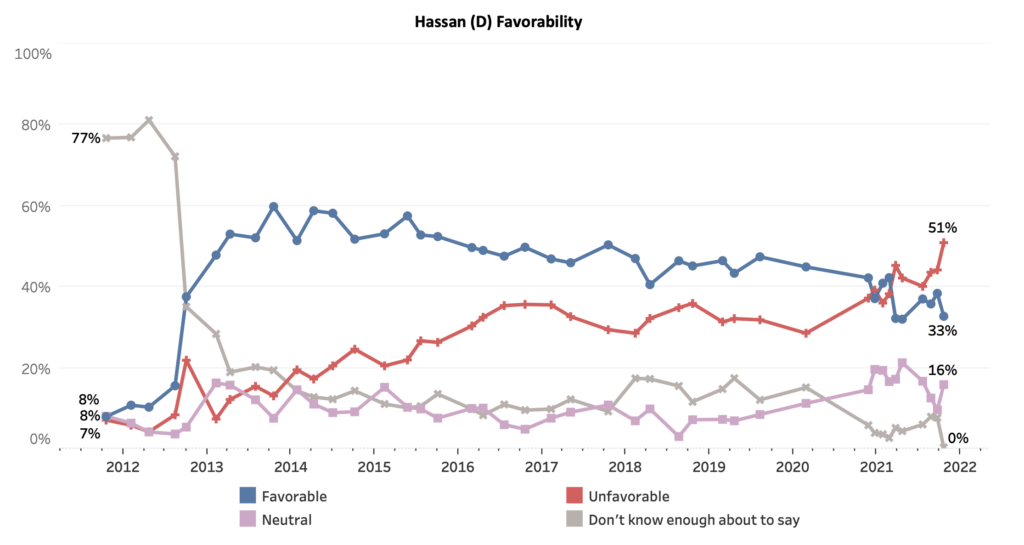 Actually, Stepanek is wrong. These "lows" aren't "new" for Hassan.
Her approval rating was actually lower in March and April (32 percent) than today. However, the 33-51 percent spread (-18) is her worst.
Which raises the question: Is Maggie Hassan the most unpopular U.S. Senator in America?
Members of the national GOP communications team claimed Hassan has "the lowest favorability rating of ANY incumbent Senator in U.S. History," and the "lowest rating of any incumbent in the country." That may be true, but they did not reply to requests for a source of that information.
One problem is there isn't much polling of senators who aren't up for re-election for another four to six years. It could be that Sens. Ted Cruz (R -Texas) or Mazie Hirono (D-Hawaii) are more unpopular in their states but nobody's asking.
A cursory view of the numbers at Real Clear Politics shows no other senator who has been polled this year has an approval rating as low as Hassan's. But that's hardly definitive.
At the same time, there are numbers from Morning Consult, which used to do regular polling to rank the most and least popular senators. The most recent is more than two years old (July 2019), but it's worth noting that Hassan's numbers today would put her at the bottom of that list.
And she's managed to accomplish all this in a state where the entire federal delegation is Democratic, President Joe Biden carried the state by eight points, and her fellow Democrat Sen. Jeanne Shaheen just won re-election by a 30-point margin.
So, while the "worst in the nation" label hasn't been proven, there's a strong case to make.
As bad as Hassan's numbers appear, a glance under the hood shows they're even worse. For example, her approval among self-described independent voters is 15-61 and she trails Gov. Chris Sununu with those voters 63-25 percent.
Before Republicans start measuring the curtains for an office in the Russell Senate Office Building, they should note Sununu's numbers have taken a pounding as well. In fact, the general mood of the country is souring on everyone in power, regardless of party. The GOP has a brand issue that isn't going away.
Unfortunately, that is more bad news for Hassan. When voters are grumpy, they tend to show up and "vote the bums out." And as an incumbent member of the party in power, Hassan qualifies as a "bum" in this scenario. Poll after poll shows a general drift toward voting against Democrats, and being a Democrat is Hassan's only campaign strategy.
The final data point is the $8 million dollars Hassan has spent already, much of it on TV ads, even as her numbers dropped. Not to mention the dark money ads running as well.
What happens when Hassan votes for the multi-trillion-dollar social spending binge Democrats are pushing? By appealing to her base, her polling will probably get better.
It's hard to see how they could get much worse.