When former President Donald Trump stepped in front of the cameras Tuesday night to announce he was jumping into the 2024 race for the White House, NHJournal sent a survey to our Granite State readers asking for their reaction to the news.
In the 24 hours that followed, we received nearly 300 responses, including 100 comments. The survey results are largely unchanged from those we reported late Tuesday night: About one-quarter of the NHJournal respondents are backing Trump, while more than half fit in the "like Trump, he shouldn't run/used to like Trump, he shouldn't run" category. Only about 15 percent identified as Never Trump.
The overwhelming non-Trump choice for the GOP nomination is Gov. Ron DeSantis. Of the nine choices offered, the Florida governor received nearly 60 percent by himself.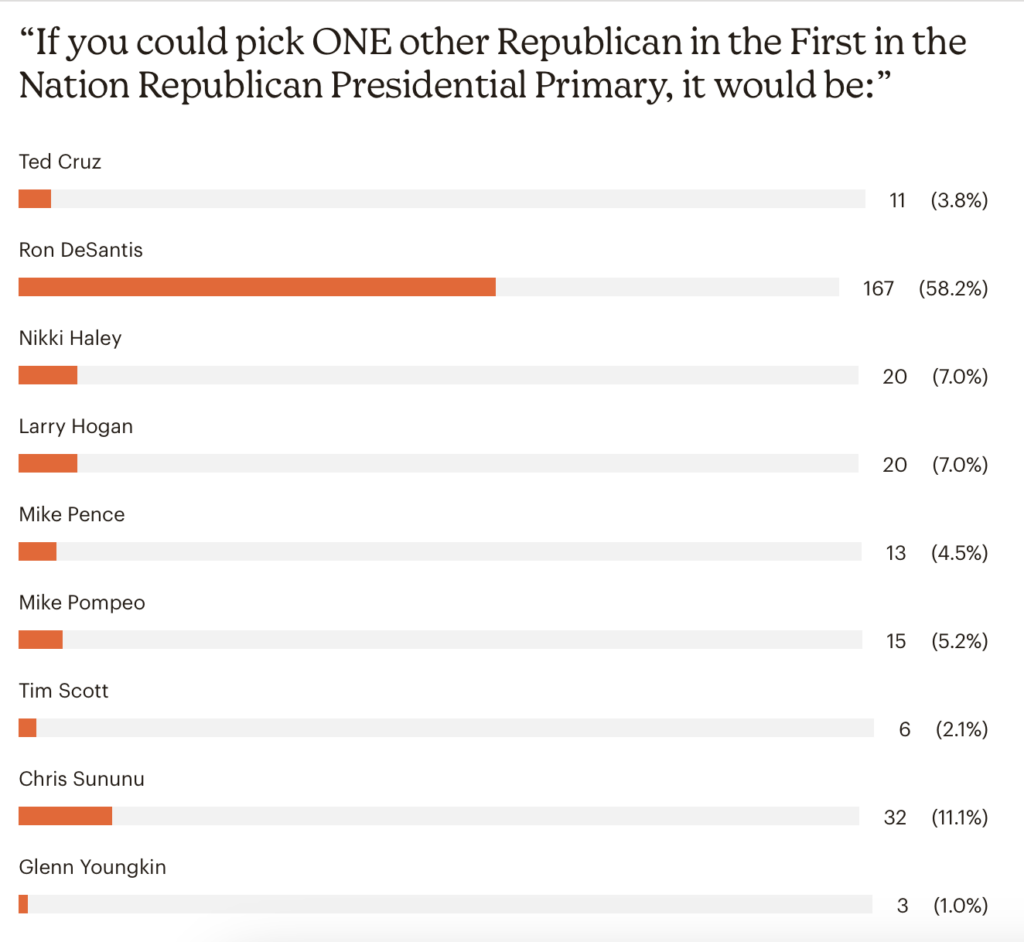 But of most interest, we believe, were the comments Granite Staters chose to write and send in. We won't publish all 100, but below is a representative sample of the mood of our readers, in their own words.
And once again: This is NOT a poll or scientific survey. It is just a sampling. But based on our reporting and sources, their views reflect the conservation Republican primary voters are having across the First In The Nation primary state.
---
"Thanks, President Trump, but it's time to move on."
"Trump would do more harm than good. He has to go."
"If any Republican sticks to Trump era POLICIES they have a very good chance of widespread bipartisan support. We need Trump-like policies, but we need a non-Trump to advance those policies. The Republican Party can do much better than Trump."
"MY FRIENDS AND I ARE ALL VOTING AND CHEERING ON PRESIDENT DJT! 🙂 "
"Our entire family of over 30 voters will be supporting Trump 100% in NH."
"Trump signed huge spending bills that only passed on Dem majorities and he brought us poison shots and Pfauci Phascism. He's too old, endorses shite candidates that don't even support conservative causes and he deported fewer illegals than Obama. Go away, Trump, not interested in your fake conservative show."
"If Trump is the nominee, I will vote for him."
"My vote for Trump would be only against Democrats. Other people would be voting against Trump because he's Trump. The egomaniac is making the election about him."
"Trump's announcement tonight is the first time I've felt hope since the midterm election. He reminded me it's going to take real grit and determination to defeat the swamp. When you get in a fight with a skunk you're going to stink. This is a battle for America's soul. I'd pretty much had given up. He's back. I'm back. One last go around."
"Former diehard Trump supporter. Time to move on to DeSantis "
# # #