Former Arkansas Gov. Asa Hutchinson told a New Hampshire Republican women's group that he trusts the jury that ruled against former President Donald Trump in his sex assault civil trial Tuesday. And he urged his fellow Republicans to take the verdict seriously.
The 72-year-old Republican presidential candidate made the comments at St. Anselm College just hours before Trump's scheduled CNN town hall on the same campus.
The Manhattan jury found Trump liable for sexual abuse and defamation, though not for the accusation of rape. It took the jury just three hours to bring in a verdict. Trump has been ordered to pay $5 million. Trump's attorneys immediately announced they would appeal.
Hutchinson has a long record of public service, including two terms as Arkansas governor, two terms in Congress, and a stint as head of the Drug Enforcement Agency. He was also named a U.S. Attorney by President Reagan (the youngest in the nation at 31 years old), and he called upon that experience when addressing the Trump issue.
"I've tried cases for 25 years in the courtroom, and juries have an incredible ability to analyze truth and to determine truth," Hutchinson told the New Hampshire Federation of Republican Women (NHFRW). "And this jury heard the case, they heard all the arguments, heard all the evidence, and they determined that the former president, Donald Trump,  sexually abused a woman,n and they awarded $5 million."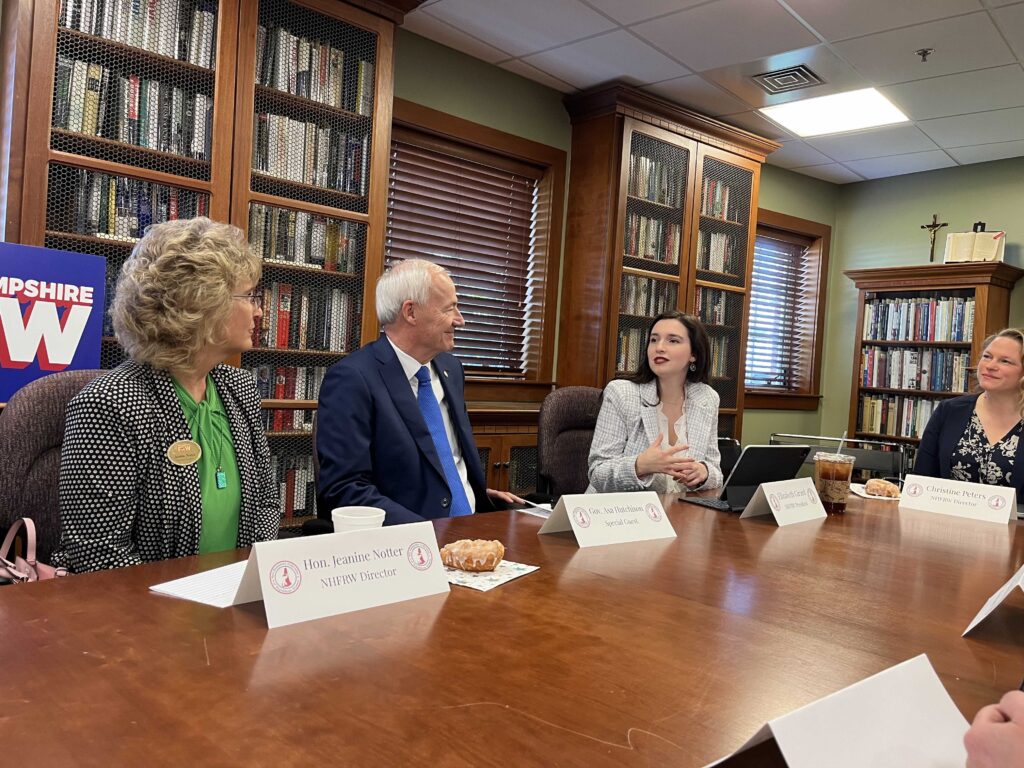 Trump continues to deny all the charges and denounce both his accusers and the system.
"I have no idea who this woman, who made a false and totally fabricated accusation, is," Trump posted on Truth Social on Tuesday. "Hopefull,y justice will be served on appeal!"
Trump followed up Wednesday morning, declaring, "This witch hunt is all about election interference, but so far, it seems to be backfiring on the radical left misfits who can't win an election without cheating!"
Hutchinson urged Republicans to take the jury's determination seriously.
"It was a unanimous verdict. As someone who cares about this issue, I don't believe we should dismiss it. I don't believe we should excuse it. And I don't think we should say the system failed or was manipulated," Hutchinson said.
"I don't believe the perpetrator that the jury found committed this act is the victim. I believe the woman was the victim in this case. I may be in the minority on this," Hutchinson conceded.
"You are not in the minority," responded former New Hampshire state Rep. Kimberly Rice, who said she sat on two juries in the past and the public "only sees the tidbits that are on TV."
"I'm sorry, but I think his words sunk him," Rice said. "I was appalled at his words — to think that because he's a celebrity,  it should be acceptable behavior? I will stand and say it's not OK, and no woman should accept that."
Many Granite State Republicans, however, do not agree.
House Majority Leader Jason Osborne (R-Auburn) said he was appalled that "someone can bring a 30-year-old case to court and win with no evidence, no nothing."
Osborne, who endorsed Florida Gov. Ron DeSantis earlier in the week, told NBC News' Jonathan Allen, "It's pretty appalling to me that something like that can happen to a human being in the free world."
Hutchinson participated in a series of First in the Natino candidate conversations hosted by the NHFRW in partnership with NHJournal. Questions ranged from the current debt ceiling debate to foreign policy.
On the issue of debt and spending, Hutchinson said he wanted his slogan to be 'Debt-Free in '33, "but it doesn't work. I've looked at the math, and we can't get there. But we've got to start."
On China, he praised the Biden administration for opening new bases in the Phillippines as a display of American power. He also touted "bringing United States Steel from Pennsylvania to Arkansas" with a $3 billion plant. "It's important just to show we can make things in the United States of America." He also wants to bring "sensitive supply chain" products like microchips and military parts back to the U.S.
NHRFW President Elizabeth Girard said one of her organization's key issues is keeping biological males out of women's sports. "I asked President Trump and his answer was, 'Vote Trump.' I hope you have something more concrete."
"I think you're on the winning side of that issue," Hutchinson said. "In Arkansas, I signed a law keeping biological males from competing in women's sports. It wasn't a hard decision because I believe in Title IX."
In contrast to his mild-mannered demeanor and traditional conservative politics — or perhaps because of them — Hutchinson describes himself as "an insurgent candidate." He compared his current place in the pro-Trump GOP with his early days in Arkansas politics when he was the rare Republican in a state dominated by Democrats.
Hutchinson is polling at around one percent, and he is considered an extreme long shot for winning the Republican nomination. But, he said, he plans to keep campaigning in Iowa and New Hampshire.
"I know you've got a lot of listening and options, but I want your support for president of the United States," Hutchinson told the group, "and I hope I can earn it."