An unsourced hit piece targeting U.S. Senate candidate Kevin Smith on the left-wing HuffPo website may not leave much of a mark on the former Londonderry town manager, but it is definitely going to change the tone of primary going forward. That is because the Smith campaign believes the story was shopped to the media by state Sen. Chuck Morse's campaign. And, they said, they have the receipts.
"Oh, it's on," a source close to the Smith campaign told NHJournal.
At issue is a Huffpo article taken entirely from a 2020 lawsuit against the town of Londonderry filed by Nicole Doolan, a disgruntled former town employee. Without quotes or corroboration — both the former employee and her attorney declined to comment for the story — the article repeats her allegations against her former boss, town tax assessor Karen Marchant, and Marchant's deputy, Rick Brideau.
Smith's involvement is ancillary. In her lawsuit, she alleges he mishandled her complaints and later denied her additional work hours as a form of retaliation. In 2016, about a month after Smith issued her an official warning over behavior he claimed was "disrespectful," she was fired.
She sued in 2018 and the lawsuit was settled out of court for an undisclosed amount in 2020.
The Huffpo article highlighted Doolan's claim that Smith "told dumb blonde jokes" and called a female employee "pork chop."
The Smith campaign declared the allegations "flat-out false," and released statements from members of town leadership during his tenure.
"I was a town councilor during the time of lawsuit and I can say, without equivocation, the allegations are utter nonsense," said former Londonderry Town Councilor Tom Dolan.
But most of the Smith campaign's ire was turned on Morse, whose campaign they say has been shopping the lawsuit story for at least a month. In a press release, they point to tweets sent by Morse's lead consultant, Dave Carney, in early June referencing the lawsuit's allegations, though without context.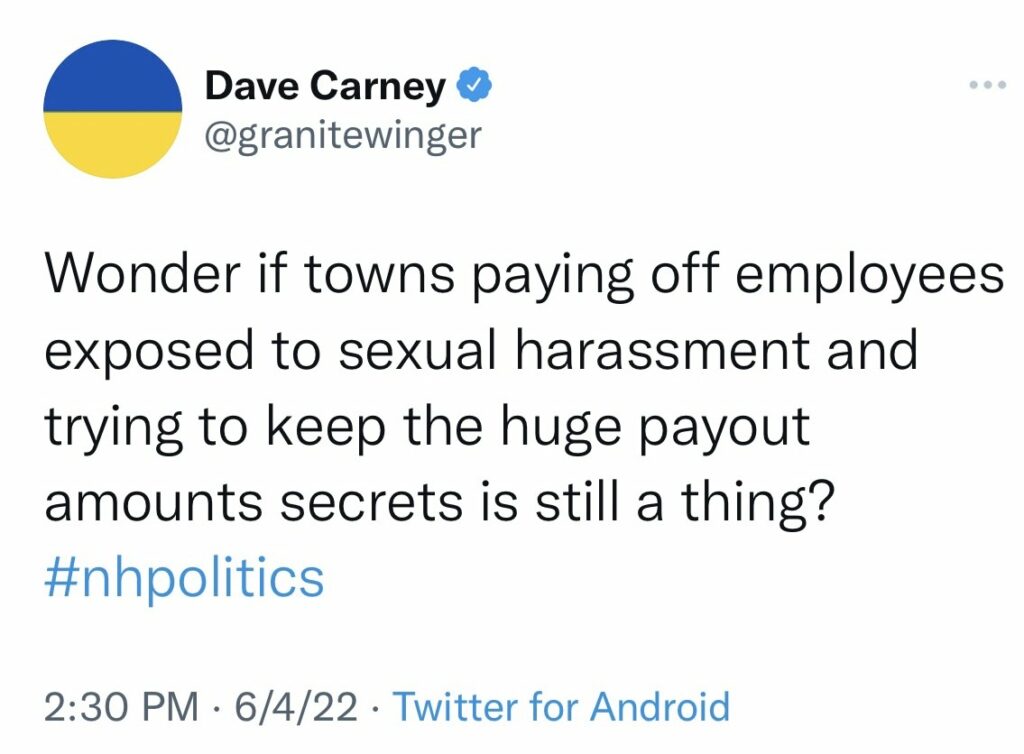 "But make no mistake, this baseless story is nothing more than attempted character assassination by Kevin's opponent, Chuck Morse. Morse is an establishment politician who is desperately trying to save his political career," said Smith's campaign manager Seb Rougemont. "When politicians cannot run on their own record, they resort to smearing good people with baseless accusations to cling on to power. That's why they call Washington the swamp."
According to Rougemont, Smith confronted Morse about his campaign's efforts to push the lawsuit story.
"Morse admitted to what his team was doing and that he knows it's wrong, and went as far as to say that the [Gen. Don] Bolduc campaign started it. It's disappointing to see Morse's team still push ahead with this baseless smear and partner with a liberal media outlet who would take the bait."
In response, one source close to the Morse campaign shrugged off the Smith campaign's reaction as "weird," but the formal statement released by Morse is less than definitive on the issue of their involvement.
"We are focused on my campaign. I'll continue spending my time discussing my conservative agenda of securing the border, restoring American energy independence again, and controlling inflation by stopping federal spending. We're building the largest ground game and raising the funds necessary to take on Maggie Hassan this fall, our real opponent."
Several Granite State Republican insiders raised questions about the political impact of the HuffPo piece.
"'Pork chop?' If that's true it's not a good look," said veteran GOP strategist Patrick Griffin. "But it's also the HuffPo. The whole thing sounds fishy."
Others questioned why whoever shopped the story, clearly intending to set back the Smith campaign, did it so early. "It's early July? Why drop this hit now, especially when it's so light?" one GOP pro wondered.
Wherever the story originated and whatever the impact on Smith's candidacy, his campaign has made it clear it intends to hold Morse responsible.
"Chuck Morse can paddle around in the gutter of dirty politics and run his campaign focused on defamatory smears rather than his record of compromising with the Democrats as Senate president," Rougemont said.
"Kevin will continue to talk to Granite Staters about the issues like inflation, gas prices, and Maggie Hassan's failed record. He will also point out Chuck Morse's record of expanding Obamacare in New Hampshire and voting for 99 percent of Maggie Hassan's agenda during her time as governor."
According to Mary Beth Purcell, an attorney with Londonderry's insurance company Primex, the lawsuit was settled in exchange for a $75,000 cash payment to Doolan. Doolan was responsible for paying her own attorney's fees, which would've come out of the total settlement amount.
EDITOR'S NOTE: This story has been updated to add the amount of the settlement paid to Doolan.