A New Hampshire Republican Party press conference at a Derry gas station took a brief detour into a GOP debate when a pumped-up Gail Huff Brown threw down on her fellow candidates over a gas tax holiday.
"My name is Gail Huff Brown and I've called for a suspension of the gas tax — state and federal," Huff Brown said when she began her remarks. "Everyone's talking about saving money. They're talking about how are they going to pay their heating bills and pay for gas? And well, first of all, we, we have to put some money back in their pockets."
Huff Brown is one of five candidates in the GOP First Congressional District primary.
The event was hosted by the state GOP, with Chairman Steve Stepanek acting as moderator. Three candidates from the NH-01 primary were on hand: Huff, businessman Julian Acciard, and 2020 GOP nominee Matt Mowers. U.S. Senate candidate Kevin Smith also spoke, as did Derry state Rep. Jodi Nelson, who talked about the impact of rising gas prices and inflation in her community.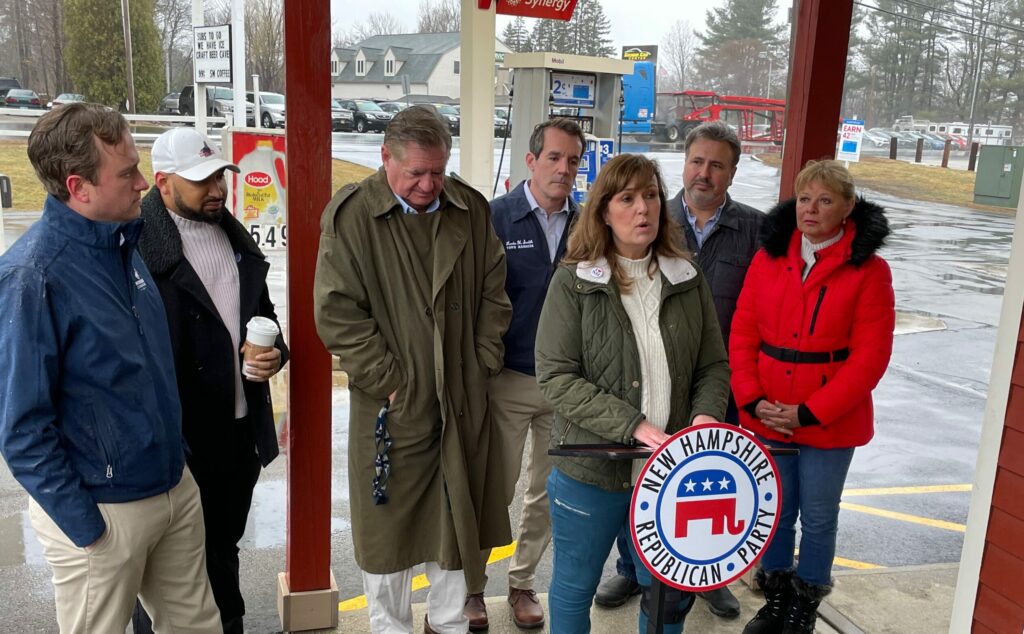 "Last year, the nationwide average price of gas was $2.88. On Monday, it was $4.25," Nelson noted, forcing families on limited budgets to "make do" by skipping medical appointments, stretching out medications, and cutting back on purchases, which hurts the local economy.
High gas prices are a potent political issue, so it is no surprise Republicans have highlighted it. Polls show inflation and the economy are by far the top concern of voters, and most Americans disapprove of how President Joe Biden is handling it. In a new NPR/Ipsos poll, Americans support more oil and gas development on federal land by a 53- 27 percent margin.
The GOP event in Derry was inspired by the Republican National Committee's voter registration drives in other swing states like Arizona, North Carolina, and Wisconsin. Biden and his Democratic allies like Sen. Maggie Hassan have put the blame on Russia's Vladimir Putin and accused oil companies of manipulating prices.
The Republicans gathered in Derry, however, said the buck  — or rather, the four bucks a gallon — stops with Biden.
"Our member of Congress should be working with the administration to encourage them to promote more domestic energy production," Mowers told NHJournal. As for Hassan's proposal for a temporary federal gas tax "holiday," Mowers said to consider the source.
"I'm always for cutting taxes, but when you hear it from Maggie Hassan and [Rep.] Chris Pappas in an election year, you know it's a gimmick."
Acciard also rejected short-term tax relief schemes, arguing that if Washington, D.C. would commit to a hands-off approach on energy, the resulting investment in long-term production would send prices down in the short term.
"The industry works on forward projections," Acciard said.
Smith, the former town manager of nearby Londonderry, took a similar view.
"These high prices can be traced directly back to the Biden administration, which has been supported 100 percent by Maggie Hassan," Smith said. "Her only solution is short-term gimmicks like a gas tax holiday — which is ironic given she approved a gas tax hike when she was governor."
Smith pointed out a federal gas tax holiday would add to deficit spending. "It's just printing more money and adding to our debt. We need real a long-term solution."
"I don't support a temporary gas tax gimmick and neither does Maggie Hassan, not really. She wants more taxes. So it's all a bunch of malarky, as Joe Biden would say," Smith added.
Wrong, responded Huff Brown, who turned on Smith and addressed her comments to him.
"I disagree with that. I don't think it's just 'malarkey' that we have to find a way to put money into people's pockets," she said. "Don't talk to me about the long-term debt and government spending. We need money in people's pockets.
"I have a neighbor. She can't put heat in her house. She's wearing five layers of clothing," Huff Brown went on. "We need help. Now."
And suddenly a press conference targeting Democrats was a debate between Republicans over a gas tax holiday.
Economists have largely been critical of a gas-tax holiday because it amounts to a federal spending program, sending more federal dollars (borrowed federal dollars, actually) into the economy. At the same time, there would be no guarantee ending the 18.4 cents per gallon in federal gas taxes –or 22.2 cents in New Hampshire state taxes —  would result in a penny-for-penny reduction in prices at the pump. In the current volatile market, the national average gas price jumped 20 cents in a single week in February and another 30 cents during a single week in March.
Supporters say political leaders should do whatever they can to show people they feel their pain. And that includes Hassan's gas-tax holiday.
"I would support a suspension of a portion of the state gas tax for a certain period of time, but I don't think we should rush into it," Nelson said. "I think we really would need to sit down and think about the long-term ramifications of something like that."
Huff Brown was more direct in her support.
"We have to put some money back in people's pockets, and we can do that for a period of time. Is that a one-month suspension? Is that a two-month suspension? I rely on our very, very, very intelligent legislators to decide how long that would be or what that would look like. But yes — we need to suspend the gas tax and give people a chance to put money back in their pockets. That's what we do here in New Hampshire."
Another support of the idea? Gov. Chris Sununu.
Mowers, however, remained dubious. "I'm all for cutting taxes all the time," he said in response to Huff Brown's challenge. "Not just when it's an election year and the politics aren't going my way, like Maggie Hassan and Chris Pappas. We need to make sure we provide relief for people now, but we need to do it with leadership that understands the real problem."